For Older Adults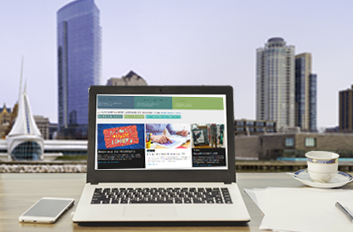 MPL offers programs and services for today's older adults that are designed for a wide variety of interests. Inspiration starts here – we help people read, learn and connect at every age.
Through the library's website, you're able to access a large number of resources that provide helpful information and entertainment. Below are links most often requested by older adults. At the bottom of this page is a list of current library programs that may be of interest to you.
---
Large Print Books
The library has a large selection of popular titles in large print.
Audiobooks
Looking for an enjoyable listen? Check out an audiobook on CD.
eBooks and Music
On this page you'll find links to a large selection of e-books, audiobooks, music and video for use with a wide variety of portable devices, PCs and Macs including Wisconsin's Digital Library, CountyCat, hoopla, and Freegal.
Are you afraid to surf the internet? Afraid that your identity will be compromised, or someone will try to take advantage of you? You are wise to be wary. Hackers today are sneaky, and the consequences of falling prey to one can be tremendously costly. But there are ways to protect yourself. You just need to have a strategy and a system in place. 200+ Ways to Protect Your Privacy pretty much does just that. Each topic is short and sweet, to the point. It covers everything from the basic (lock up your personal items at work) to the meaty (how to avoid falling prey to ransomware). This book covers everything – including how to recover from a breach.
There's a program coming up on Tuesday, September 21 presented by The Wisconsin Bureau of Consumer Protection entitled: Identity Theft: Protect and Prevent. This will be an online program you can attend by clicking here on the 21st.
Featured Video: If you answer the phone and hear a recorded message instead of a live person, it's a robocall. If you're getting a lot of robocalls trying to sell you something, odds are the calls are illegal. Many are also probably scams. In this presentation, staff from the FTC will explain what you need to know about robocalls and what you can do about them. Older Adults YouTube page.
---
Programs
MPL 60+ programming is funded in part by gifts from Naomi B. Strehlow and St. John's on the Lake.
Book Clubs
This is the place to find MPL book clubs, book club kits, and new titles.
Technology Tuesdays
View these short videos on the library's YouTube page to learn about a variety of technology topics ranging from how to use your PC, iPad, or laptop to social media information, curbside delivery, online family gatherings, online learning, and everything in between.
How To with MPL
This playlist on the library's YouTube channel not only includes Technology Tuesday programming, it also includes how to use your library card, library databases, and visiting the library during COVID.
Older Adult Program Playlist
A new playlist has been added to the library's YouTube account that will include videos of library programs that may be of interest to older adults.
---
Resources
COVID Portal
The library's COVID Portal includes information on the pandemic, vaccines, basic needs, health and wellness and more.
Education and Outreach Services
The library provides outreach services that extend beyond the traditional library building into the Milwaukee community.
Gale Courses
Take a 6-week class on a wide variety of topics ranging from starting a small business to improving homeschooling skills to assisting aging parents. Every course is offered each month. Available for free to all library cardholders in Milwaukee County.
Genealogical Research
Start your family research here. The library has many resources available online for you to begin. For further help from librarians, please place a request by chat, text, phone or email at Ask MPL.
Wisconsin Talking Book and Braille Library (WTBBL)
The Wisconsin Talking Book and Braille Library (WTBBL) is part of the Library of Congress National Library Service for the Blind and Physically Handicapped (NLS) network of cooperating libraries. WTBBL circulates audiobooks, brailled materials, and playback equipment provided by the federal government to Wisconsin residents who cannot read standard print.
Your Library Card
Your library card is your gateway to a world of information! Don't have a card? Need to renew yours? Here's all you need to know about your card.
---
Helpful Agency Websites
Below are links to agency websites frequently recommended by Milwaukee Public Library librarians.
AARP - The nation's largest nonprofit, nonpartisan organization dedicated to empowering Americans 50 and older to choose how they live as they age.
LoveThyNeighbor - The site provides resources for older adults who want to stay in their home as they age.
Medicare - The official government website.
Medicare Advantage Plans in Wisconsin - The site helps to guide seniors through the state's available plans, eligibility requirements, and enrollment guidelines as well as providing a list of helpful community organizations throughout Wisconsin that can further support seniors with their healthcare needs.
Milwaukee County Department of Aging (includes links to local Senior Centers)
- MCDA Health and Wellness Workshops
Serving Older Adults of Southeastern Wisconsin - A nonprofit dedicated to serving the needs of older adults by providing programming to improve their health and well-being as well as a means for community engagement and socialization.
Social Security Administration - The official government website.
Recommended Resources from the Consumer Financial Protection Bureau:
Financial caregiving: Resources for those who help an older relative or friend manage their money.
Housing decisions: Help for those considering a reverse mortgage as well as current reverse mortgage borrowers.
Planning for retirement: Information on the factors that influence when to claim Social Security.
Online and mobile banking tips: A few tips to help older adults get started since bank and credit union hours may be limited.
Elder financial exploitation: Resources to help older adults and their caregivers prevent, avoid and report scams, fraud and other forms of financial exploitation.
Upcoming Events
September 28, 2021
September 30, 2021
October 5, 2021
October 9, 2021
October 11, 2021
October 12, 2021
October 14, 2021
October 19, 2021
October 20, 2021
October 21, 2021
October 25, 2021
October 26, 2021
October 28, 2021
November 2, 2021
November 4, 2021
November 9, 2021
November 16, 2021
November 17, 2021
November 18, 2021
November 23, 2021
---