City of Milwaukee Archives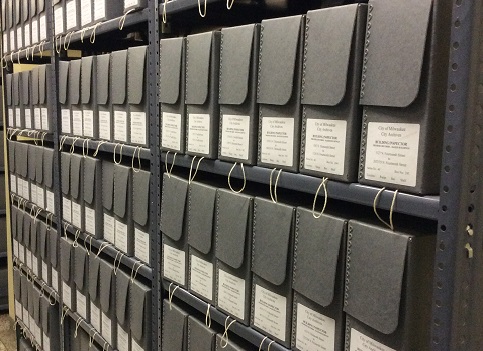 The City of Milwaukee Archives contain a variety of materials, including departmental annual reports, consultant reports, and unpublished, one-of-a-kind items...
...such as correspondence files, plat maps, tax records, department journals and ledgers, audio-cassette recordings of board and committee meetings and video cassettes.
Access the City of Milwaukee Archives List of Collections
These holdings are in differing stages of organization and preparation, hence accessibility varies. Online finding aids for some of these collections may be found in the Special Collections Finder digital collection. These online finding aids are linked below by department and above by individual collection title in the more detailed City of Milwaukee Archives List of Collections. Additional print-only finding aids may be consulted in the Frank P. Zeidler Humanities Room at the Central Library.
City of Milwaukee Archives Holdings by Department
The following City of Milwaukee departments are represented in the City of Milwaukee Archives. Additional links will be added as finding aids for more departments come online.
Annuity & Pension Board
Board of School Directors
City Assessor
City Attorney
City Clerk
City Comptroller
City Plan Commission - formerly "City Planning Commission" (1909-1939) and "Board of Public Land Commission" (1939-1961)
City Pound
City Service Commission
City Treasurer
Common Council
Department of Building Inspection
Department of City Development
Department of Employee Relations
Department of Public Works - Division of Administration
Department of Public Works - Street & Sewer Maintenance
Department of Public Works - Division of Water Works
Election Commission
Fire & Police Commission
Fire Department
Harbor Commission
Health Department
Housing Authority
Inter-Governmental Fiscal Liaison
Justice of the Peace
Office of Cable Regulation
Office of the Mayor - some collections processed as Local History Manuscript Collections
Public Debt Commission
Public Land Commission
Public School Teachers' Annuity & Retirement Fund
Sewerage Commission
Tax Commission
Town of Granville
Town of Lake
Town of Milwaukee
Town of Wauwatosa
Village of Bay View
Village of North Milwaukee
Using the Collection
After consulting the appropriate finding aid, whether online or in print, researchers may request an appointment to view specific City of Milwaukee Archives materials in the Archives Reading Room of the Central Library. To request an appointment, please contact the Humanities and Archives Department at 414-286-3061.