Welcome Desk
Welcome Desk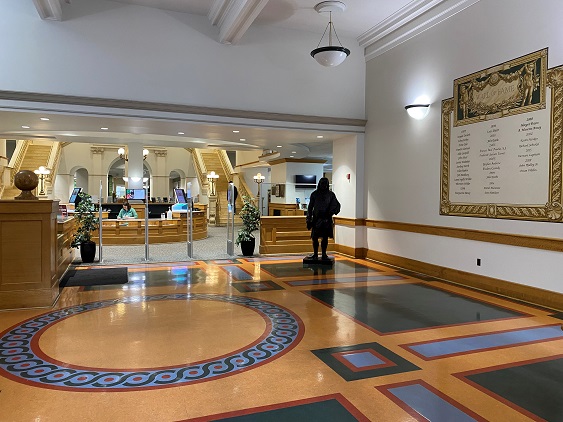 Welcome Desk, Ben Franklin statue, and Wisconsin Writers Wall of Fame
As we cross the threshold into the Library, the first space we enter is the main circulation and library card registration area. On the right (east), are the 1st floor restrooms and the Wisconsin Writers Wall of Fame. The Writers Wall pays tribute to a variety of literary artists whose work has been influenced by their life and experiences in Wisconsin. Next to the Writers Wall you can find the Benjamin Franklin statute. It was a gift from the Milwaukee Sentinel almost 100 years ago. It was originally installed in a space on the front of the Milwaukee Sentinel building in 1863. Around 1930 it was gifted to the Milwaukee Public Museum and for many years stood in various locations around the building, including the Museum's entrance in the Rotunda. In 1965 and 1968 the Museum Board of Trustees approved a permanent loan of the statue to the Milwaukee Public Library. This seems fitting as he was a founder of the first lending library in the United States. That library is considered to be the predecessor to public libraries in general. Mr. Franklin's statute has continued to move around the building for some years, but he now welcomes visitors in the Library entrance.
When the building opened in 1898, this area was called the Delivery Room. This is where patrons would request and pick up books after identifying them in the Card Catalog Room (currently, the Rotary Club Community Room). At this time the circulating books were all stored in a closed stack area. That meant it was not open to the public for browsing or retrieval. Staff would retrieve materials and deliver them to this space for patron pick up. Originally, this room had a tall arched ceiling, but with the 1913-1915 2nd addition the ceiling was lowered and separate spaces were created on the 2nd and 3rd floor. From the outside view, this filled in the space right up to and behind the base of the Rotunda's outside dome.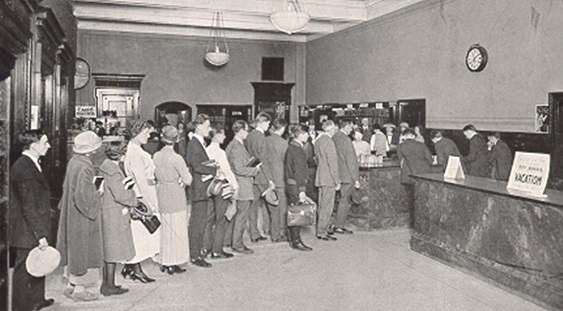 Delivery Room c. 1915
Today, just past this entry, is our Welcome Desk. Surrounding it are areas where patrons can check out materials, register or renew their library cards, pick up their holds, or take a look at the New Book area.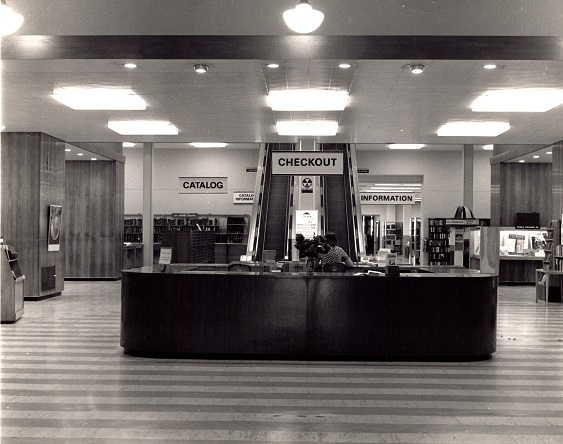 Checkout Desk, 1972-1995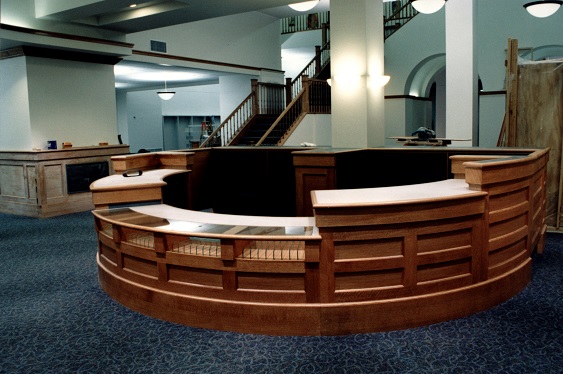 Welcome Desk, photographed at installation, 1996
Next stop: 1st Floor Main Street
Previous stop: Rotary Club Community Room and East Hallway