Get A Library Card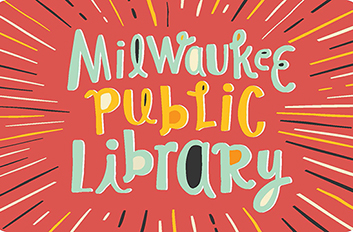 Your library card is your gateway to a world of information!
More than two million books, magazines, government documents, CDs, e-books, audiobooks, and DVDs are in the City of Milwaukee Public Library collection.

Library databases which you can access from home, office, or school - 24 hours a day, seven days a week - with your library card and password (PIN).

Access word processing, the Internet, and many useful databases with library computers and printers at all city library locations. Copies and printouts start at 15 cents per page. Learn more about our Print Center.
Residents of any other community may apply for a fee card. The cost of the fee card is $100 annually. Fee cards may be used at any Milwaukee Public Library to check out materials owned by the Milwaukee Public Library. Fee cards cannot be used for remote access of Milwaukee Public Library subscription databases.
---
---

HOW CAN I GET A LIBRARY CARD?
ADULTS
Must show two forms of ID. Examples of acceptable ID include, but are not limited to, the following:
Proof of Legal Name

Proof of Milwaukee County Residence
(must show name and address)

Valid Driver's License or State ID

Valid Municipal or Tribal ID

Valid Municipal or Tribal ID

Current Student Picture ID

Rental lease agreement (current year)

Utility bill (from the past month)

Valid WI fishing or hunting license

Financial account statement (from past month)

Current school report card or class schedule

Signed Social Security Card

Paycheck stub (from past month)

Current Employer Picture ID

Vehicle Registration (current year)

Checkbook with pre-printed personal checks

Postmarked mail from the past month that is not "junk mail" and is not a window envelope.
TEENS
Patrons 15-17 may get a library card on their own if they can provide two forms of ID as listed above. If teens do not have proper ID, they must be accompanied by a parent/guardian who can show ID as listed above.
CHILDREN
Children may get their own library card as soon as they are able to print their first and last name. Children under 15 must be accompanied by a parent/guardian who can provide a signature indicating responsibility.
Under current state law (Chapter 43.30), parents or legal guardians have the right to information in library records regarding their children under the age of 16. Parents or guardians can contact the library for a printout of items checked out on the card, as well as fines and other charges. Most often, the requested information can be given at the time of inquiry, following verification of parental authority.
---
HOW CAN I REPLACE A LOST LIBRARY CARD?
There is a $1 replacement fee and you will need to show two forms of ID-- one with name and one with name and current address. If your card is worn or damaged, it will be replaced free of charge.
---
HOW LONG CAN I KEEP LIBRARY MATERIALS?
Due dates vary; many materials can be kept for one or three weeks and renewed twice.
Renewals may be made in person, online, or by phone (414-277-0183)
Materials that cannot be renewed include 3-day items and materials that are on hold.
---
CAN I STILL CHECK OUT MATERIAL IF I FORGOT MY LIBRARY CARD AT HOME?
Yes, however, you will need to show one form of name ID. However, if you do not have a picture in your library record, you will need to show a picture ID or we will not allow checkout.
---
WHERE CAN I USE MY LIBRARY CARD?
Your library card is good at all public libraries in Milwaukee County.
---
RETURNING LIBRARY MATERIALS
Most materials may be returned in the book drop when the library is closed. Record albums may not be returned in the book drop because of the potential for damage.

Puppets, big books, and records are not suitable for automated book returns.
Do not put money for overdue charges in the book drops.
Return overdue materials in person in order to clear any holds against your library card.
---
OVERDUE CHARGES
Fees below apply only to Milwaukee Public Library materials. Fines may vary for suburban library materials.
The fee is 15 cents per item per day, including Sundays and holidays. For most items there is a three-day grace period during which no fines are charged. On the fourth day the overdue charges total 60 cents.
For circulating books, 7-day DVDs, CD-Roms, Compact Discs, 7-day Videocassettes, Kits, Audiocassettes, Records, Circulating Magazines, Pamphlets, and Puppets the overdue charge is 15 cents per day.
For reference loan material there is a $5 per day fee, no grace period.
The maximum overdue charge is $5 per item. If fines exceed the $5 limit, the balance must be paid in full to use your library card.
There are no fines on overdue materials checked out on children's library cards, except videos, DVDs and puppets.
Young Adults ages 15 and older will be charged for overdue materials.
The Milwaukee Public Library accepts Master Card and Visa.
---
WHAT IF I LOSE AN ITEM?
Report the loss of the item immediately. The cost of the material is based on the replacement cost.

The Milwaukee Public Library does not allow users to buy materials to replace those lost; the library will buy them.
If the material is found later, a refund of replacement costs may be requested if lost items are returned within 90 days of payment.
Patrons are responsible for replacement costs of items overdue for more than a year.
Please retain the receipt you receive when paying for the lost item—it will be needed to obtain a refund.
---
DOES MY LIBRARY CARD EXPIRE?
Yes, once every two years you will be required to stop in and show proof of address to help us keep our information up-to-date. Renew your library card online.
---
WHAT ARE MY RESPONSIBILITIES?
Your library card is for your use only. Do not share your card number or PIN with anyone.

You are responsible for all materials borrowed on your card, including any taken out without your permission.
Report changes of address promptly. You will be asked to show one form of identification with your new address.
Report a lost card promptly. You are responsible for materials borrowed up to the time the card is reported lost.
(You may report a lost card by phone or in person.)
Pay promptly all charges for overdue, damaged or lost materials.
Observe all additional rules of the Milwaukee Public Library, including those governing behavior on library premises.
What are the implications for My Reading History in terms of confidentiality and the PATRIOT Act?
Library users need to be aware that using My Reading History means this information is being stored on the CountyCat server. Staff will not have access to this information. However, if we are served with a subpoena, Reading History information might have to be surrendered to law enforcement officials. If this is of concern to you, you may not want to opt into the reading history feature.
The Milwaukee County Federated Library System adheres to all regulations regarding library user confidentiality as laid out in Section 43.30 of the State of Wisconsin Statutes.
---
MANAGING YOUR LIBRARY CARD ONLINE
Viewing your record, renewing items, placing holds, establishing a PIN, getting holds notifications, paying fines online, etc.