Rare Books
Rare Books & Art Gallery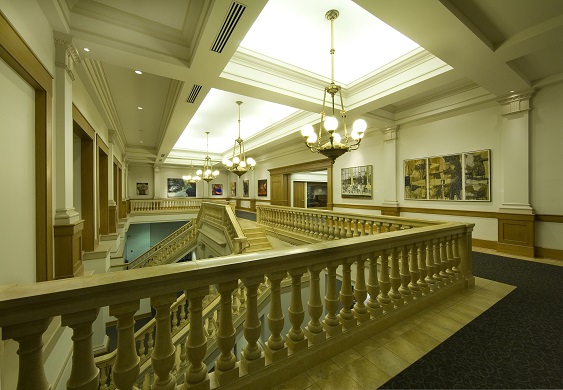 Central Library Art Gallery
Heading south (towards Wisconsin Ave) on the 2nd floor main street brings us to the Central Library's Art Gallery along all sides of the upper landing of the Grand Staircase. The artwork displayed here is on loan from the Milwaukee Art Museum. At the southern end of this landing/balcony is the entrance to the Richard E. and Lucile Krug Rare Books Room . This area also roughly represents the 2nd addition to Central Library's original building. Built between 1913-1915 by architects Van Ryn & De Gelleke, this addition created two floors above the original first floor stack room. This space was specifically for the Library.

Left: West view across Grand Staircase area to Business & Science Dept. entrance, 2000, and right: area outside Rare Books Room entrance, 2023
The Richard E. and Lucile Krug Rare Books Room renovation was completed and opened in 2001. Previously, rare books were housed in the Wehr-McLenegan Rare Books space on the first floor. The new, updated space created a separate temperature and humidity-controlled environment as well as an outer room to hold programs and receptions. Items from the rare book collection may be viewed by appointment only. To visit the room, watch our website for special events or programs. Until then, please take your time, wander the gallery and don't forget to check out the Krug Rare Book Room windows that display materials from the collection.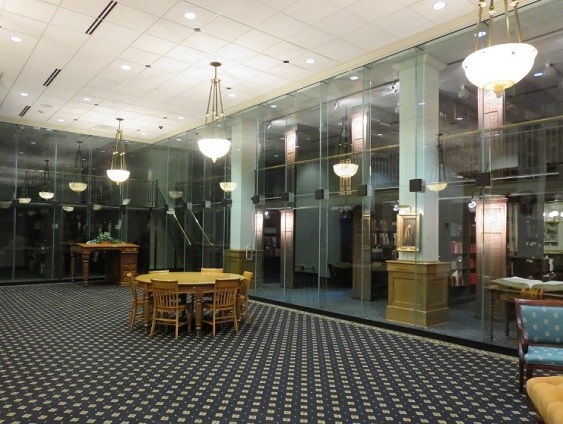 The Richard E. and Lucile Krug Rare Books Room
A few FAQs about the Rare Books Collection:
Oldest piece of paper – 1240: a leaf from a Bible
Oldest book – 1479
Holdings include:

A complete set of Audubon bird and mammal prints,
An Autograph book of over 2200 signatures from the late 1890s,
A hand illuminated manuscript tribute to John Plankinton.

The stack ends that are spotlighted behind the glass came from other areas of the library; they feature the MPL logo.
Next stop: General Reference and Business Commons
Previous stop: 2nd floor Main Street