Business & Technology Room
CENTRAL LIBRARY BUSINESS COMMONS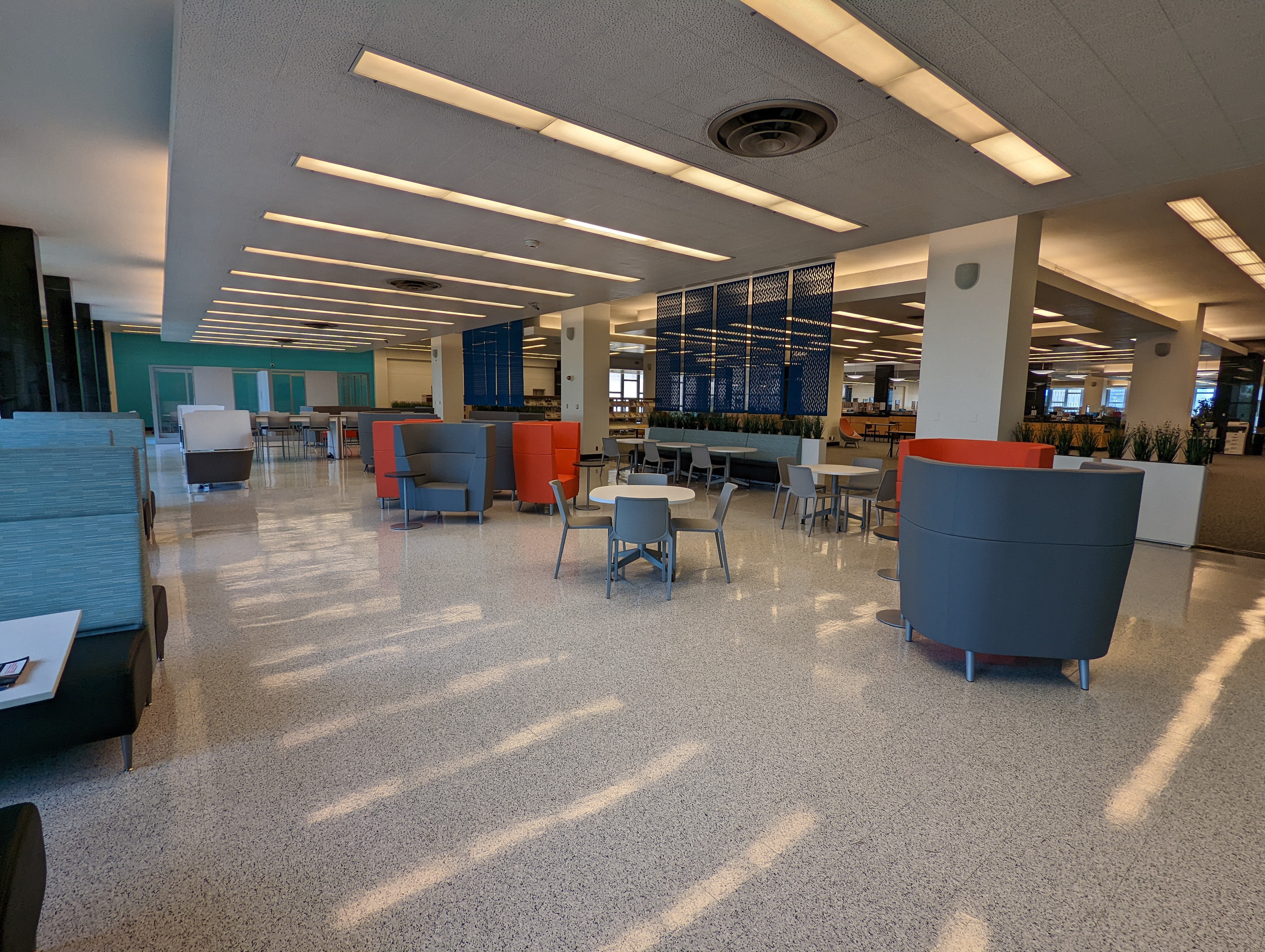 The Business Commons is a collaborative space for everyone to learn, explore, and grow in life. The space is open for networking and collaboration opportunities with the flexibility of working outside traditional study or office spaces. Reservations are required for the use of some spaces.
This space is supported by programming and initiatives primarily focused on entrepreneurship, business creation, and workforce development.
The Business Commons at Central Library is funded by a gift of the Schoenleber Foundation and Elaine C. Lange
---
Welcome to Central Library's Business & Technology Room, located on the second floor of the Central Library. Our online and print materials cover subjects such as small business planning and development, census and demographics, investments, grants, intellectual property, and health and environmental science. Additional collections of interest are listed below. For additional information please visit or call (414) 286-3051.
Book a Business Librarian
Work one-on-one with Milwaukee Public Library Business Librarians as they guide you through the library's business resources. Librarians can help you get started on your business plan, identify your customers and competitors, give tips on creating marketing materials, and more! Sign up for a 45-minute session by calling the Business & Technology Desk at 414-286-3051. Appointments are available in person or virtually. Learn more!
Census and Demographics
Historic population and economic census records can be accessed in print and microfilm in the Business & Technology Room. Additionally, library subscription databases such as DemographicsNOW contain the most up-to-date national and local demographics.
Company Annual Reports
A collection of annual reports of over 800 companies, many of them Wisconsin-based, spanning six decades. View the index. Additionally, the Business & Technology Room holds a microfiche collection of annual reports, 10K, and proxy statements of NYSE, AMSE, and NASDAQ traded companies covering the years 1978-1998.
Grants
Our grant collection includes foundation and scholarship directories and practical guides covering all aspects of the grant-seeking process. Search for active grant-making foundations in Wisconsin with the database Foundations in Wisconsin, available inside Milwaukee Public Libraries.
Patents and Trademarks
Milwaukee Public Library is a Patent and Trademark Resource Center (PTRC) one of a network of 84 libraries across the country providing specialized patent and trademark reference assistance. The Business & Technology Room has a comprehensive collection of utility and plant patents, Official Patent and Trademark Gazettes, and many more historic titles. Central Library also offers monthly patent searching classes. Visit our Patent and Trademark page for more information.
Small Business
With titles such as the Small Business Sourcebook and Business Plans Handbook, our small business collections contain expert resources essential for business planning and development. Attend one of our free monthly Small Business Resources classes for an overview of key resources from this collection.
---
Top 50 Things the Business & Technology Department Has to Offer
Central Library's Business, Technology, and Periodicals department provides a wide array of materials, databases, programming, and services. Discover all that we have and more!
Work one-on-one with one of our Business librarians for your business needs. Learn more about our Book a Business Librarian sessions.
Our Small Business Resources 101 workshop is a great starting point to learn about library resources to help with your business.
Are you an aspiring inventor? Learn the basics for getting that patent through our Patent Searching 101 workshop.
Need help with that business plan? We have the perfect database for you, Gale Business: Plan Builder. It guides you step-by-step through the process.
Learn more about our local Chambers of Commerce. They're a great resource for your business needs!
If you're working on a project or maybe even a business plan, we may have just what you're looking for through our census and demographic resources.
One of our newer databases, Udemy Business gives you access to over 10,000+ video courses to help guide you in your business endeavors.
Still looking for more instruction? Our database, Gale Courses offers free 6-week courses with a wide range of topics from business, health, technology, and more!
Do you need a letter or a form for a business, estate planning, real estate, and more? Access sample letters and forms through Gale Legal Forms.
Need advice on how to protect your idea? Attend our Intellectual Property Brief Advice Clinic session with our partners LegalCORPS and Foley & Lardner LLP.
Are you looking for information on how to brand or market your business? Check out our business collection to help with your needs.
Did you know that there are patents for plants? Stop by the Central Library's General Reference Desk to take a look at our collection.
Hosting a small group for a meeting or presentation? Book one of the spaces in the Business Commons or in the East View Conference Room. More spaces throughout MPL are available here.
Visit our department to view MPL's largest collection of current magazines and newspapers.
View our collection of Consumer Reports in print or via the Consumer Reports Magazine database to be informed when you're ready to buy that next item.
We have access to car and boat pricing resources at the General Reference Desk.
Do you want to know what the weather was like on the day you were born? We have access to historical weather information.
Need basic tax forms for the current or previous tax years? Ask a librarian for a form or tax resources today.
Let us help you find those old statistics with our Historical Milwaukee Census information.
Did you know that you have access to over 6,000 newspapers and magazines from all over the world? Your free access begins with PressReader with your library card.
Still want to view a print copy of the Milwaukee Journal Sentinel? Stop in today!
Need help with a resume or a cover letter? Check out some recommendations here.
Want online access to the leading newspaper in the U.S.? You can access the New York Times database here with your valid library card.
Have you ever wanted to compare the difference between an old microfilm reader and a modern one? We still have both in our Microfilm Room located at the Central Library's Business, Technology, and Periodicals Department.
Discover more about the business world! Stop in to access our copy of Milwaukee Business Journal-Book of Lists in print.
Get your business registered! Access Wisconsin One Stop Business Portal to create your business today.
Are you looking for an old recipe that perhaps grandma used to make? Check out our Historic Cookbook collection.
Dig deeper into our historic magazines and newspapers via microfilm or the print version (access depends on the condition of the material)
Speak with a business librarian about reference directories in print that cover manufacturing and business resources.
Discover the value or investment resources in our Value Line database
Learn more about financial resources such as credit counseling, identity theft, and don't forget your free annual credit report!
Studying for an exam for a job? Stop in and check out our collection of occupational exam practice tests.
Check out our Auto Repair Source and Small Engine Repair Reference Center databases to help you save money with handling your own vehicle repairs.
Prefer a car repair manual that you can check out? We have many from publishers such as Chilton and Haynes available.
Many of our department's programming and resources are available through MPL's LinkedIn Page. Connect with us!
Visit us to access Foundations in Wisconsin online (in-library use only) and in print.
Search and retrieve health information through Medline, a consumer health database available through MPL.
Ask about our resources for starting a non-profit business
Stop by to meet our team of business librarians!
Interested in having library business resources available at your event? Our team is available for outreach services. Email mplbusinesslibrarians@milwaukee.gov.
Join us in the Spring for our annual Money Smart Week programming.
Take advantage of our technology resources such as desktops, laptops, hotspots, fax, scanners, printers, free Wi-Fi, and charging stations!
We can help with referral information to community business resources.
Job help resources through Goodwill Workforce Connection Centers
Enjoy the Central Library Business Commons! It's an exciting new collaborative space within the Business, Technology, and Periodicals Department.
Stop by for a Green Roof Tour before the season ends
Visit our department to learn more about business-specific print materials
Stop in and sign-up for a Business Library Card today! You'll get access to business materials and online subscription databases.
Did you know that MPL has participated in the U.S. Government Printing Office's Federal Library Depository Program since the late 1800s, and as a Regional Depository for the State of Wisconsin since 1961? Learn more here!
Our department offers this and so much more. Learn more at the Milwaukee Public Library!