Business & Technology Room
GRAND OPENING CELEBRATION
CENTRAL LIBRARY BUSINESS COMMONS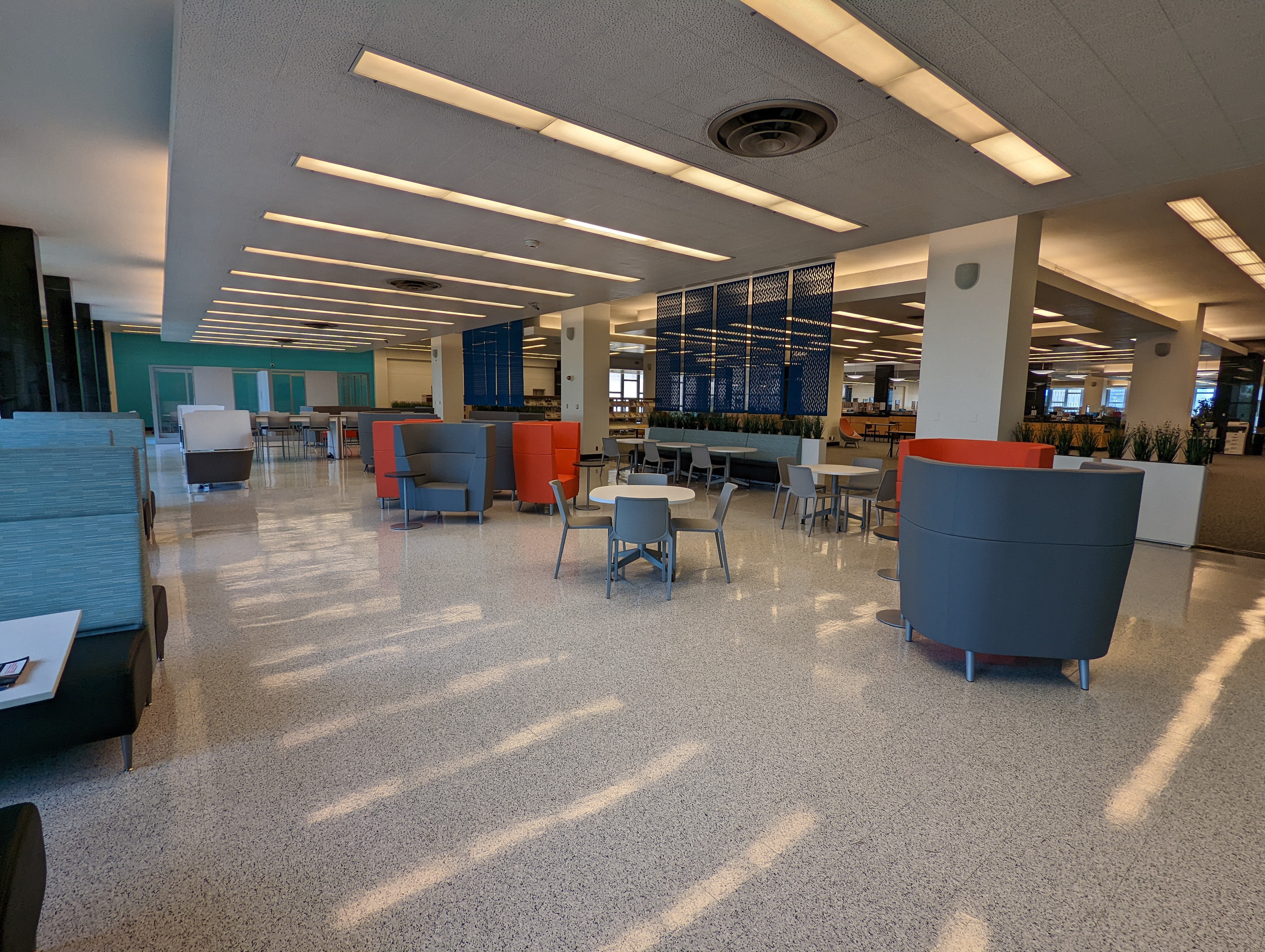 View the new collaborative space
Attend a business database demonstration
Get a free professional headshot
Enjoy a sweet treat

The Business Commons at Central Library is funded by a gift of the Schoenleber Foundation and Elaine C. Lange
---
Welcome to Central Library's Business & Technology Room, located on the second floor of the Central Library. Our online and print materials cover subjects such as small business planning and development, census and demographics, investments, grants, intellectual property, and health and environmental science. Additional collections of interest are listed below. For additional information please visit or call (414) 286-3051.
Book a Business Librarian
Work one-on-one with Milwaukee Public Library Business Librarians as they guide you through the library's business resources. Librarians can help you get started on your business plan, identify your customers and competitors, give tips on creating marketing materials, and more! Sign up for a 45-minute session by calling the Business & Technology Desk at 414-286-3051. Appointments are available in person or virtually. Learn more!
Census and Demographics
Historic population and economic census records can be accessed in print and microfilm in the Business & Technology Room. Additionally, library subscription databases such as DemographicsNOW contain the most up-to-date national and local demographics.
Company Annual Reports
A collection of annual reports of over 800 companies, many of them Wisconsin-based, spanning six decades. View the index. Additionally, the Business & Technology Room holds a microfiche collection of annual reports, 10K, and proxy statements of NYSE, AMSE, and NASDAQ traded companies covering the years 1978-1998.
Grants
Our grant collection includes foundation and scholarship directories and practical guides covering all aspects of the grant-seeking process. Search for active grant-making foundations in Wisconsin with the database Foundations in Wisconsin, available inside Milwaukee Public Libraries.
Patents and Trademarks
Milwaukee Public Library is a Patent and Trademark Resource Center (PTRC) one of a network of 84 libraries across the country providing specialized patent and trademark reference assistance. The Business & Technology Room has a comprehensive collection of utility and plant patents, Official Patent and Trademark Gazettes, and many more historic titles. Central Library also offers monthly patent searching classes. Visit our Patent and Trademark page for more information.
Small Business
With titles such as the Small Business Sourcebook and Business Plans Handbook, our small business collections contain expert resources essential for business planning and development. Attend one of our free monthly Small Business Resources classes for an overview of key resources from this collection.