About MPL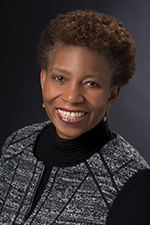 Welcome from City Librarian Paula Kiely
Libraries = Strong Communities is a national advocacy effort of the American Library Association aimed at highlighting the value of academic, public, and school libraries.
We're fortunate that the people of Milwaukee value their library system, and recognize the vital impact libraries have on early literacy and lifelong learning.
Milwaukee Public Library has always been dedicated to finding new ways to inspire and connect with the people in our neighborhoods and throughout our community.
I am pleased to present Milwaukee Public Library's 2018 Annual Report. As you read about the programs and services MPL has provided the people of Milwaukee in 2018, I hope you'll plan on being a part of our mission in the future by continuing to read, learn, and connect with others in our libraries, and in our city.
Vision
MPL is an anchor institution that helps build healthy families and vibrant neighborhoods – the foundation of a strong Milwaukee.
Mission
Inspiration starts here – we help people read, learn, and connect.
Strategic Plan
MPL 2020 Our Plan for the Future