Library History
History of the Milwaukee Public Library
The Milwaukee Public Library dates to 1878 when the State Legislature on Feb. 7 authorized the City to establish a public library. But the library can trace its lineage back further, to 1847 and the organization of the Young Men's Association, a subscription library which collected dues from its members. The group rented space for its library in a number of locations over the years and expanded into sponsoring a lecture series with such important speakers as Horace Mann, Horace Greeley and Ralph Waldo Emerson.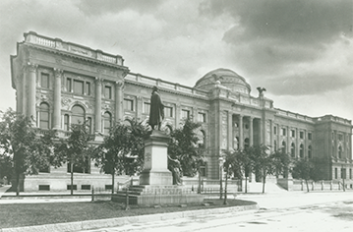 When it was established in 1878, the new public library took over the association's rented quarters and the group's collection of 10,000 volumes, many of them in German. After several moves and several fires, the library moved into a new, block-long limestone building at what is now 814 W. Wisconsin Ave. In 1898 it was known as Mozart's Grove, because it had been the site of summer concerts. A national competition was held to pick a design for a building to house both the public library and the public museum. Seventy-four entries were received, including an entry from Frank Lloyd Wright. The winning design was submitted by Ferry & Clas of Milwaukee. The winning design was for a building one block long and designed in a combination of French and Italian renaissance styles known as Neo-renaissance. The building was designed in a U-shape to provide a common entrance for the library and museum but to keep the facilities separate.Construction costs for the monumental building, now listed on the National Register of Historic Places, were $780,000.
The library opened on Oct. 3, 1898. It shared the building with the Milwaukee Public Museum until the museum completed its move to its own building on West Wells Street in the mid-1960s.
In 1957, an addition to the Central Library building was opened on the Wells Street side. It includes four fireproof levels of shelving below ground level.
Over the years the library system expanded by establishing book depositories at several locations, including grocery stores, then eventually in rented store buildings. June 16, 1910, the South Division branch was opened in its own impressive building at what is now 931 W. Madison St. In the 1960s the library system began a program to replace the storefront libraries and the outdated South branch and build new large buildings throughout the city. Today there are 12 neighborhood libraries (branches) each of which serves a population of about 50,000.​ ​​ ​