Teen Advisory Board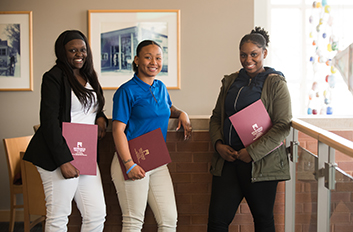 Applications for the 2020-2021 year are now closed. Email TAB@milwaukee.gov if you have any questions.
Have Fun, Get Involved, Make a Difference @ Your Library!
The Milwaukee Public Library invites YOU to join its Teen Advisory Board (TAB). We will be accepting applications for the 2020-2021 School Year through August 31, 2020. Apply by filling out the form below!
Being a Teen Advisory Board member is a great way to:
Earn volunteer/community service hours
Earn a stipend for participating ($100 per semester, $200 total)
Design and lead library programs
Advise on library projects
Friends and fun at every virtual meeting!
To qualify for TAB a membership and stipend, candidates must:
Be in grades 8-12
Attend two required meetings, one in October and one in January 2021, on scheduled Tuesday nights.
Complete 3 of the 7 engagement options/semester:

MPL Teen Social Media Takeover

Attend the 2-3 optional meetings each semester

Support for Makerspace Facilitators

Video Book Talks for MPL's YouTube Channel

Develop a Virtual Program for Teens

Spread the word! Share library programs with your friends!

Attend or view at least 2 teen programs a semester
2020-2021 virtual TAB Meetings will be once a month on Tuesday nights from 6:30-7:30 p.m. Meeting dates to be announced at a later date.
Need more info? Email TAB@milwaukee.gov.
---
The Milwaukee Public Library Teen Advisory Board is sponsored by the Milwaukee Public Library Foundation.
---