Introduction
Central Tour Introduction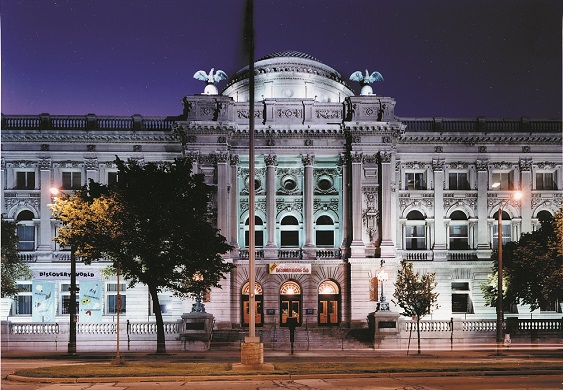 Central Library exterior
Welcome to a Self-Guided Tour of Milwaukee Public Library's Historic Downtown Central Library! We are pleased to have you join us on a walk around Central Library and learn more about its history. Our building is located at 814 W Wisconsin Ave and takes up 1 square city block. For reference, our borders are Wisconsin Ave on the south, Wells St on the north, 8th St on the east and 9th St on the west.
The Milwaukee Public Library (MPL) was formally established and opened on July 8, 1878. It occupied 2 other locations during these early years. However, after running out of space and experiencing several fires, the Library began planning for a permanent, fireproof building. Around this time the Milwaukee Public Museum (MPM) was also looking for a new home. In 1890 Adolph Meinecke, MPM Trustee, and Klas Linderfelt, MPL Director, proposed the idea for a joint building. At that time, both the Library and the Museum were City departments. Once the decision was made, from 1890-1893 the City of Milwaukee began purchasing homes/lots on what is now 814 W Wisconsin Ave (formerly Grand Ave). The City solicited designs for the building and selected local Milwaukee architects Ferry & Clas. Work began in October 1895 and lasted until 1899. The total cost for land, building and equipment was $780,000, which would be roughly $27 million today. On October 3, 1898, the Library area of the building was opened for service; the Museum area opened a few months later on January 24, 1899.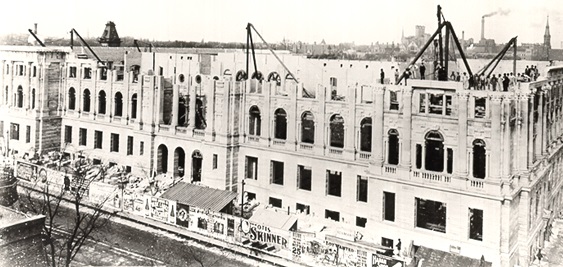 Central Library building during construction, 10/28/1896
In 1963, the Milwaukee Public Museum opened its next building across the street from the existing joint Library/Museum building at 8th and Wells, although some Museum exhibits did remain open in their original space in Central Library until 1967. The Museum moved out its last artifact, a giant taxidermized elephant, from Central Library in June 1969, and the move was completed. In 1976 the City of Milwaukee sold MPM to Milwaukee County. As of 2023, MPM is planning construction and relocation to a new building near 6th and McKinley.
Over the past century plus, there have been many remodels and renovations to the inside of the building at 814 W. Wisconsin Ave. Subject departments have merged and moved rooms too many times to keep detailed track. However, there have been 4 significant building additions that changed the footprint and physical shape of Central Library. Here is a brief overview of them and we will address them in more detail at the appropriate stops along the way:
The first addition happened from 1909-1912 by the same architects that designed the original building, Ferry & Clas.
The second addition happened from 1913-1915 and was designed by architects Van Ryn & De Gelleke.
The third addition, a top floor storage area, the least extensive of the 4 additions, happened from 1930-1931, although it was removed a couple decades later.
The fourth addition happened from 1954-1957 and was designed by architects Grassold & Johnson. This addition demolished some older existing buildings on the property and allowed Central Library to officially take up the rest of the City block between Wisconsin Ave & Wells St and 8th & 9th streets.
Central Library (circa 1960) with additions labeled
Central Library is Milwaukee Public Library's oldest branch. In its 125-year history it has survived growth, additions, remodels and even pandemics as it continues to modernize to meet patrons' needs and support the other branch locations. In 1969, Central Library was declared an official Milwaukee landmark. In 1974, Central Library was added to the National Register of Historic Places and in 1989, Central Library was added to the Wisconsin Register of Historic Places.
Next stop: Grand Rotunda