Wisconsin Writers Wall of Fame
The Milwaukee Public Library's Wisconsin Writers Wall of Fame pays tribute to a spectrum of literary talents--novelists, poets, journalists, playwrights, historians--whose work has been influenced by their life and experiences in Wisconsin.
2018
John Ridley Jr. (1965- )
Born in Milwaukee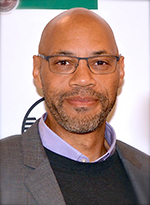 John Ridley is a novelist, screenwriter, film director and showrunner. Known for 12 Years a Slave for which he won an Academy Award for Best Adapted Screenplay. He is also the creator and showrunner of the critically acclaimed anthology series American Crime. A prolific writer, his various works include noir thrillers, action-adventure films, and comedy. Ridley's novel Stray Dogs was published in 1997, a bleak tale of betrayal and desperation that won comparisons to such master crime and suspense writers as Dashiell Hammett, Elmore Leonard, and Raymond Chandler. Ridley released a second novel in the noir genre the following year, Love Is a Racket, which again gained critical praise. Ridley produced and directed his first original film, Cold Around the Heart, another noir thriller. Ridley has also written social criticism and political journalism and has appeared as a commentator on radio and television. Ridley's articles on politics, race issues and the media industry appeared in a number of publications including the New York Times, Los Angeles Times and the Boston Globe.
Orson Welles (1915-1985)
Born in Kenosha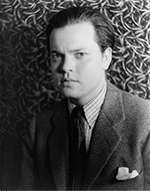 Orson Welles was a Broadway and Hollywood actor, radio actor, and film director. Citizen Kane (1941), is his most famous film and was awarded accolades and acclaimed as one of the best movies of all time. Welles is credited with producing, directing, co-scripting the entire film and playing the leading role. Years later Welles declared "I began at the top and have been making my way down ever since. Among his other films are The Magnificent Ambersons (1942), The Lady From Shanghai (1946), Othello (1952), Touch of Evil (1958), The Trial (1962), and F Is for Fake (1973). Welles appeared in more than 45 films besides his own. Welles played The Shadow on radio and supervised "Mercury Theatre on the Air." The most famous episode was an adaptation of H. G. Wells' War of the Worlds, which resulted in panic as many listeners, believed the Martians were invading New Jersey. Welles shared an Academy Award for the script of Citizen Kane and in 1975 was honored by the American Film Institute with a Life Achievement Award.
2015
Increase A. Lapham (1811-1875)
Resident of Milwaukee 1836 – 1875
Increase Lapham wrote and published on a wide variety of scientific and popular topics throughout the mid-19th century. His subjects reflect his broad range of interests in the world around him. Lapham is credited for being the author of the first book written and published in Milwaukee, A Geographical and Topographical Description of Wisconsin; with brief sketches of its history, geology, mineralogy, natural history, population, soil, productions, government, antiquities, &c, &c published by P. C. Hale in 1844. Lapham's most enduring work is his The Antiquities of Wisconsin, as surveyed and described which was published in 1855 as a part of the Smithsonian Institution's Contributions to Knowledge series. In addition to his own writing, Lapham was instrumental in the development of libraries in Milwaukee. He served as a member of the city's school board, personally contacting publishers and ordering books for school libraries.
2012
Kevin Henkes (1960- )
Born in Racine, studied at University of Wisconsin-Madison
Born in Racine, Henkes often visited the local art museum - The Charles A. Wustum Museum of Fine Arts. He was greatly inspired by these visits and by reading his favorite books. Henkes is best known for the books featuring an adorable assortment of marvelous mice - Chester, Chrysanthemum, Lilly, Owen, Penny, Wendell and Wemberly - to name a few. But he has written more than 40 books including novels, picture books, and his popular "mouse books." Kitten's First Full Moon was the winner of the Caldecott Medal and Henke's novel Olive's Ocean won a Newbery Honor. The Association of Library Service to Children, a division of the American Library Association, selected him to deliver the prestigious May Hill Arbuthnot Lecture in 2007.
Richard Schickel (1933-2017)
Born in Milwaukee
Film historian, filmmaker, and film critic, Schickel is the author of more than 30 books and the director-writer-producer of dozens of film and television documentaries. Among his best-known books are Elia Kazan: A Biography; D.W. Griffith: An American Life; Clint Eastwood: A Biography; The Disney Version; Brando: A Life in Our Times; and his memoir, Good Morning, Mr. Zip Zip Zip. His most recent titles are Clint: A Retrospective and Conversations with Scorsese. A film critic for Life magazine and Time magazine for 43 years, Schickel reviews at Truthdig.com. He has held a Guggenheim Fellowship and was awarded an honorary degree by the American Film Institute.
2008
A. Manette Ansay (1964- )
Raised in Port Washington, studied at the University of Wisconsin.
Ansay's experiences in Midwestern farm life are incorporated into her fiction. Novels like the Oprah selection Vinegar Hill and Midnight Champagne are infused with the rhythm of rural Wisconsin. In her memoir Limbo, Ansay relates her struggle with the debilitating disease that redirected her musical career towards that of the written word. She has received the Nelson Algren Prize for the title story of Read This and Tell Me What It Says, the Pushcart Prize, the Friends of American Writers Prize, and the Great Lakes Book Award.
Margot Peters (1933- )
Resides in Lake Mills.
Born in Wausau and educated at the University of Wisconsin, Peters is the author of celebrated biographies including Design for Living, a biography of Lunt and Fontanne, two books on Charlotte Bronte: Style in the Novel and the biography Unquiet Soul, as well as books on Mrs. Patrick Campbell, the Barrymores, and May Sarton. She received the George M. Freedly, Banta, and Council of Wisconsin Writers awards all for Bernard Shaw and the Actresses.
2006
Jane Hamilton (1957-)
Resides in Rochester
After graduating Carleton College in Minnesota, Hamilton moved to Wisconsin where she began her literary career by putting her experiences with rural, small-town living into critically acclaimed novels. Her books, including The Book of Ruth (for which she won the PEN/Hemingway Foundation Award) and A Map of the World demonstrate Hamilton's ability to examine the subtle nuances of family dynamics in the face of tragedy, misfortune and dysfunction.
David Maraniss (1949- )
Raised and educated in Madison
Maraniss was born in Detroit, Michigan but moved to Madison when he was eight. He graduated from the University of Wisconsin and began his journalism career with the Washington Post in 1977. He received the Pulitzer Prize for National Reporting in 1993 and the Frankfurt Prize in 1997 for When Pride Still Mattered: A Life of Vince Lombardi. His non-fiction books range from compelling biographies of larger-than-life figures to in-depth examinations of major events in American history.
2004
John Koethe (1945- )
Professor of Philosophy at UW-Milwaukee
Born in San Diego, California, Koethe was educated at Princeton and Harvard Universities. He is the author of several collections of poetry, including Blue Vents, The Late Wisconsin Spring, The Constructor, and North Point North: New and Selected Poems. His 1973 book of poems, Domes, won the 1973 Frank O'Hara Award for Poetry, and his 1997 collection, Falling Water, received the 1998 Kingsley Tufts Poetry Award. In 2000, John Koethe was named Milwaukee's first poet laureate.
2003
Stephen Ambrose (1936-2002)
Raised in Whitewater
Graduating with a major in history from the University of Wisconsin-Madison, Ambrose earned his master's degree from Louisiana State University, and returned to the University of Wisconsin to begin work on his Ph.D. in history. Some of his best sellers include: Undaunted Courage: Meriwether Lewis, Thomas Jefferson, and the Opening of the American West, Citizen Soldiers, Band of Brothers, D-Day June 6, 1944: The Climactic Battle of World War II, and Wild Blue.
Frederic Cassidy (1907-2000)
Taught in Madison
Cassidy was born in Kingston, Jamaica. He earned his bachelor's and master's degrees at Oberlin College and his Ph.D. at the University of Michigan. From 1939-1979, Cassidy taught at the University of Wisconsin-Madison where his courses included Beowulf, Old English, Old English Poetry, Middle English, and the history of the English language. He authored numerous published works, but will be best remembered as the chief editor of The Dictionary of American Regional English, a massive compilation of slang, regionalisms, and folk language.
2001
Francis Paul Prucha, S.J. (1921- 2015)
Born in River Falls
A Jesuit priest, Prucha is a professor of history at Marquette University, where he has taught since 1960. In his many writings he explores the complex and sometimes tempestuous relations of the American Indians with the dominant white society.
Frederick Jackson Turner (1861-1932)
Born in Portage
A graduate from the State University (Wisconsin) in 1884, Turner became a professor at the University of Wisconsin, where he drew the inspiration for his essay The Significance of the Frontier in American History which addresses American territorial expansion and its impact on the growth of democracy. An author of numerous books, his name is synonymous with the western frontier.
2000
John Gurda (1947- )
Born in Milwaukee
As Milwaukee's local historian and author of The Making of Milwaukee, Gurda has chronicled the histories of Milwaukee area neighborhoods, churches and industries. A graduate of Boston College and holding a master's degree from the University of Wisconsin-Milwaukee, he is also a photographer, lecturer and local history columnist for the Milwaukee Journal Sentinel.
1999
Lois Ehlert (1934-2021 )
Born in Beaver Dam, resides in Milwaukee
The talented author and illustrator of over 30 books for young children, Ehlert is a graduate of the University of Wisconsin, Milwaukee and the Layton School of Art. Her simple and fun concept books abound with brightly colored collages of tone and texture. She received a Caldecott Honor for Color Zoo and has delighted children with her colorful creatures in Circus, Feathers for Lunch, and Cuckoo: A Mexican Folktale among many others.
1998
Marguerite Henry (1902-1997)
Born and raised in Milwaukee
The beloved children's author wrote 60 books in her lifetime. Educated at Riverside High School and Milwaukee State Teachers College (UW-Milwaukee), she found an enthusiastic audience of young readers for her books about animals, especially horses. Awarded many honors in her lifetime, she won the 1949 Newbery medal for King of the Wind. Her best-known book, Misty of Chincoteague, and the popular Justin Morgan Had a Horse and Brighty of the Grand Canyon were made into films.
1997
August Derleth (1909-1971)
Life-long resident of Sauk City
Wisconsin's most prolific writer, Derleth published more than 150 books ranging from historical novels and poetry to themes of the macabre. The Hills Stand Watch describes political Wisconsin as it emerged from a territory to a state. August Derleth Society
Edna Ferber (1887-1968)
Childhood home in Appleton
Once a reporter for the Milwaukee Journal, Ferber's book A Peculiar Treasure describes her early impressions of Appleton. She wrote several best-selling novels including Giant and Show Boat, and won a Pulitzer Prize for So Big.
Zona Gale (1874-1938)
Born in Portage
Edna Ferber recalls being in awe of this "real" writer who visited the Milwaukee Journal while she was a reporter. Gale also wrote for the Milwaukee Journal but is best known for her novels, plays and short stories which reflect her passion for politics, pacifism, education, social reform and feminism She received a Pulitzer Prize for her play Miss LuLu Bett.
Hamlin Garland (1860-1940)
Born in West Salem
A novelist and essayist, his work A Son of the Middle Border and Pulitzer Prize-winning A Daughter of the Middle Border portray the harsh life on the prairies of rural Wisconsin.
Aldo Leopold (1886-1948)
Lived and worked in Madison
Leopold was a pioneer ecologist whose concept of wilderness preservation is outlined in A Sand County Almanac. This collection of essays uses spare, eloquent prose to champion the need for an environmental code of behavior for humankind.
John Muir (1838-1914)
Boyhood home in rural Montello
Born in Scotland, Muir came to Wisconsin in 1849. The Story of My Boyhood and Youth describes his early years in rural Montello. Naturalist, inventor, writer and conservationist, Muir is recognized as the father of the national park system and founder of the Sierra Club.
Lorine Niedecker (1903-1970)
Born in Fort Atkinson, lived on Blackhawk Island
Niedecker is a poet of a single location, the area around Blackhawk Island. "I spent my childhood outdoors - red-winged blackbirds, willows, maples, boats, fishing..." wrote Niedecker. She worked for a time as a library assistant in the Dwight Foster Public Library. Her works include New Goose, "My Friend Tree" and "My Life By Water."
Sterling North (1906-1974)
Born in Edgerton
Life on a farm near Edgerton became the setting for North's The Wolfling. A reporter, literary editor and publisher of North Star Books, Sterling North is best known for his exploits with his pet raccoon which he chronicled in the novel Rascal, later made into a Disney film.
Ellen Raskin (1928-1984)
Born in Milwaukee
Ellen Raskin received an art degree from UW-Madison and established a New York career in freelance commercial art, as well as writing and illustrating children's books. In 1966 Raskin wrote Nothing Ever Happens on My Block, which was named one of the 10 best illustrated children's books of the year by the New York Times. She received the Newbery Medal and Banta Award for The Westing Game which is set in Sheboygan.
Carl Sandburg (1878-1967)
Lived in Milwaukee as a journalist
Poet, historian, novelist and biographer, Carl Sandburg lived in Wisconsin from 1907 to 1912. He worked as a reporter for the Milwaukee Journal and Milwaukee Sentinel. He later became best known for his biographies of Lincoln, winning a Pulitzer Prize for history for Abraham Lincoln: The War Years and for poetry with Selected Poems.
Laura Ingalls Wilder (1867-1957)
Born in Pepin
The famous author of the "Little House" books was born in Pepin, Wisconsin in 1867. The series of family stories describing both the joys and hardships of life on the frontier began with Little House in the Big Woods. This first book describes Wilder's years in Wisconsin living in a log cabin with her family. The "Little House" books inspired the long-running television series "Little House on the Prairie."
Thornton Wilder (1897-1975)
Born in Madison
Playwright and novelist, Wilder grew up in Madison and spent his first nine years investigating the city's library, lakes, and the newspaper office. In 1928 he won the Pulitzer Prize for fiction for The Bridge of San Luis Rey. His popular play The Matchmaker was made into the musical "Hello Dolly!" and he won Pulitzer Prizes for both Our Town and The Skin of Our Teeth. In 1974 he received the first Banta Award for his novel Theophilus North.