Wisconsin Architectural Archive
Attention: Under Milwaukee Public Library's limited service model, in-person research with this collection is currently unavailable. We hope to be available, by appointment only, soon. Please check back for updates.
Located within the Milwaukee Public Library's downtown Central Library, the Wisconsin Architectural Archive is dedicated to the acquisition and preservation of architectural drawings and materials. Far too often these documents have been destroyed because their significance was not recognized, nor was a formal method of preservation established. By making available that information which once was the exclusive property of the architectural office, the archive encourages public interest and understanding of Wisconsin's heritage.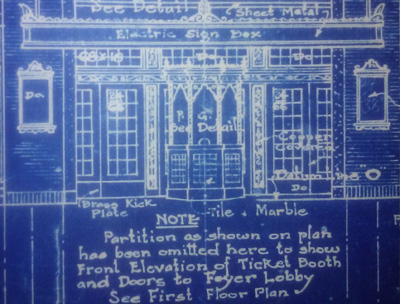 This is just a sample of what you can find in the WAA
Founded in 1975 by Thomas Eschweiler, an architect himself, and grandson of renowned architect Alexander Eschweiler, the Wisconsin Architectural Archive is a collection of drawings and plans that record the talent and design styles of architects who shaped the appearance and history of Wisconsin. WAA holdings currently encompass more than 12,500 projects, representing more than 470 architects from firms dating back to 1851, and the archive continues to grow with new acquisitions.
Why utilize the WAA?
Architects can examine original documents showing styles and technology necessary for current work or study
Builders can obtain prints for remodeling purposes
Craftsmen can obtain authentic details from the past
Historians can discover the influence of or on a particular architect
Homeowners can learn the history of their homes
Students can learn more about how, when and why a particular style was used
How to Use the Collection
WAA holdings are cataloged by architectural firm or architect's name, building date, building name, owner's name, street address, and type of building.
Excel Format Catalog of the WAA Holdings
Purchase Copies
The WAA is sustained by fees charged for reproductions of original drawings. The public is encouraged to visit the Central Library and examine the materials before deciding to purchase reproductions of drawings.
For more information, or to make an appointment to see plans, call the Librarians in the Art, Music and Recreation Department of the Central Library at (414) 286-3071. Same day access cannot be guaranteed.
Donate to the WAA
The WAA welcomes donations of architectural plans, especially those of historical significance in Milwaukee and Wisconsin, or the works of local Wisconsin architects (regardless of where a structure was planned or built). If you are interested in donating such materials, call the Librarians in the Art, Music and Recreation Department of the Central Library at (414) 286-3071.