Local History Manuscript Collections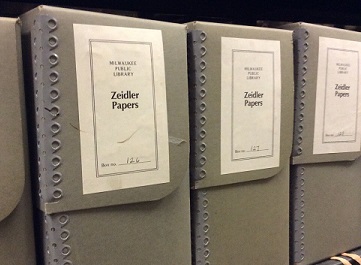 The Local History Manuscript Collections contain manuscripts, diaries, correspondence and other primary source material that focus on life and events in the City of Milwaukee.
These collections contain personal papers, family papers, and organizational records and cover topics such as Socialism, literary manuscripts, and other materials that represent Milwaukee's history. Some collections include the Frank Zeidler Papers, Max Nohl Papers, and the Wisconsin Visual Artists Records. These holdings are in differing stages of organization and preparation, hence accessibility varies.
Finding aids for some of the Local History Manuscript Collections listed in the index may be consulted in paper form in the Frank P. Zeidler Humanities Room at the Central Library. Some searching for collections may also be done using CountyCat, particularly to find related materials. Increasingly, finding aids for the Local History Manuscript Collections may be found online by using Archival Resources in Wisconsin which contains the finding aids of archival collections in the Milwaukee Public Library and around the state of Wisconsin.
Attention: Under Milwaukee Public Library's limited service model, in-person research with this collection is currently unavailable. We hope to be available, by appointment only, soon. Please check back for updates.
Using the Collections
The public may view Local History Manuscript Collections by appointment in the Archives Reading Room of the Central Library. To request an appointment, please contact the Humanities and Archives Department at 414 286-3061.