Milwaukee's Menagerie: Hank the Dog
If one wanted the ultimate in cheesy taglines for the story of Hank the Dog, "he wandered onto the field and into our hearts" would be a major contender, but also not entirely inaccurate, either. For those of you who were living in a bomb shelter away from the world last year, let me be the first to tell you about Milwaukee's latest great animal resident.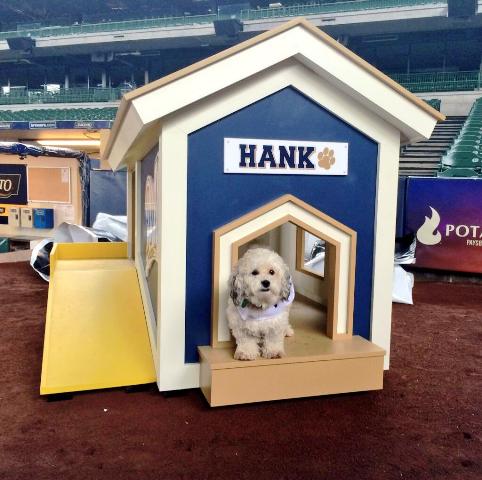 Photo of Hank by Wikimedia Commons User Gkasica
It was February 17, 2014, and the Milwaukee Brewers were in spring training down in Arizona. It was that day they would find a stray dog in Maryvale Baseball Park, a shaggy little bichon frise mix that was looking a little bit worse for wear. The Brewers staff would get the dog checked out by a vet, but it was quickly clear that everyone, including the team, were taking a shining to the pup. They even named him Hank, after Milwaukee Braves and Brewers veteran Hank Aaron. When no owner of Hank would appear, it was almost a no-brainer that he would remain with the team and come back to good old Milwaukee.
It was one of those feel-good stories that actually made you feel good without seeming false. Sure, there are cynics that want to say Hank distracted all attention on the Brewers from other issues about the team, or just people who hate dogs, but those people are no fun and should have their opinions discounted. Hank the Dog is the best furry thing to happen to the Brewers since Pete Vuckovich's mustache. He's generated tons of merchandise sales which thankfully also benefit the Humane Society, he's been voted Dog of the Year, and even Deadspin agrees he is the best dog.
It's been over a year, and we still can't get enough of that scruffy little fella. Sure, certain mustachioed local historian-slash-library board members may besmirch our four-legged friend as more 'metrosexual' than what he'd consider a good athletic animal mascot, but who can truly find anything lacking in Hank's appearance? He's the epitome of scruffy fluffy cuteness, which perhaps doesn't exude athletic prowess, but one could say that neither does Bernie the Brewer or the new stuff-of-nightmares mascot Barrelman. I think few people can deny the pure-hearted glee that comes from seeing Hank run along with the Racing Sausages. He is the animal mascot we need, and the one we deserve.
His own children's book, Hank the Ballpark Pup by Karen Winnick, is available at a plethora of library locations. And don't forget to actually go see a Brewers game to see Hank - I even hear they're giving away Hank Bobbleheads on Mother's Day!