Clown, the Polar Bear That Escaped From the Washington Park Zoo
A large cat, maybe a cougar or lion, is wandering around Milwaukee. All of the big cats at the Milwaukee County Zoo are accounted for, but when it called Washington Park home, a polar bear named Clown escaped. He was part of the first group of polar bears that arrived at the Washington Park Zoo in 1912. The bear cages were located on what is now the Stadium Freeway.
---
Images from Milwaukee Public Library's Collection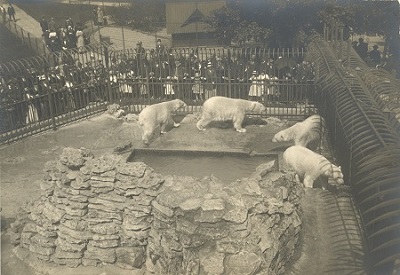 ---
Clown clowned for the crowds with paw waving and pool diving. He and Silver King fought through the cage bars on April 11, 1921. He climbed over the top and tried to get at Silver King through the front bars. Then, Clown went on a walkabout about 4:00 in the morning through developing neighborhoods and semi-rural areas west and north of Washington Park. He walked across N. 47th St. and found Washington Heights backyard fences to be no match for his paws.
He returned through Washington Park and turned north on N. 40th St. to Sherman Park and W. Burleigh St. Go west, young bear went Clown to Wanderer's Rest Cemetery at rural N. 60th St. Fortunately, he did not add to the population of the cemetery on a quiet morning.
He started looking for breakfast. Rummaging through a garbage can in an alley on N. 47th St. caught the attention of Milwaukee Police detectives John "Jack" Niederkorn and August Stark patrolling in a Tin Lizzie (Ford Model T). They raced to the zoo. Director Ed Bean gave them a rifle and two bullets, one more than Mayberry Deputy Sheriff Barney Fife carried in his pocket on The Andy Griffith Show.
They raced back and tailed Clown eastward until 8:00 a.m., when adults and children were ready to go to work and school. Whatever hope they had of lassoing the wanderer with a rope vanished when he started approaching a couple near W. Fond du Lac Ave. and N. Sherman Blvd. in what was then the Town of Wauwatosa.
Niederkorn aimed and fired with a bullet to spare. The bullet hole behind Clown's ear was patched up and his head was mounted in the Washington Park Zoo lobby before being banished to the basement.
Hopefully, the big cat search ends on a better note. If you want a happy ending, join us for Saturday's When the Milwaukee Public Museum Was at the Central Library program and tour and find out about their pet lion Sim.
Daniel Striped Tiger @ Central
(Dan, Local History Librarian)