John A. Hall, Probable First City Hall African American Clerk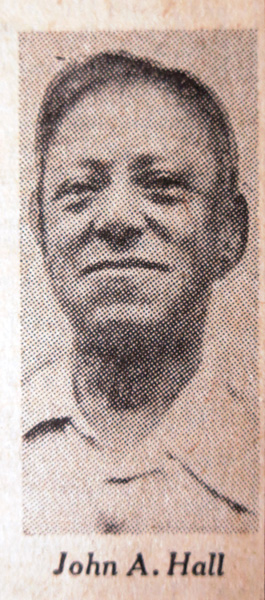 Milwaukee City Hall has a World War I Roll of Honor plaque in the Rotunda. It lists 321 civil servants who served our country, including John A. Hall. He is believed to be the first African American clerk at City Hall. He was born in Escanaba, Michigan in 1887. After graduating from high school, he moved to Milwaukee in 1905 and took a civil service exam three years later. He worked as a bell captain at the Plankinton House hotel, married Amanda Reeves and started raising a family when he was finally hired as a clerk in the Department of Public Works (DPW), Bureau of Bridges and Public Buildings in 1911. Many of his new coworkers immediately objected to his skin color and refused to work with him. Despite Hall's good job performance, Supervisor L. J. Klug felt forced to give him notice him after only a week that he would soon be fired due to continuing unwillingness of some coworkers to work with a nonwhite American. Since it was only 50 years after the Civil War, the unfairness of his impending sacking caused an uproar and was considered an insult to the legacy of Abraham Lincoln, the Great Emancipator. DPW Commissioner Harry E. Briggs intervened to keep Hall on the job.
A search of the WPA's The Milwaukee Journal 1915-1917 Index shows the Milwaukee chapter of the National Association of Colored People (NAACP) was organized in 1915 and Hall was elected its first president.
One of the Special Collections of the Milwaukee Public Library is the World War I Military Portraits. It consists of service information and photos for 16,000 Milwaukee County men and women who served in the war. It was compiled by the American War Mothers - Milwaukee County Chapter into the 11-volume A Record of the Heroes of Milwaukee County Who Answered Their Country's Call in the World War, Apr. 1917-Nov. 1918. They donated the set to the library in 1921. They were digitized and went online on the 2014 centennial of the start of the "War to End All Wars."
What makes this collection more valuable for family, local and military history research was the disastrous 1973 National Personnel Records Center Fire in St. Louis. About 16-18 million military personnel records files were destroyed, including for those who served in World War I, World War II, Korean War and other military actions. About 80% of Army personnel records of those discharged from 1912 to 1960 and 75% of Air Force personnel records of those discharged from 1947 to 1964 burned (the Air Force was part of the Army before 1947). When I tried to get a copy of my father's military record, the National Archives replied they couldn't find it and presumed it was destroyed by fire.
When the United States entered World War I in 1917, Hall joined the Army. Since the military was segregated, he wasn't allowed to serve in the 32nd "Red Arrow" Division (Wisconsin and Michigan). He was assigned to the African American 370th Regiment (Illinois), 93rd Division. When the 93rd arrived in France in 1918, the American Expeditionary Force (AEF) was reluctant to use African Americans soldiers in combat, preferring to use them for manual labor. The French Army, badly depleted from four years of trench warfare, needed reinforcements. Gen. John "Black Jack" Pershing assigned the regiments of the 93rd to them. The French Army treated African Americans soldiers as equals. They kept wearing doughboy uniforms but were equipped with French weapons and helmets.
Looking at his transcribed military record, Hall was promoted to 2nd Lieutenant after basic training. As an officer, he led a platoon as the 370th fought in the successful Oise-Aisne Offensive (August-November 1918) that helped to end the war on November 11th, 1918. Unfortunately, there is no photo of him in uniform in the collection. He returned to City Hall after being discharged in March 1919.
Hall was politically active during the Great Depression. He was a 6th Ward Committeeman for the Socialist Party. He ran and lost to incumbent George J. Herrmann to represent the 6th District on the Milwaukee County Board of Supervisors in 1936.
After working 37 years at City Hall, he retired in 1948. He died at 68 at Soldiers Home Hospital (VA) in 1955 and is buried at Wood National Cemetery.
What is interesting was how Census records classified his race over the decades.
1890: Census record believed to have either been destroyed in a 1921 fire or when Congress authorized the Census Bureau to destroy surviving Census Schedules in 1934.
1900: Black
1910: Mulatto
1920: Indian
1930: The Census Bureau enumerator recorded his duplex neighbor but missed Hall's family.
1940: Negro
1950: To be released on April 1st, 2022

John A. Hall, obituary, The Milwaukee Journal, July 2nd, 1955.
The City Hall Rotunda World War I plaque photo links were taken by the Historic Preservation Commission staff for the Milwaukee War Memorials and Monuments page, Nader Sayadi project lead.
Dan, Local History Librarian