Erick Ledesma, brings his art and culture to the library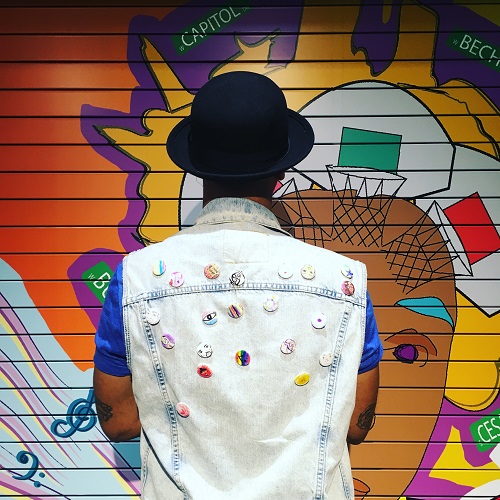 Erick Ledemsa shows off his community made buttons for his project Faces of Mitchell.
Artists Working in Education, Inc. in collaboration with Milwaukee Public Library's Mitchell Street Branch brought on the first artist-in-residence, Erick Ledesma, in March of 2018 as a part of the Gathering Art, Stories and Place NEA Our Town grant. Erick has been an incredible asset to the library. He created murals for the garage doors in Studio M in the Spring of 2018 and ran two community-based art projects, Iron Board Cafe/El Café Planchando and Community Canvas throughout the summer. This fall/winter, Erick is working with the community again with a project called Faces of Mitchell which will explore portraiture and culminate in a permanent sculpture at the Mitchell Street Branch. This sculpture will be unveiled and celebrated in December. Katie Loughmiller, Arts Project Coordinator for the Milwaukee Public Library, sat down with Erick to talk to him about his residency experience.
For starters, why did you want to apply for this residency at the library?
I had just gotten out of the Cesar Chavez Artist Residency through Clarke Square Neighborhood Initiative which was very similar to this residency. It was community based and community arts engagement residency. I had so much momentum in that space and I was really figuring out what I wanted to do in the community arts engagement field. I had done it before but I had never really focused on it. Unfortunately, my residency on Cesar Chavez was abruptly interrupted by Hurricane Maria. I went home for two months to do some community outreach and relief work. In Puerto Rico, I saw the opportunity at the library come up. I thought it would be really great to use what I had learned from the previous residency and to continue the work I was doing that was disrupted by Hurricane Maria.
Weren't you actually in Puerto Rico when you found out about this residency?
Yes! Friends kept sending the application and I didn't know - I was busy with family, rebuilding my grandmother's kitchen and trying to work on my mother's roof. I was also doing pop-up cafes around the island. I didn't know if I was even going to come back to Milwaukee but in the middle of all that chaos, I did manage to apply. I had to drive to this little cafe called Cafeina and it was closed so I sat on the stoop at this place - luckily they left their internet on and I managed to get the application through.
And then you got the residency! When did you start?
I started in the beginning of March and right away the library had specific things they wanted to get done. And this was great because it gave me an introduction to the people and the space. I worked with 8 library teen interns to create a mural piece for the garage doors in the makerspace. And it was a really beautiful and intense 2.5 months. Since the residency is all about Gathering Art, Stories and Place, that's what I focused on with the teens talking about their personal history and sharing their personal stories about culture and home. There were a lot of revelations through this process. Working with teenagers, they shared a lot of coming of age and self discovery stories.
This sounds like such a rich experience. I'm sure you were in such a raw place too as you were coming from rebuilding your home and leaving family in Puerto Rico to return to your home here in Milwaukee.
Yeah, absolutely. Looking back it was a really good healing moment for me. I went to Puerto Rico three times before I started the residency and I was in such a scared place - not knowing what was going to happen. To see theses teens who were so mature and capable of verbalizing and putting things into words about who they were was really amazing. And it felt very empowering to just be myself in this space - Latinx, brown, queer and of the community.
And do you identify with the Mitchell Street community?
Yes, I actually went to Mitchell Street as a kid even though I was born in Puerto Rico. I was raised here and there. So I have roots in this neighborhood. When I was six, my mom decided to give us a new outlook and beginning after some difficult times with my father. I had an aunt who lived here already with her husband and her daughter. We came to Milwaukee and we stayed here for three years. So I studied 1st, 2nd and 3rd grade at Escuela Fratney in Riverwest but I lived in Clark Square. We would shop on Mitchell Street - we would get our school supplies at the Mitchell Street Mall.
We went back to Puerto Rico but I came back for another semester in 6th grade without my mom. I was here during developmental ages for me. My family was going through difficult things, my father was in and out, I was learning a new language and a new culture, I was dealing with both architectural and natural landscape changes. It was a crazy, intense time being so young but it was also so magical and wonderful - all these new things were happening! Like attics and basements! This was a super cool thing because we didn't have those spaces available back in Puerto Rico. The houses there were one level or two level cement buildings. So my cousins and I made these new spaces in our homes our own and they were nice places to escape. After that semester in 6th grade, I went back to Puerto Rico until I was 20.
I think it's important that you had some idea of what it was like to grow up here. I'm sure it really helped for you to relate to the teen interns.
Absolutely.
Okay, so back to the mural project and working with the interns. What was that process like?
We met every week and I prompted them with several questions to try and identify what their personal home, culture and history meant to them. Some of them talked about their love for dance and how that is a place that they feel safest. Some of them told personal stories of family issues and how that shaped their idea of home. We also got to talk about gender what it means to be a Latinx man and woman - how those are perceived and felt. We talked about how they identify themselves.
After those prompts, we honed in on a specific sentence to help them think about how they could represent those stories visually. Each teen created a visual symbol or logo that went with their stories. We thought it would be cool for everybody to create their own sticker and put them together as a larger design. So the mural is actually not a painted mural but it is made of vinyl and was installed on the garage doors.
I also wanted to capture their stories on audio. Some of them wrote their own quotes about how they feel about the mural. One intern, Alvin, made a rap because his inspiration for his piece was Stevie Wonder's song, Living for the City. It reminded him of home because his father and uncle would play a lot of Stevie Wonder and Marvin Gaye when he was little. So he took this Stevie Wonder song, remixed it and rapped it.
That's really cool and I think getting so deep and personal in the design process really shows in the finished product. The murals are absolutely gorgeous.
Thanks! I think so too.
After the murals were unveiled, it was time to transition to your summer programming. What were you doing over the summer?
One of the programs I was doing was called Iron Board Cafe which I had started in Puerto Rico in a slightly different way. Going into spaces, places, locations where people were in need of food, we would cook and deliver the food guerilla style. We'd just show up and see who came out of their homes, plazas and feed them because food and resources were really scarce. Some stores were inflating the prices. For example, a gallon of milk was $10, a bag of ice was $7 - just because they could charge this much. So we went out and did pop up cafes.
I came back to Milwaukee and into this residency with this idea of feeding people and gathering. I took this and added to it an art exchange. I asked people in the makerspace, mostly kids, to make a piece for the art project of the week and they would exchange for a traditional Puerto Rican dish. I wasn't necessarily forcing kids to make art but giving them an incentive. It was about teaching them that the things they made are worth something and it got them into the headspace of making.
Rashad was a kid that came in every week, he's in his teens, maybe 17. When he first came he said, 'I'm not going to make anything Erick, can you just give me some food?' And I responded, 'Sorry Rashad, these are the rules, it would be nice if you participated and collaborated - just make something.' He didn't make anything for the first two sessions. For the last three he made something - it was a breakthrough! A kid who didn't see art as something that was for him - and he would say this 'I'm not a little kid. I'm grown. I don't need to be doing this.' So right there it was a huge impact for a kid who didn't see value or see art as worthy to just grab a paintbrush and do it!
This is when I came on… One of my first days was when you were making tostones in exchange for an exquisite corpse drawing. I remember asking the kids if they had tostones before and almost no one had. A lot of them were pretty skeptical about the food you were preparing. By the end of the day, they were all furiously drawing so they could get seconds and thirds! And getting kids to try, let alone like , new food is no easy task!
That was the day I felt most accomplished. The week before I had made empanadas and every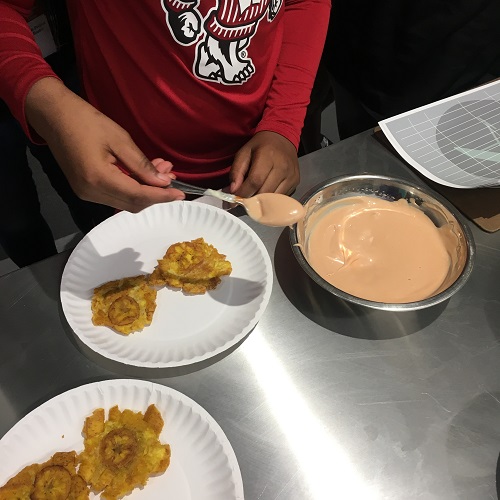 culture has their version of empanadas but tostones is really specific Caribbean food. They tried it and not only did they try it - they loved it! At first, they thought the tostones were different, some were even grossed out. By the end they were saying things like, 'Oh, These are awesome and they kind of remind me of potatoes!" And then they realized it wasn't so different than what they already consumed so why were they so afraid of it? I hope that will transfer to other parts of their life. The less exposure you have to "the other" and things that are not in your comfort zone the less willing you are to accept. But the more you are exposed to different things, the more open you become and that's why I thought the tostones day was such an important moment.
I couldn't agree more. So you were opening up the community to different food, cultural and art making every other week but you had another program going on as well, tell me about that.
I was doing a project called Community Canvas. In this project, I put down a big, blank canvas and had everybody come to together, elbow to elbow to share space, materials and ideas.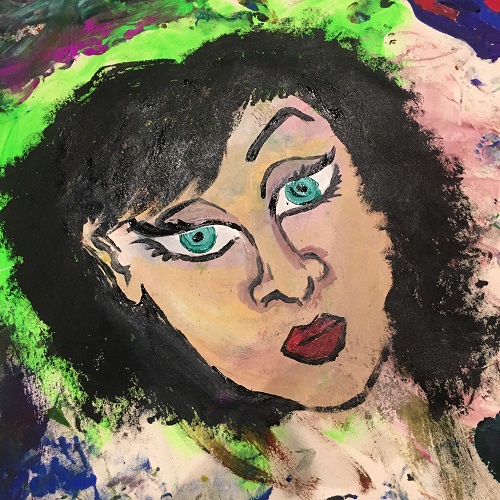 I saw the last Community Canvas sessions and it seemed like everyone knew exactly what to do but what was the first time like - how did you introduce this project?
The first time there was no table so I rolled out the canvas on the floor and I started painting and it was just me for the first 20 minutes. The kids started to be curious asking what I was making. And I asked if they wanted to join in. At first they were hesitant and asked if I was really okay with them painting on top of what I was working on. I told them yes, and then each session it grew and they knew what to do. The result is five cool, contemporary, community art pieces!
Sadly, you only have three more months of your residency, how do you plan on spending it?
In my personal work, I've be interested in blind contours, capturing the essence of something with just one line. I've also been interested in mask making and portraiture. I think those are all aligned so I am working on my final community program called Faces of Mitchell. Each Wednesday until mid-November I will encourage people to create self-portraits in a couple different ways. One part is a continuation of something I started in the last residency on Cesar Chavez: people make two one inch buttons: one to leave behind for me to archive and one they can take with them. I will also teach people how to create one lined portraits. I will collect these and turn them into a sculptural piece that will be installed at the Mitchell Street Branch.
Why self-portraiture?
Self portraiture can be so many things. It can be an actual rendering of you who are but it can also can be this abstract color field because you were compelled by certain colors or by a particular moment. I want to have conversations exploring self-reflective questions: Who are you? What do you think you look like? What do you think is important about you? What do you present to the world?
I think this is a great way to end your residency and I am excited to see this final installation and to celebrate. We'll have another conversation when your residency is officially over but to end this conversation, what has been one lesson or take-away that you've gained thus far from your time as the artist-in-residence at the library?
I think it's people's willingness to talk when you're truly interested in listening. In this residency, I've worked with many teens and younger kids, and I had no clue that they would be perceptive to me making the time for them to open up. With the interns, I decided to take time to meet with each intern individually and I created a space for them to open up- and they did.