End of Year Reflection
It's December, the end of the year. The time in which we all make an extra effort to gather, to connect, to celebrate and to reflect. At Milwaukee Public Library's Mitchell Street Branch we have quite a bit to reflect upon and to celebrate. The library itself is just over a year old and we were lucky that just after the doors opened, we learned we received a National Endowment for the Arts (NEA) Our Town grant. With this grant and additional funding from the Milwaukee Public Library Foundation, we were able to launch a two year long project called Gathering Art, Stories and Place. This multi-faceted project aims to support the arts and artists at Milwaukee Public Library in collaboration with community partners, Listening to Mitchell Artists Sonja Thomsen and Adam Carr, Ex Fabula and Artists Working in Education, Inc. And now, we are coming to the close of year one and wanted to take a moment to reflect on what we've been able to accomplish thus far.
Our first artist-in-residence, Erick Ledesma, quickly became an incredible asset to the Mitchell Street Branch. He dove in head first by working with the teen interns to create murals for the Northwestern Mutual Foundation Studio M Makerspace. These murals have become an incredible and vibrant backdrop to all our programming in the makerspace. After these murals were installed, Erick then branched out to working with any and all community members who came to Studio M. With his projects, Iron Board Cafe and Community Canvas during the summer, and Faces of Mitchell in fall, Erick shared both his artistic practice and Puerto Rican culture to help inspire people of all ages to create, express themselves and potentially try something outside of their comfort zone. To read more about these projects please visit his interview here.
It's hard to believe that Erick will be leaving us in just a few weeks but his impact on this community will stay long after his residency comes to a close. And luckily, he will be leaving the Mitchell Street Branch with one more art piece – a sculpture entitled, "Common Thread" which he describes as a 'conglomerate of self-portraits created by the Milwaukee Public Library's Mitchell Street Branch.' He taught community members how to draw using the the blind contour method and they created portraits in one continuous line. The sculpture is a 'homage to all who gathered, practiced their art, told their stories and shared our space.' With the help of another local artist, Brandon Minga, the portraits that Erick helped community members create will come to life as a sculpture that will be permanently installed and unveiled on Wednesday, December 19th at 5 pm.
That day as we celebrate the work done by Erick and say goodbye to him we will also welcome our new artist-in-residence. We want to keep the artist's identity a secret until then but we are so excited about this artist and the energy, passion and talent they will bring to this community. The community has responded so well to the art programming brought by our first artist residency program and we are excited to build on this momentum throughout 2019.
The residency program, which in many ways feels like the heart of Gathering Art, Stories and Place, is only one part of this complex and ambitious project. Another aspect, which was also very much the impetus of this project, is to create an archive of the public art project, Listening To Mitchell, by Sonja Thomsen and Adam Carr. This project that began in the fall of 2012, culminated in an installation of image and sound that transformed over fifty interviews into what they describe as a 'site-specific experience of place and its collective memory.' This type of community engaged artwork is an ever-growing field. The work, often ephemeral by nature, doesn't always have a home in a traditional gallery or an art museum. The community engaged artist must ask themselves: how does the work live on beyond the project? When Milwaukee Public Library announced the new Mitchell Street location, Adam and Sonja had a perfect answer for this question. An archive of a public art project like this will be the first of its kind at Milwaukee Public Library but it's our hope it will not be the last.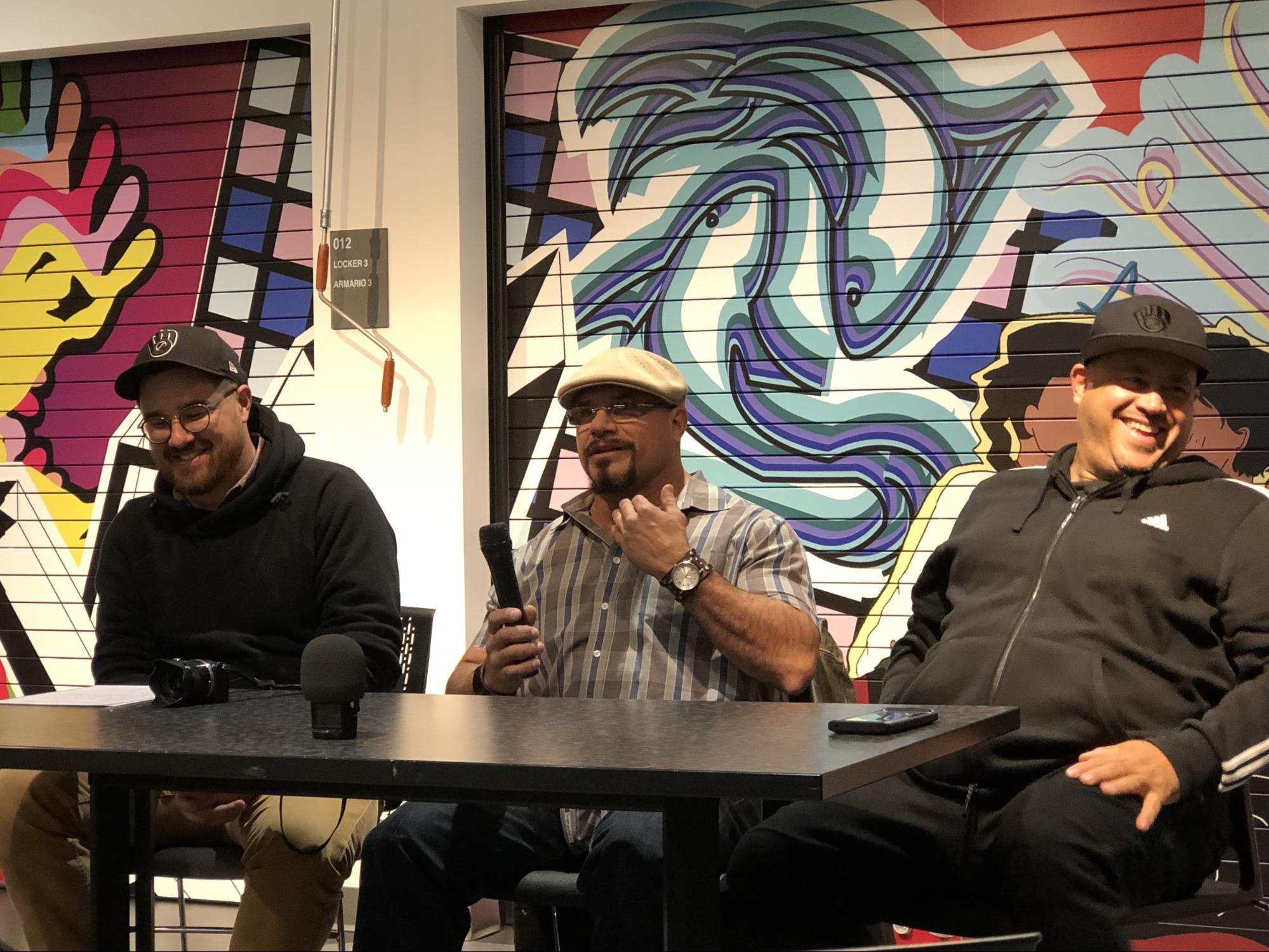 With Listening to Mitchell, Adam and Sonja had so many conversations with the community and their hope was to continue to engage the community in dialogue. This has translated into the Gathering Art, Stories and Place as a conversation series that will continue some of the conversations held during Listening to Mitchell and start new ones as well. This series, called Talking Shop, kicked off in October 2018 inviting legendary barber, Marco Carrasquillo, and Alderman José Pérez to talk about the hip hop scene on Mitchell Street and other south side neighborhoods. The topic piqued many people's interest and for those on the fence we lured people down to Studio M with both the smell of tamales made by our neighbor, Lopez Bakery, and music being spun by DJ D Supreme. All in all, we had a wonderful and attentive multi-generational audience. We were also able to partner with Milwaukee Repertory Theater who offered extremely discounted tickets to In the Heights. This helped many of our audience members go from this conversation about hip hop in their neighborhood to see a play celebrating hip hop culture in New York, make this event extra special.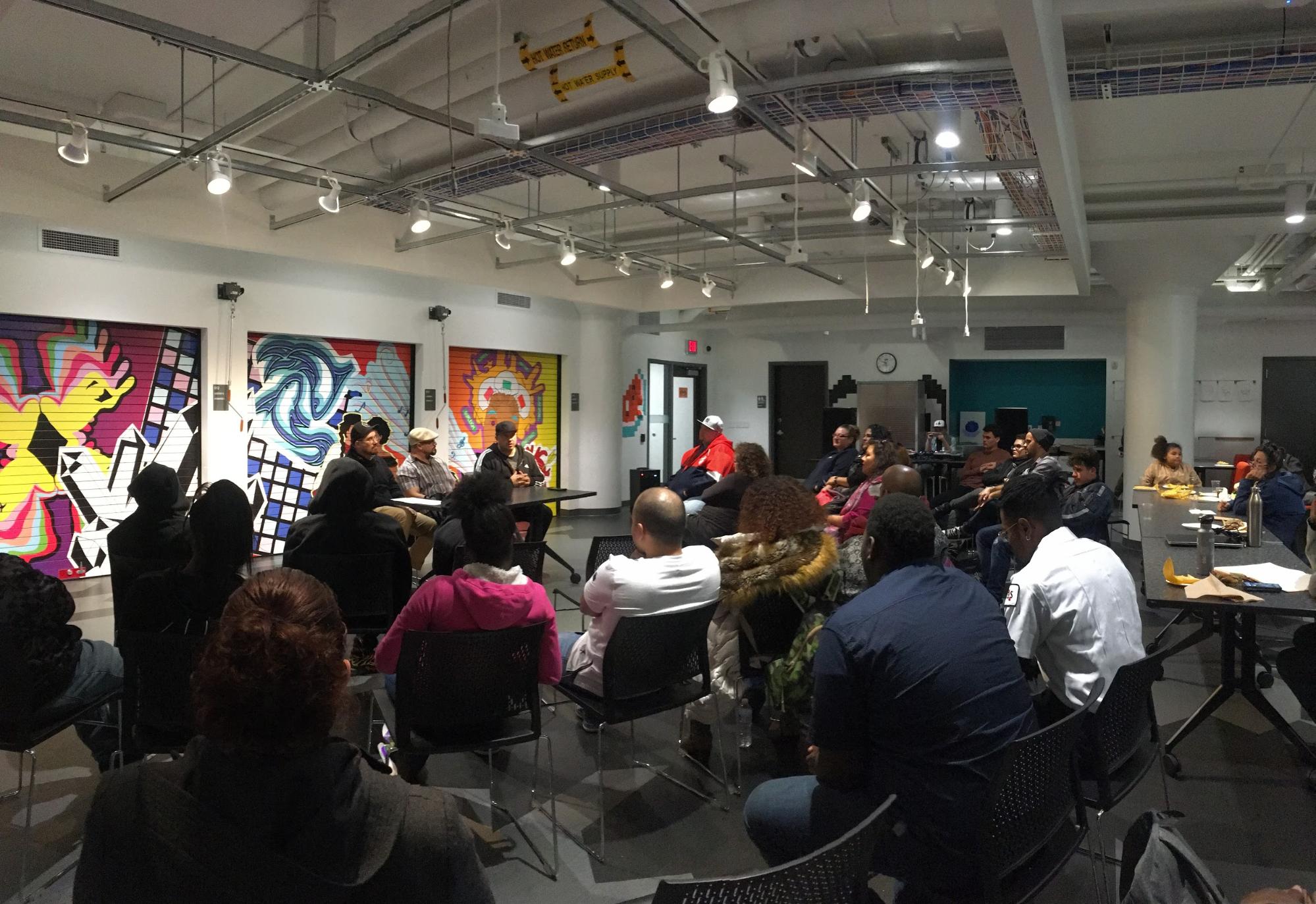 It was clear that from this conversation, we are not done talking about the past and present hip hop scene in and around Mitchell Street. There were both requests and suggestions we do a part two focusing on the breakdancing scene. So expect that, as well as more artist-focused, conversations to happen in 2019. And if you have suggestions about who should "talk shop" with us please email the Arts Project Coordinator, Katie Loughmiller at kmlough@milwaukee.gov.
We also want to reflect and give thanks to all the artists we were able to collaborate with in 2018. Beyond creating a stronger and more inclusive community, we hope that through Gathering Art, Stories and Place we can expand artists' collaboration and increase the scope of artists' individual social networks. While we want to celebrate Mitchell Street and the people that live nearby, we also want people from all over the city to convene, learn, share and create so that we can build a stronger Milwaukee. We were able to host a Still Waters Collective fellow, Marina Leigh Johnson and her capstone project which invited artists across Milwaukee to brainstorm ways for better collaboration, Milwaukee Artist Resource Network's publication release event that featured a DIY Zine workshop led by Communication (an art space based in Madison) and also a Performing Our Future meeting which hosted artists and cultural producers from not just here in Milwaukee and Wisconsin but Maryland, Kentucky, Alabama and Mississippi.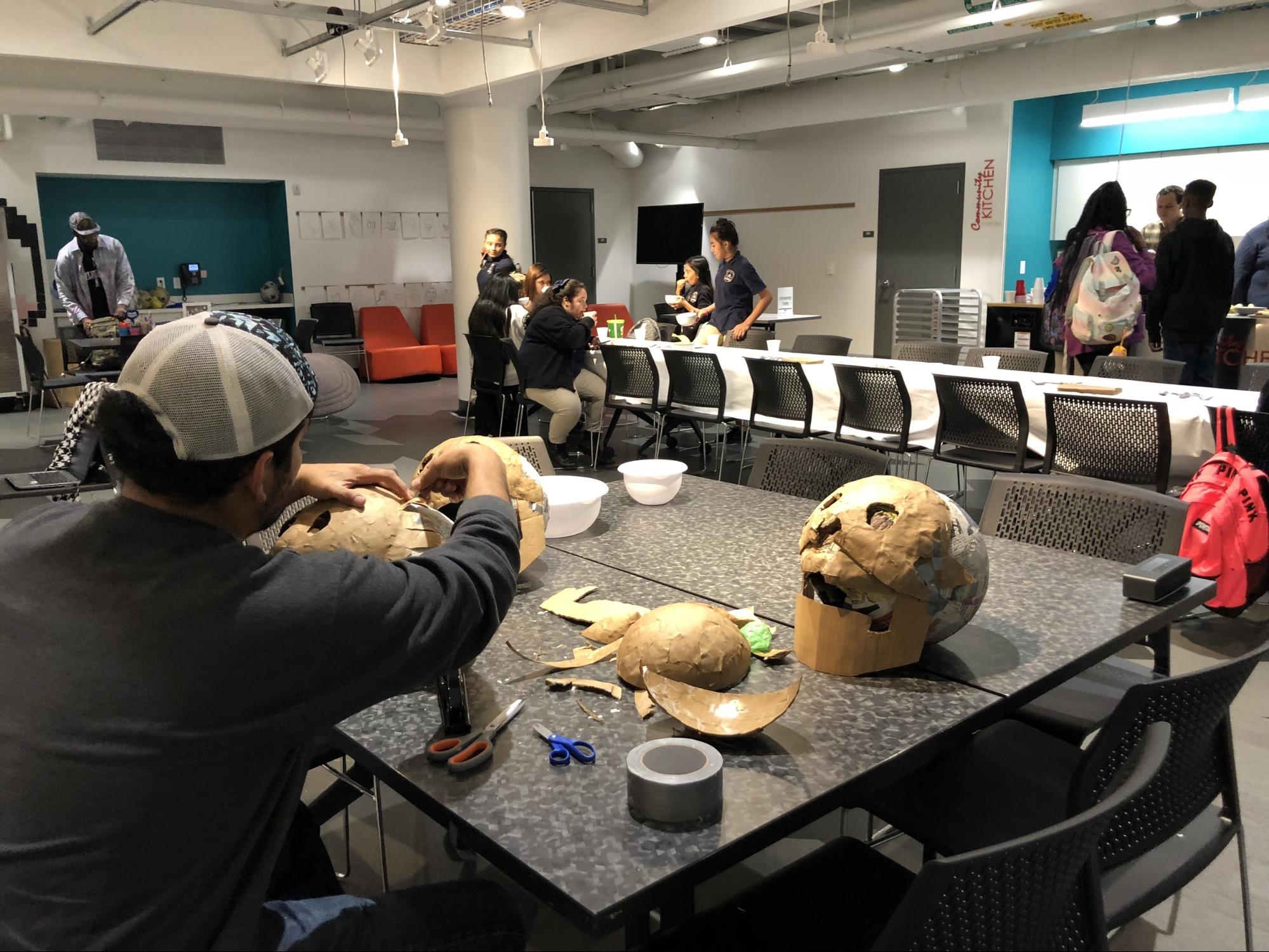 Finally, one of our favorite events that gathered both the community and different artists together was a project that organically came together called Máscaras de Mitchell. A community organizer, Ellie Jackson, approached the library to ask if she could reimagine a project done three years ago on Mitchell Street called Viva la Piñata. Bringing together many of the artists who worked on that orginal project and involving our own artist-in-residence, Erick Ledesma, this translated into Máscaras de Mitchell: a 4 day workshop where Erick and two other lead artists, Mikal Floyd-Pruitt and Diego Heredia, worked with the community to create paper mache cabezudos (giant heads that are worn as masks), paper masks and piñatas. We had so much fun getting messy with the flour and water paste, naming our funny and colorful cabezudos and trying to break open one of the piñatas on the final day and celebration. What surprised us the most was that each day people came back. They were dedicated and wanted to see the final products and be sure that they had a chance to work on each and every project. In just four days, we built strong connections and all it took was some flour, water, paper and some paint.
If you haven't made it to Milwaukee Public Library's Mitchell Street Branch yet we encourage you to come visit us on December 19 from 5 pm -7 pm. And stay in touch with us at www.mpl.org/gasp and @mplcreates to find out about all the amazing upcoming events. We hope to create with you soon!