Goldie Mabowehz (Golda Meir), from the Milwaukee Public Library to Prime Minister of Israel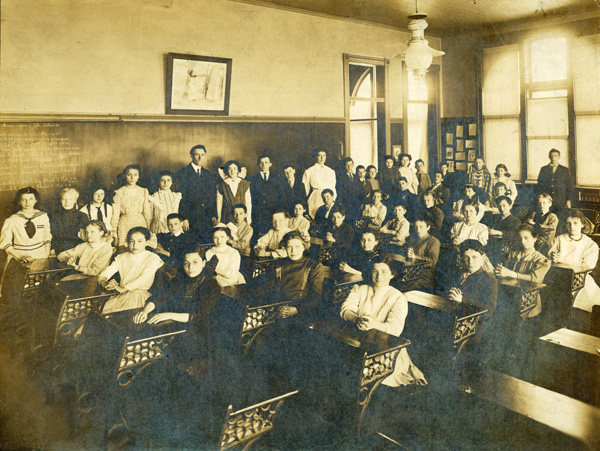 Goldie Mabowehz (white dress at far right) at the Fourth Street School in 1912, Milwaukee Public Library, Remember When… Collection. Published in The Milwaukee Journal, Green Sheet on June 4th, 1969.
Bordering Downtown, the Haymarket was a starter neighborhood for newcomers to Milwaukee – Germans in the 1800s, Eastern European Jews fleeing pogroms from the 1890s to World War I, and African Americans escaping Jim Crow segregation in the South since the Roaring Twenties. About 5,000 Jews settled in an area bordered by Walnut, 3rd (King), Juneau and 10th during the early 1900s including eight-year-old Goldie Mabowehz, who arrived from the Russian Empire in 1906 with her mother Blume and sisters Sheyna and Zipke (Clara). Her father, Malehz, arrived in America three years earlier.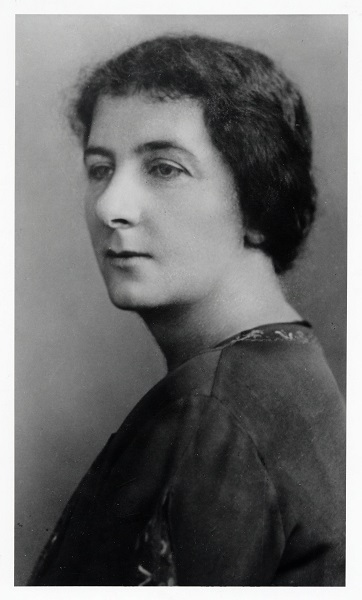 Goldie Mabowehz, 1917, From the Archives Department, UW-Milwaukee Libraries
Decades later in her memoir, My Life, Golda Meir wrote about being entranced by her "pretty new clothes, by the soda pop, and ice cream and by the excitement of being in" Schuster's Department Store (once-familiar Milwaukee-ese, "Let's go by Schuster's where the streetcar bends the corner round"). "I thought Milwaukee was wonderful. Everything looked so colorful and fresh, as though it had just been created, and I stood for hours staring at the traffic and the people...the endless procession of cars, trolleys, and shiny bicycles on the street."
Malehz Americanized his name as Morris and the family lived at their grocery store at 615 Walnut St. (post-1930 addresses will be in parentheses, 619 W. Walnut St.). Her political activism started when she was a fourth-grader at Fourth Street School. She and her friend Regina Hamburger organized the American Young Sisters Society to raise funds for classmates who couldn't afford to buy textbooks. She discovered she had a knack for public speaking. Her family moved down the block to 617 (623) and 623 (629) W. Walnut St. in quick succession. Older sister Sheyna contracted tuberculosis (TB) and was hospitalized at the Jewish Hospital for Consumptives in Denver.
Following German Milwaukeeans a generation earlier, the Mabowehz family moved north from Haymarket to 748 10th Street (2136 N. 10th Street). When Goldie started attending North Division High School in 1912, she wanted to become a teacher. Her parents wanted her to work in their deli and think about marriage. After many arguments, the high school freshman ran away to join her now-recovered sister, Sheyna, and her husband Shamai, in Denver. She wrote her "real education" began there. Sheyna's flat was a salon of Jewish immigrants discussing politics, especially Zionism, the movement to re-establish a Jewish homeland in Palestine, then a Middle East colony of Ottoman Turkey. One of the visitors was Morris Myerson and they started dating.
Goldie's father wrote an urgent letter that her mother needed her. She felt it was time to return to Milwaukee, but her boyfriend Morris wanted to marry. She said she was too young and they agreed to wait. She returned to North Division. Goldie's name first appeared in the 1915 Milwaukee City Directory. She lived with her parents at 750 10th St. (2140 N. 10th St.) and worked in sales. When she graduated from North Division the following year, she worked as a clerk at Schuster's Department Store, Milwaukee's largest department store chain until Gimbels acquired it in 1962. It's not clear if she worked at the 3rd Street flagship store or the 12th Street store.
Mabowehz enrolled at the Milwaukee Normal School, the teachers' college that grew into the University of Wisconsin-Milwaukee (UWM). She taught at a Yiddish school at the Abraham Lincoln House (forerunner to the Jewish Community Center), her boyfriend Morris came to Milwaukee and she became an organizer for the Poale Zion (Workers of Zion), a Jewish socialist organization advocating a Jewish homeland in Palestine.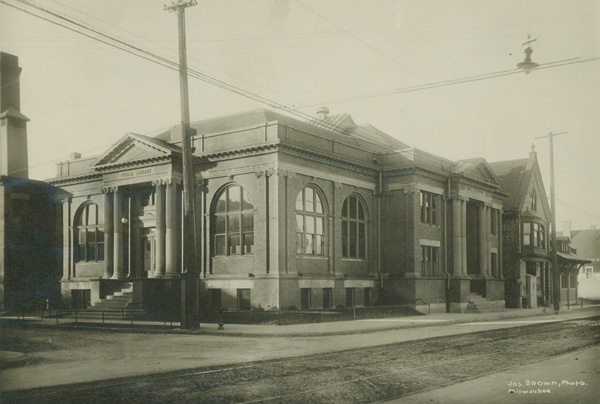 The North Branch (1904-1956), circa 1904, 799 16th St. (Post-1930 address, 2261 N. 16th St.) shared the building with the North Avenue Natatorium, 1607 North Ave. (1609 W. North Ave.), Milwaukee Public Library, MPL's Own Archives.
Now living at 730 10th St. (2112 N. 10th St.), Mabowehz interviewed for a job at the Milwaukee Public Library (MPL) on February 2nd, 1917. On the following day, City Librarian Charles McLenegan wrote to the City Service Commission that "she is a good person for library work and I am glad to have her" (as seen on her hiring appointment form). She left the Normal School and started working as an afternoon Substitute Library Assistant for 20¢ per hour ($3.79 in 2017 dollars) on March 15th, 1917. Her personnel file does not list which libraries she worked at, but Library Board of Trustee Minutes show she was assigned to "Main Library, Circulation." Newspaper articles after she became Prime Minister of Israel in 1969 reported that she worked at the old North branch and biographies add that she also worked at the old Lapham Park branch.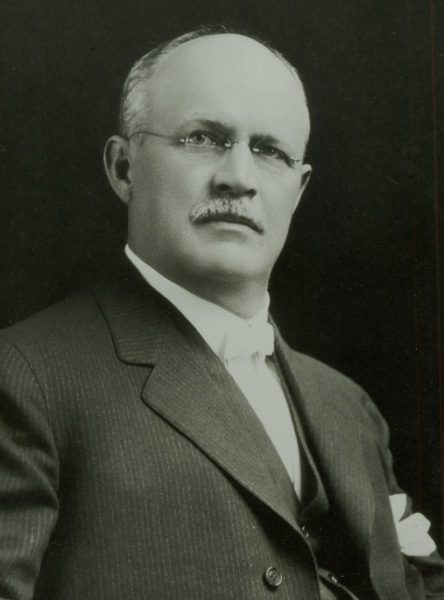 Charles McLenegan, City Librarian (1910-1920), Milwaukee Public Library, Historic Portrait Collection
Goldie came to the conclusion it wasn't enough to campaign for a Jewish homeland in Palestine, but to move there to work for it. Morris wanted to marry her and she wanted to marry him and move to Palestine. He needed time to think about a life-changing move. She resigned from MPL on September 11th, 1917 and briefly moved to Chicago. Mabowehz worked at the old Douglas Park branch of the Chicago Public Library for six weeks before returning to Milwaukee. MPL rehired her for 22½¢ per hour ($4.27 in 2017 dollars) on December 11th, 1917. Morris, sensing he was going to marry the Zionist movement as well as Goldie, agreed to move to Palestine with her after they saved more money and World War I ended. They married at her parents' home on Christmas Eve, December 24th, 1917. MPL recorded her name change from Mabowehz to Myerson the following month. Longtime librarian Ruth Shapiro remembered her giving a talk about growing up in the Russian Empire at a staff meeting "that held everyone's attention". Myerson resigned for the second and final time from the Milwaukee Public Library on May 13th, 1918.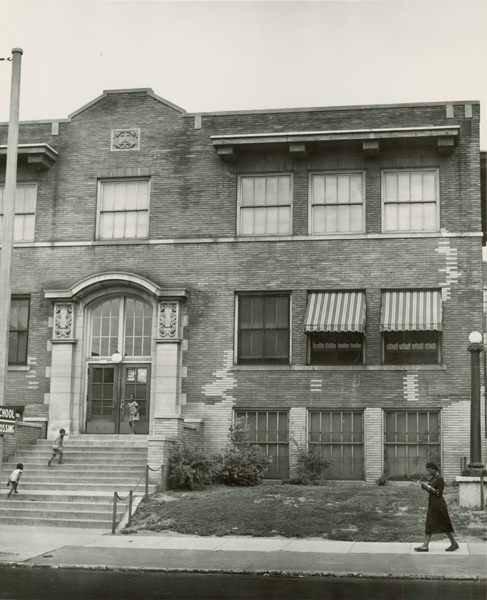 Lapham Park Branch (forerunner of Martin Luther King), 1949, 600 9th St. (Post-1930 address, 1752 N. 9th St.), Milwaukee Public Library, MPL's Own Archives.
While her name disappeared from the city directory, Morris was listed as a sign painter and writer at Aultman. They lived at 534 9th St. (1614 N. 9th St.) in Haymarket in 1918 and 1311 Chestnut St. (1317 W. Juneau Ave,) in 1919-1920. Goldie's final appearance in the city directory was in 1920 as an employee at Gridley Dairy, Milwaukee's largest dairy until Golden Guernsey surpassed it in the 1950s. All the houses that Goldie, her family and husband lived in were razed after World War II for urban renewal and the US 141 North-South Freeway (redesignated I-43 in 1977).
Goldie and Morris Myerson left Milwaukee for Palestine, now a British Empire mandate, on March 28th, 1921. She would occasionally return to Milwaukee to visit friends and raise funds for a Jewish homeland in Palestine. Years later, childhood friend Isadore Tuchman told The Milwaukee Journal that she purchased two ships from Canada for the Israeli Navy while staying at his home in the late-1940s. After Morris died in 1951, she Hebraized her surname Myerson to Meir in 1956 .
After Golda Meir became Israeli Prime Minister in March 1969, she made her final visit to Milwaukee on October 3rd, 1969 as part of a diplomatic trip to the United States. The whirlwind four-hour tour included reminiscing about growing up in Milwaukee and speaking about the Middle East at the Performing Arts Center (Marcus Center for the Performing Arts) and meeting children and Aldermen Vel Phillips and Orville Pitts at her old Fourth Street School.
After she died on December 8th, 1978, the Fourth Street School was renamed Golda Meir School on May 4th, 1979 and the UWM Library was renamed the Golda Meir Library on August 5th, 1979.
For more information about Milwaukee's Jewish community and the Haymarket neighborhood, check out John Gurda's One People, Many Paths: A History of Jewish Milwaukee, or his Milwaukee: City of Neighborhoods (Hillside chapter).
While Golda Meir is the best known former Milwaukeean and MPLer, an incomplete list of other notable MPLers include Marvin Pratt, Brian Ritchie and Jim Stingl.

Dan, Local History Librarian