Stay Connected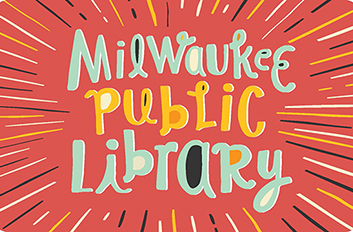 Outside Contactless Materials Pickup
Hours of operation (to call in requests, and pick up materials):
Mondays and Tuesdays: Noon – 8:00 PM
Wednesdays – Saturdays: 9:00 AM – 6:00 PM
How to request materials:
Call Ready Reference at 286-3011 for assistance with placing holds or use the request button from CountyCat and CountyCat mobile app to place holds.
There is a limit of 5 items per call, and up to 30 items may be placed on hold.
Place holds for pick up at open and curbside locations throughout Milwaukee County.
How to pick up materials:
No appointment is necessary for curbside pick up at Tippecanoe Branch, Washington Park Branch, and Central Drive Up.
You will be notified that your hold is ready by e-mail, text, phone, or mail notification. Ready Reference can assist you to set that preference.
Pick up the hold within 5 business days at the desired location.
At Tippecanoe Branch and Washington Park Branch, call the posted phone number when you arrive and items will be brought out on a cart. If ADA accommodations are needed for pick up at these branches, please make that request upon arrival.
At Central you may pull up to the Drive Up window.
You may also request tax forms by visiting Tippecanoe Branch, Washington Park Branch, and Central Drive Up and requesting available forms. Please call Ready Reference to check on availability.

Please note that wait times may be longer than usual for interlibrary requests. Deliveries between Milwaukee County libraries are slower than usual due to less frequent deliveries and quarantine of returned materials. Items may display the status IN TRANSIT for up to a week before delivery.
When to return materials:
Materials will be accepted for return at Central, Tippecanoe and Washington Park. Items from any Milwaukee County Federated Library System (MCFLS) will be accepted. All materials currently checked out have automatically been extended to a due date of September 15. Fines will not accrue on Milwaukee Public Library items checked out during curbside service. Items from other MCFLS member libraries may have varied due dates. Checkout receipts will be provided.
---
Digital Resources
Milwaukee Public Library provides a vast range of online services you can access from anywhere with your library card and PIN. MPL cardholders, including all Milwaukee Public School students, will be able to continue accessing online library resources and information, including eBooks, audiobooks, music, video and online resources, 24/7 on our website. Homework help is available to students through LibraryNOW on their smartphones, tablets and personal computers.
Brainfuse
Are you a student looking for live tutoring help? Need assistance with a wide range of classes from grade school reading to college physics? Connect with a teacher using the Brainfuse database! It is a unique blend of tutoring, one-to-one homework help, state-aligned skills building, test preparation, and writing assistance for students of all ages, from elementary school to college studies. Increased hours until June 30, 2020! Available seven days a week, from 11:00 a.m. to 11:00 p.m.
Freegal Music
**UPDATE!** - each library cardholder may listen to 24 hours of streaming music per day (until September 30, 2020) through your personal Freegal Music account and download 5 songs per week. Keep all the songs you download and listen to them whenever you want. 40,000 music videos are also available for watching or downloading.
Gale Course
Take a 6-week online class on a wide variety of topics ranging from starting a small business to improving homeschooling skills to assisting aging parents. Every course is offered each month.
Hoopla
Get ebooks, audiobooks, comics, movies, music, and TV shows through the hoopla app! Four items may be checked out each month - everything is returned automatically. With no waiting, titles can be streamed immediately, or downloaded to phones or tablets for offline enjoyment later. hoopla is a service of Midwest Tape, with more content added daily.
NewspaperArchive.com
During this time of national social distancing, NewspaperARCHIVE.com is offering free access to libraries for users who cannot physically be in our library buildings. Read historic and everyday news articles as they occurred. These newspapers, from every state in the U. S. and around the world, supply great sources for primary history and genealogy accounts.
Overdrive Downloadable Media
Enjoy a large selection of e-books, audiobooks, music and video for use with a wide variety of portable devices, PCs and Macs.
Libby, by OverDrive
Borrow ebooks, audiobooks, and magazines to read on your phone or tablet using the Libby app by OverDrive. You can even send and read your borrowed ebooks to your Kindle ereader (U.S. only)! It's free and easy to get started for new users and a streamlined experience for current OverDrive app users. Learn more at overdrive.com/apps/libby/.
RBdigital Magazines
An online service that allows you to download digital copies of popular magazines to your computer, tablet, or mobile device.
---
Virtual Events
July 14, 2020
2:00 PM
The future of storytelling is in your hands! Use storytelling as…
July 15, 2020
July 16, 2020
July 17, 2020
9:30 AM
Marquen sus calendarios para Cuentacuentos virtuales en español cada otro viernes…
July 18, 2020
11:00 AM
The future of storytelling is in your hands! Use storytelling as…
July 19, 2020
1:00 PM
Ex Fabula, The Milwaukee Public Library and Milwaukee's Deaf community…
July 20, 2020
6:30 PM
Families with young children are invited to a VIRTUAL STORY…
July 21, 2020
2:00 PM
Join Educators from the Wisconsin Conservatory of Music for all sorts…
July 22, 2020
July 23, 2020