MPL Digital Library
Richard Perrin Collection
Jump to: More Information - Order Information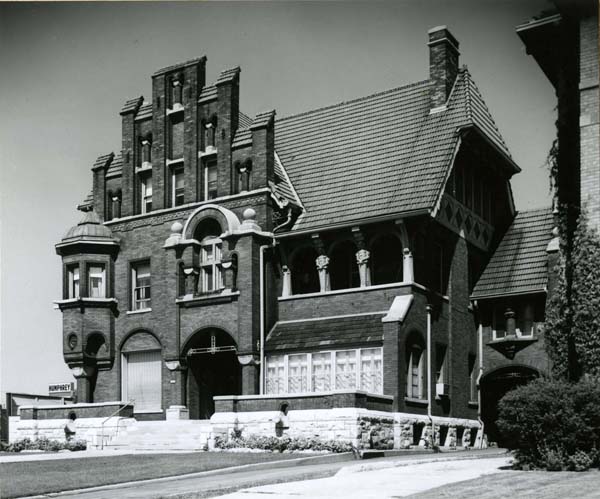 A collection of 173 black and white photographs of Milwaukee-area buildings, either taken by Richard Perrin or ones he collected from various sources.
Back to all Digital Collections
---
More Information
Richard W. E. Perrin (1909-1990) was an architect and a Fellow of the American Institute of Architects. He received many honors and held many positions of prestige. Among these was an Honorary Curatorship of History for the Milwaukee Public Museum, the Governor's Award in the Arts, and was the director/commissioner of Milwaukee's Housing Authority and Department of City Development. He had a keen passion for Wisconsin's architectural history and wrote many books and articles on the subject. Perrin also participated in the Historic American Buildings Survey. He cataloged over 700 Wisconsin structures and completed archival record documents on many of them for the Library of Congress. Many of the photos in this collection were for this survey. He also included photos that appeared in the various articles or books that he wrote.
The collection is comprised of 173 black and white photographs of varying sizes. Most of the photos were mounted in spiral-bound albums with accompanying information. The photos were removed from the albums and the accompanying information was retained with each photograph. The majority of the photos are from the 1950s-1970s. Some photographic reproductions of lithographs and architectural renderings were included in the collection. Of these images, 50 are photos of churches, 122 are photos of historic residences, and there is one photo of a theater.
---
Order Information
Copies of the images in this collection may be purchased. Orders must be placed online, using your Special Collections account. The images are delivered electronically. The cost is $20 for the first 1-5 images in the same order (each additional image above 5 costs $4 per image) for 300dpi TIFs or 600dpi TIFs, plus tax for Wisconsin residents. If you have any questions, please contact mplarchives@milwaukee.gov.
Important Copyright Information
By providing or allowing reproduction of materials from the collections, the Milwaukee Public Library does NOT grant permission to publish or exhibit. Reproductions are provided for personal research purposes only. They may not be copied or distributed. Written permission to publish must be obtained from copyright or literary rights owner and from the library for any publication or commercial use of copies. The researcher is responsible for compliance with the US Copyright Code (title 12 USC) and privacy rights outlined in Title 45 CFR 46. For information on permission to publish, please contact the Photo Librarian at mplarchives@milwaukee.gov.