Special Events and Programs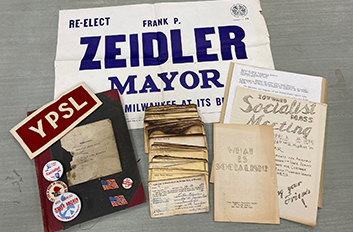 Milwaukee Public Library – Socialist History Geocache
Looking for a fun, self-paced family activity that also tells some stories about Milwaukee's past? Join us for a geocache highlighting some of our Socialist history! Learn a few facts about Milwaukee's Socialist Party and politicians, including an iconic landmark, and find some treasures along the way!
What is a Geocache?
A geocache is similar to an outdoor scavenger hunt using GPS coordinates. Small waterproof containers are hidden outdoors. Players seek them out using clues and a GPS enabled device or app. In each geocache there is a log sheet, coordinates for the next geocache and some information on the specific location's history with Milwaukee's socialists.
Some tips for Geocaching:
Bring a pen – We added a small golf pencil but it may or may not have disappeared and we want to make sure you can add your info to the log!
Leave no trace – Be careful when searching, be kind to the "game board", the outdoors/green spaces. Be courteous of landscaping and please don't leave any trash behind.
Log your find – Please let us know when you find it!
Put the Geocache back where you found it – Please allow others to play along and discover each geocache.
This geocache will take you to various locations in Milwaukee having to do with its socialist history. Milwaukee Socialism, also called Sewer Socialism, focused on honest government, cleaning up the city, and improving public health. The movement lasted from the 1890s until Frank Zeidler's last term as mayor ended in 1960. This geocache is a little over 5 miles long and can be done on bike or car. There are four caches and each cache will provide the coordinates for the next one, along with information about the location. And there are prizes for completing the geocache!
Here are the coordinates for the first cache:
43.074316
-87.914271