Richard E. & Lucile Krug Rare Books Room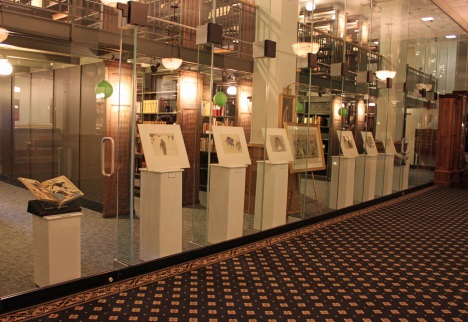 The library's rarest, most special items are found in the Richard and Lucile Krug Rare Books Room. The space was dedicated in 2001 in honor of Richard E. Krug, city librarian from 1941 to 1975, and his wife Lucile Krug, whose generosity endowed the construction of the Room. The reception area of the Rare Books Room is used for library programs and events such as book clubs or programs that center on the rare books collection. Behind the glass in the reception room is a temperature and humidity-controlled area where over 18,000 rarities reside. If you would like to make an appointment to view items in the rare books collection, you can do so here .
Krug Educational Programs
To expand awareness and increase enjoyment of the many treasures in the Rare Book Room, Lucile Krug endowed an ongoing series of educational programs. Past presentations and lectures have highlighted the Audubon Birds of America prints, Frank Lloyd Wright, and the Description de l'Égypte to name a few.
Exhibits & Displays
The four windows outside the Rare Books Room regularly feature themed displays of rarities materials. If you are interested in something on display, please contact the Art, Music, and Recreation Department.