MPL Digital Library
Milwaukee Road Archives
Jump to: More Information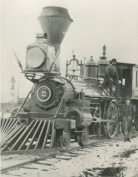 The collection includes archival finding aids for corporate records as well as indexes to the small selection of employee records that are part of the archives of the Chicago, Milwaukee, St. Paul & Pacific Railway, which designated MPL as their official archives in 1981. Other material housed in the Milwaukee Road Archives includes timetables, photographs, and drawings
Back to all Digital Collections
---
More Information
The Milwaukee Road Archives digital collection represents the start of
the process of making available online indexes and finding aids from the
Archives available to the public. The digital collection includes
archival finding aids for corporate records as well as indexes to the
small selection of employee records that are part of the Archives.
Milwaukee Public Library was designated as the official archives of the
Chicago, Milwaukee, St. Paul & Pacific Railroad in 1981, when documents
were first received from the Railroad. Additional material was received
in 1985, after the CMStP&P was incorporated into the Soo Line Railroad.
The collection includes corporate records, photographs, drawings and a
small selection of employee records.
The Milwaukee Road Archives is not available for browsing. Online and
print indexes and finding aids are available to help researchers,
historians, hobbyists and family genealogists identify materials of
interest for possible future archival appointments.
Access to the Milwaukee Road Archives materials described in this online
collection may be arranged by contacting the Frank P. Zeidler Humanities
Room at (414) 286-3061.