MPL Digital Library
Milwaukee Historic Trade Card Collection
Jump to: More Information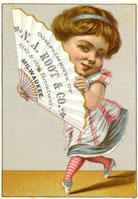 Featuring business cards from Victorian era Milwaukee.
Back to all Digital Collections
---
More Information
Trade cards, also known as advertising cards, are small cards that businesses would distribute to clients and potential customers and are an early example of modern business cards. The Richard E. and Lucile Krug Rare Books Room has a collection of over 500 trade cards that document Milwaukee's business history from the Victorian era. To view the trade cards, please contact the Arts, Music and Recreation Room at (414) 286-3071 and schedule an appointment.