MPL Digital Library
Irene Bishop Goggans Collection
Jump to: More Information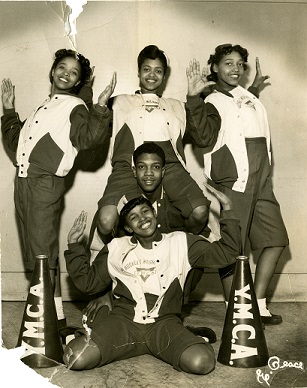 The Irene Bishop Goggans collection contains materials pertaining to the African American community in Milwaukee and across the country. Materials collected by Irene Goggans (1926-2017) are mostly from the 1950s to the early 2010s
Back to all Digital Collections
---
More Information
Some sources use language that contain biases, discriminatory attitudes, opinions and language; discernment is left to the individual. Digitization and inclusion of resources in MPL's collection is not an endorsement by the library or library staff of the values or views within a work. For more information please see the MPL Digital Collections Statement, and the board approved MPL Collection Management Plan and statement on Race and Social Equity. For digital content questions, please contact DigitalLibrary@milwaukee.gov.
Irene Goggans (née Bishop) was born to John and Mary Bishop on 23 February 1926 in Dyersburg, Tennessee. After her father was refused a job at the Army Ammunition Plant in Milan, Tennessee, the family moved to Milwaukee in 1942. They joined other family that had moved there earlier and lived in the Bronzeville neighborhood. She graduated from Lincoln High School in 1943 and later earned a clerical degree from Milwaukee Area Technical College in 1946. She married Pat Goggans (1917-1983), a navy veteran who worked for the U.S. Post Office, in 1947. They had one son, Kenneth.
Throughout her career, Irene worked in different capacities at various jobs, including with the Internal Revenue Service, the U.S. Census Bureau, the Selective Service System, the Milwaukee Election Commission, and as a teaching assistant with Milwaukee Public Schools. She retired in 1988. Goggans was also involved with numerous clubs and organizations, particularly the YMCA, including the Y's Menettes and Ebony Fashion Fair, as well as St. Matthew Christian Methodist Episcopal Church and other church groups, such as Church Women United and Ida Mae Black Missionary Society.
Upon arriving in Milwaukee in the 1940s and noting how African-American news was often given meager coverage or none at all, Goggans began saving newspaper clippings of significant events that documented African-American life in Milwaukee. As it grew, this collection gave her a deep knowledge of the history of the local community. She was consulted by the Milwaukee Times and others for her expertise. Goggans also received several awards for her work, including the Milwaukee County Historical Society's Witness to History Award, Social Justice Icon by the Milwaukee Times, and was presented an honorary doctorate by UW-Milwaukee in 2015. She died on 23 June 2017.
Due to copyright concerns, most of the newspaper clippings (which make up the bulk of the collection) have not been digitized. These materials can be seen in person at the Central Library, with an appointment. Please visit Archival Resources in Wisconsin for a complete collection description and to make an appointment.