Wisconsin Historical Society Family History Records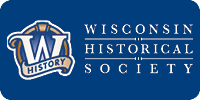 Wisconsin Historical Society Family History Records
On this site, find Family History-related government records from the Wisconsin Historical Society's collections made available for free to Wisconsinites through the Ancestry / Wisconsin Historical Society partnership. The Family History Records put together by WHS include:
Wisconsin, State Censuses, 1895 and 1905
Wisconsin, Birth Index, 1820-1907
Wisconsin, Deaths, 1820-1907
Wisconsin, Marriage Index, 1820-1907
Wisconsin, Wills and Probate Records, 1800-1987
IMPORTANT: For free access to Wisconsin Historical Society records on Ancestry, START YOUR SEARCH, THEN CLICK ON YOUR RESULTS. When you click on the record you will be prompted to "Create a Free Account." DO NOT click on the "Subscribe" button or the "14-day Free Trial Offer" unless you are interested in access to all of Ancestry. If you already have created a free account, login to the account before or after your search.
Provided as part of Wisconsin's BadgerLink program.
BadgerLink is Wisconsin's Online Library, providing all Wisconsin residents with licensed content not available through regular search engines.