MPL Digital Library
Pfister Hotel Scrapbooks
Jump to: More Information - Order Information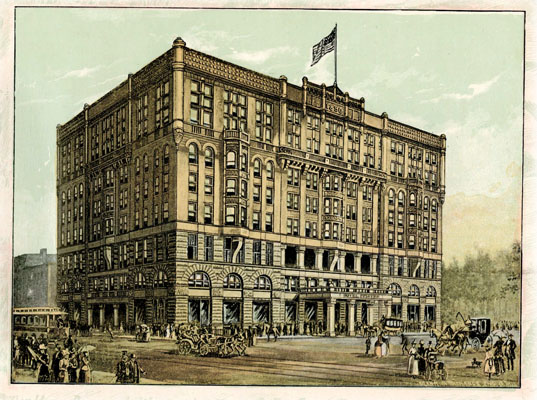 The digital collection contains scans from pages of three scrapbooks. The bulk of the materials date to the 1930s through 1950s, though many items are undated. Most of the materials relate to the management of the hotel, the hospitality industry, the Pfister building, and the Pfister employee culture. The scrapbooks were donated by Ray Smith, Jr., a former manager and president of the hotel.
Back to all Digital Collections
---
More Information
The Pfister Hotel opened in 1893, and was conceptualized by Guido Pfister, owner of a prominent Milwaukee tannery, and built by his son, Charles. The building was designed in the Romanesque Revival style by architect Charles Koch. It was a thoroughly modern structure including features such as individual thermostat controls in every room, its own power plant and electricity, and fireproofing. Charles Pfister's collection of Victorian art still graces the walls.
After Charles Pfister's death in 1927, the hotel was owned and operated for several decades by the Smith family: Ray Smith, Sr., Ray Smith, Jr., and Larry Smith. The Smith family is prominently featured in the materials. Ray Smith, Sr., died in 1954, and in 1957 the hotel was sold to a large chain of hotels based out of New York. It was sold again to a pair of lawyers and real estate investors in 1960.
Purchased in 1962, by Ben Marcus, the hotel added a 23-story tower. The Pfister is listed on the National Register of Historic Places.
---
Order Information
Copies of the images in this collection may be purchased. Orders must be placed online, using your Special Collections account. The images are delivered electronically. The cost is $20 for the first 1-5 images in the same order (each additional image above 5 costs $4 per image) for 300dpi TIFs or 600dpi TIFs, plus tax for Wisconsin residents. If you have any questions, please contact mplarchives@milwaukee.gov.
Important Copyright Information
By providing or allowing reproduction of materials from the collections, the Milwaukee Public Library does NOT grant permission to publish or exhibit. Reproductions are provided for personal research purposes only. They may not be copied or distributed. Written permission to publish must be obtained from copyright or literary rights owner and from the library for any publication or commercial use of copies. The researcher is responsible for compliance with the US Copyright Code (title 12 USC) and privacy rights outlined in Title 45 CFR 46. For information on permission to publish, please contact the Photo Librarian at mplarchives@milwaukee.gov.