VirtualTeen Art Contest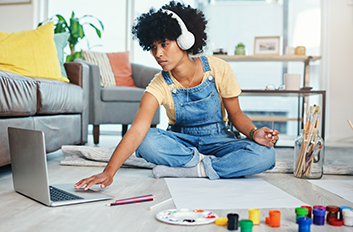 2020 Virtual Teen Art Contest -
November 1-30
Does art inspire you? Do you create art that empowers others?
Enter your favorite original art piece online between November 1-30, 2020. Submissions will be displayed online for one week (December 7-11) during our Virtual Art Gallery. All eligible submissions will be voted on by "Community Choice" during that time. The three submissions with the most votes will be the winners. Winners will be announced the following week and will remain displayed on our website.
Fill out the entry form below and submit images of your art. One image per art piece. Participants can submit two art pieces total.
Community Choice Award Prizes:
$100 gift card to Blick Art (Awarded to three teens with the most votes)
Rules & Regulations:
Must be between 13 and 18 years of age to participate.
Limit of two entries per person.
Entries must be original.
Entries can include still-life visual art such as paintings, drawings, sculptures, graphic design, and photography.
One image per art piece.
Images must be submitted as PDF, PNG, or JPG file.
All submissions must be uploaded; no in-person or physical drop offs of art will be considered.
Participants must be Milwaukee County residents to be eligible. Individuals can win one prize only in this contest.
Presented in partnership with the Milwaukee Public Library's Teen Advisory Board (TAB). Sponsored by the MPL Teen Advisory Board, funded by the Milwaukee Public Library Foundation.
---
2020 Virtual Teen Art Contest Entry Form