Magazines & Newspapers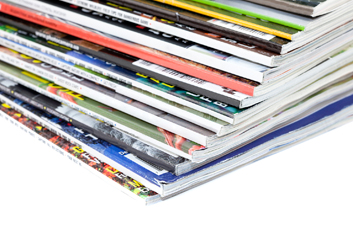 Check out the library's magazine collection at all locations. Central Library has around 1,000 current subscriptions and tens of thousands of back issues--dating back into the 1800s.
Currently Received Magazines and Journals
These lists provides the titles of all newspapers, magazines, and journals currently received by the Central Library.
To see which MPL location may own a specific newspaper, magazine, or journal and how long they keep the issues available, search the title of the publication in our online catalog, CountyCat.
---
Local Milwaukee News
Milwaukee Journal Sentinel (NewsBank - 1990 to present)
Library subscription. Available for use within City of Milwaukee libraries and by remote access to City of Milwaukee library cardholders.
Milwaukee JS Online | Milwaukee Journal Sentinel Historic Archives
NOTE: The Milwaukee Journal Sentinel Historic Archives has been taken down from the Google News Archive and is no longer available. The Milwaukee Public Library offers access to historic issues of the Milwaukee Journal, Sentinel, and Journal Sentinel via microfilm at the Central Library. Milwaukee Public Library cardholders can access some digital copies via a NewsBank subscription, which covers the Journal Sentinel from 1990 to the present, and a Gale subscription to 19th Century U.S. Newspapers, which covers the Sentinel and Journal from their beginnings until 1899. See below for details on these resources and other points of access to local Milwaukee newspapers.
Historic Newspapers
This local history guide provides an overview of historical Milwaukee newspaper resources available at MPL.
Business Journal Index
An MPL-produced index to the Milwaukee Business Journal, covering the mid-1980s to the mid-1990s. Additional indexing and some full-text coverage of this publication is available in the Gale Business Insights: Global subscription database (1994- ) and the Archive of Wiscsonsin Newspapers subscription database (1995- ).
Milwaukee Magazine Index
An MPL-produced index to Milwaukee Magazine, covering February 1979 through August 1995. Additional indexing for this publication (February 1995 to present) is available in EBSCOhost's Masterfile Premier subscription database.
---
Ethnic Milwaukee News
Irish American Post | Milwaukee Community Journal | Milwaukee Courier | Spanish Journal
---
Regional Milwaukee News
Greater Milwaukee Today | MKE Periodicals | MyCommunityNOW |
Regional Business News
---
Wisconsin State News
Archive of Wisconsin Newspapers | Daily Reporter | BadgerLink Databases
---
National and International News
19th Century U.S. Newspapers | America's Obituaries & Death Notices | NewspaperARCHIVE | Newspaper Source Plus
---
Magazines and Journals
America's News Magazines | EBSCOhost | All MPL Databases
---
Downloadable Magazines
RBdigital Magazines
This resource provides nearly 100 popular magazines that can be read on a tablet or mobile phone.
Overdrive Periodicals
Browse and borrow dozens of digital magazines and newspapers via Overdrive on Wisconsin's Digital Library site. If you have any questions about how Overdrive Periodicals work, take a look at this Support for OverDrive Periodicals document.