Voting Information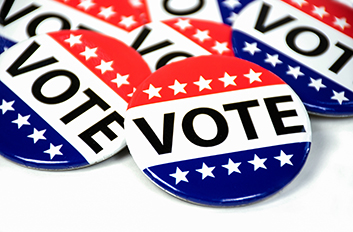 Have you changed your address or name since you last registered to vote? Now you can update your registration (or register for the first time) at myvote.wi.gov or by visiting any Milwaukee Public Library location. Trained library staff will assist eligible voters with the registration process.
---
You can mail or use an Election Commission drop-off site to return your ballot.
The following Milwaukee Public Libraries are available for ballot drop-off
July 7 – August 8, Tuesday, Thursday, and Saturdays from 9 a.m.-3 p.m.
Atkinson, 1960 W Atkinson Ave
Bay View, 2566 S Kinnickinnic Ave
Center Street, 2727 W Fond du Lac Ave
Mitchell Street, 906 W Historic Mitchell St
Mill Road, 6431 N 76th St
Tippecanoe, 3912 S Howell Ave
Villard Square, 5190 N 35th St
Washington Park, 2121 N Sherman Blvd
Zablocki, 3501 W Oklahoma Ave
Early Voting Locations: You can also drop off your ballot at any in-person absentee voting (IPAV) site July 27 – August 9, Monday through Friday
9 a.m.-5 p.m.; Saturday and Sunday 10 a.m.-3 p.m.
Zeidler Municipal Building, 841 N Broadway
Midtown Center, 5700 W Capitol Dr (west of Pick n' Save)
Manitoba School, 4040 W Forest Home Ave
*Staff will be present to provide witness signatures at all locations*
---
Helpful Resources: