Treasures of the Rare Books Room - Chaucer
The Works of Geoffrey Chaucer: A facsimile of the William Morris Kelmscott Chaucer with the original 87 illus. by Edward Burne-Jones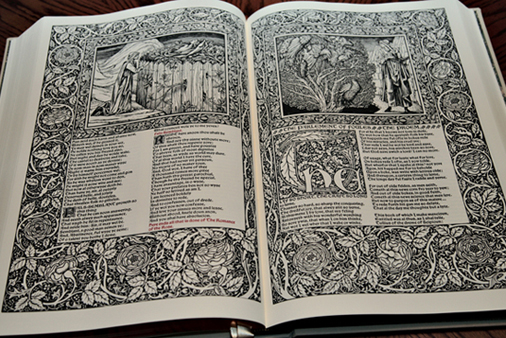 Geoffrey Chaucer (c.1342 - 1400) was one of the finest poets of his time. Fluent in Middle English, French, Latin and Italian, he wrote in a variety of styles including the one he employed in the Canterbury Tales (written in the 1390s) where he strung together multiple short stories in order to create one complete work.
In the Canterbury Tales it was in April when a group of pilgrims gathered together to ride to Canterbury. The narrator tells us a bit about the individuals who were making the trip with him. First there was a knight who was noble, and full of chivalry, faith and generosity. With him was his son, a squire, who had strength, agility and musical talents. The narrator does not have much to say about the next character he introduces, a yeoman who liked to ride his horse and took good care of his many weapons. He does, however, go on to describe many of the other pilgrims – a prioress, a monk, a merchant, a lawyer of sorts, a franklin, a scholarly clerk, and more. Although there were 30 pilgrims making the journey there are only 24 tales, some of which are hilarious or vulgar, others that are allegorical, and naturally some that are religious.
If you are interested in viewing this item please call the Art, Music and Recreation Department at 414-286-3071 to arrange a visit.