Milwaukee Streetcar Past Resurfaces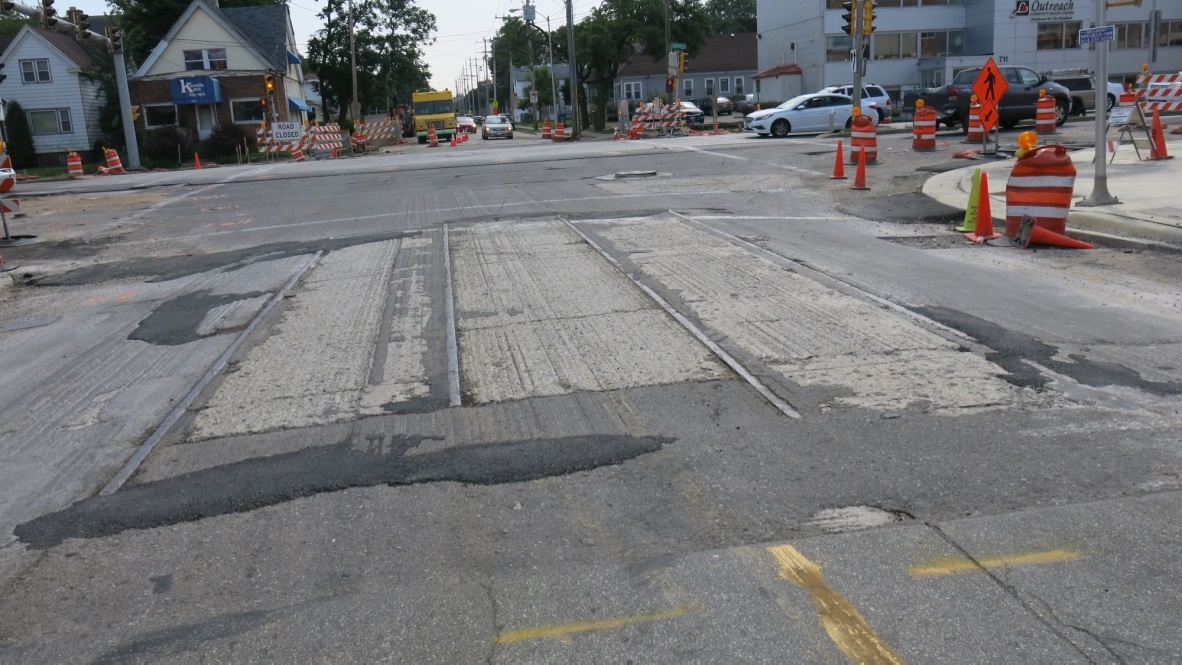 Uncovered streetcar tracks on N. 7th St. at W. Capitol Dr., September 20th, 2019, courtesy of MPL staff
Last year, after a 60 year absence, streetcars returned to Milwaukee with The Hop. Recently, a remnant of Milwaukee's streetcar past resurfaced after being paved over 70 years ago. One of this year's road construction projects is the replacement of the N. Port Washington Rd. bridge over W. Capitol Dr.
Last month, part of the surface at the intersection of W. Capitol Dr. and N. 7th St. was removed before repaving begins. A short stretch of streetcar tracks has temporarily resurfaced after being paved over 70 years ago. They were used by the #37 3rd-S. 13th car line until it was converted to trolleybuses (trackless trolleys in Milwaukee-ese) in 1948. The route started on N. Port Washington Rd. at W. Hampton Ave. to serve the Port Washington Rd. industrial area along the Milwaukee Road Beer Line tracks north of Capitol in the old Town of Milwaukee (southern section incorporated as the City of Glendale in 1950, which prevented the City of Milwaukee annexing the industrial area).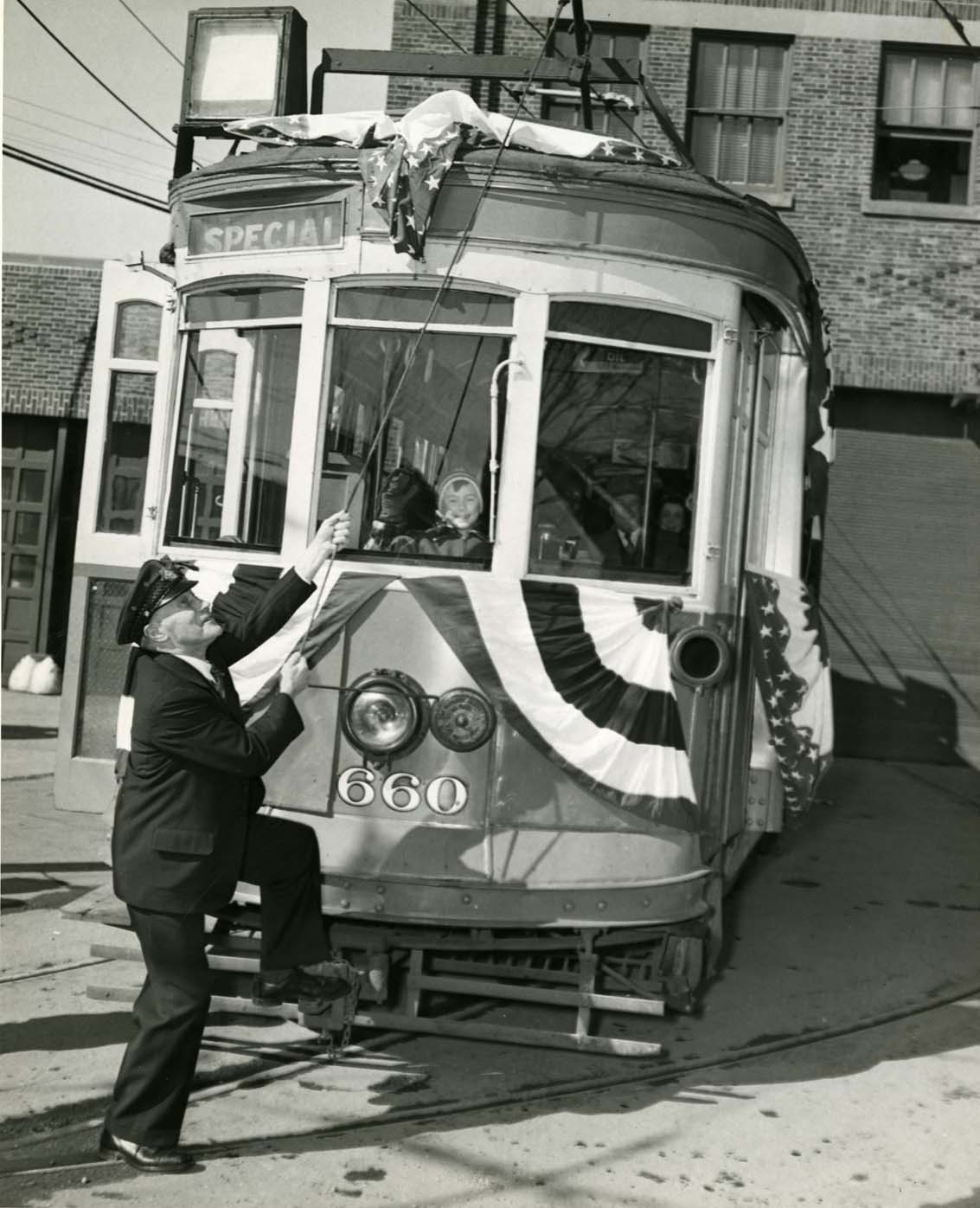 Conductor William Firson raises the trolley pole for the last run on 3rd St. on March 28th, 1948, published in the Milwaukee Sentinel on March 29th, 1948, courtesy of the Milwaukee Journal Sentinel, Milwaukee Public Library, Historic Photo Collection
The streetcar bent the corner round (Milwaukee-ese during the streetcar era, "Let's go down by Schuster's, where the streetcar bends the corner round") onto W. Fiebrantz Ave., N. 7th St. and N. Green Bay Ave. The intersection of Green Bay, and W. Atkinson and Keefe Aves. was a major public transit transfer point where the #37 and #19 3rd-Burnham car lines, #68 Port Washington-Santa Monica and #73 Keefe-Ardmore feeder buses and #94 Rapid Transit interurban (light rail) line connecting Downtown, Brown Deer, Thiensville, Cedarburg, Grafton, Port Washington and Sheboygan converged. The #19 and #37 car lines and Rapid Transit line shared joint trackage on Green Bay and N. 3rd St. (N. Dr. Martin Luther King, Jr. Dr.) to the Public Service Building at 3rd and W. Michigan St.
The #19 and #37 once were Milwaukee's busiest public transit lines. They served Downtown and Upper 3rd, the two busiest shopping districts before shopping centers were built after 1950. Each line had rush hour headways (frequency) about three-four minutes, which meant there was a car every 1½-2 minutes from Green Bay, Atkinson and Keefe to S. 11th St. and W. Greenfield Ave. My father said "If you missed a car, there was another one in sight." Public transit ridership peaked at 289 million riders in 1945 (29,071,243 passengers rode public transit in 2018). While trolleybus and bus routes had schedules, streetcars ran so frequently, timetables weren't published until the mid-1950s when declining ridership reduced service.
Road construction hastened the conversion of the #19 and #37 lines, and ended the #94 Rapid Transit line. Streetcar tracks were removed in spring 1948 for the widening and repaving of 3rd St. The northern legs of the #19 and #37 car lines continued operation until October 9th, 1948, since they still had access to the Fiebrantz carbarn. By early 1949, both lines completed their conversion to trolleybuses (buses with trolley poles).
Dan, Local History Librarian