14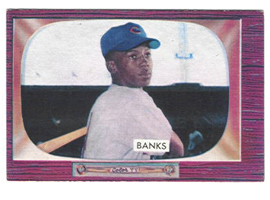 We lost one of the great ones this past January 23rd. Ernie Banks, who played in the Major Leagues from 1953 to 1971 entirely for the Chicago Cubs, died of a heart attack at the age of 83.
To his fans, and there are a lot of them, he was known as "Mr. Cub." He was known not only for his spectacular play but also for his sunny disposition and positivity, traits no doubt necessary for some of the Cubs teams he played on during his career. He hit 512 career home runs and won the Most Valuable Player award in back-to-back seasons (1958 and 1959). He played on 11 All-Star Teams.
He was also a pioneer. Banks was the Chicago Cubs' first African-American player, paving the way for so many other great players in the team's future. In his early years, he played for the legendary Negro League team the Kansas City Monarchs. As a career-long Cub, though, he never got to play in a World Series, but he was elected to the Baseball Hall of Fame in 1977.
Milwaukee Public Library has a number of books about him and other great Cubs players of his era. You don't have to be a Cubs fan to appreciate his contribution to baseball and the world. Let's play two, Ernie. RIP.