East Branch Library Hard Hat Tour
On Tuesday, July 15, 2014 a group of city officials, neighborhood and business district leaders and members of the media got a glimpse of the library construction progress highlighting some of the special features of the new East Branch Library. I also joined the tour as a representative of the East Branch Library staff.
This was the first time members of the media, Mayor Tom Barrett, and Library Director Paula Kiely were able to see the interior of the new library since the ground breaking ceremony one year ago. East Staff (including myself) toured the construction site one month ago, and much has changed in this short amount of time.
No longer a concrete box, most of the interior walls are up and dry-walled, the rough outline of the Community Room is evident, and the drop ceiling using reclaimed wood from Old East is progressing beautifully.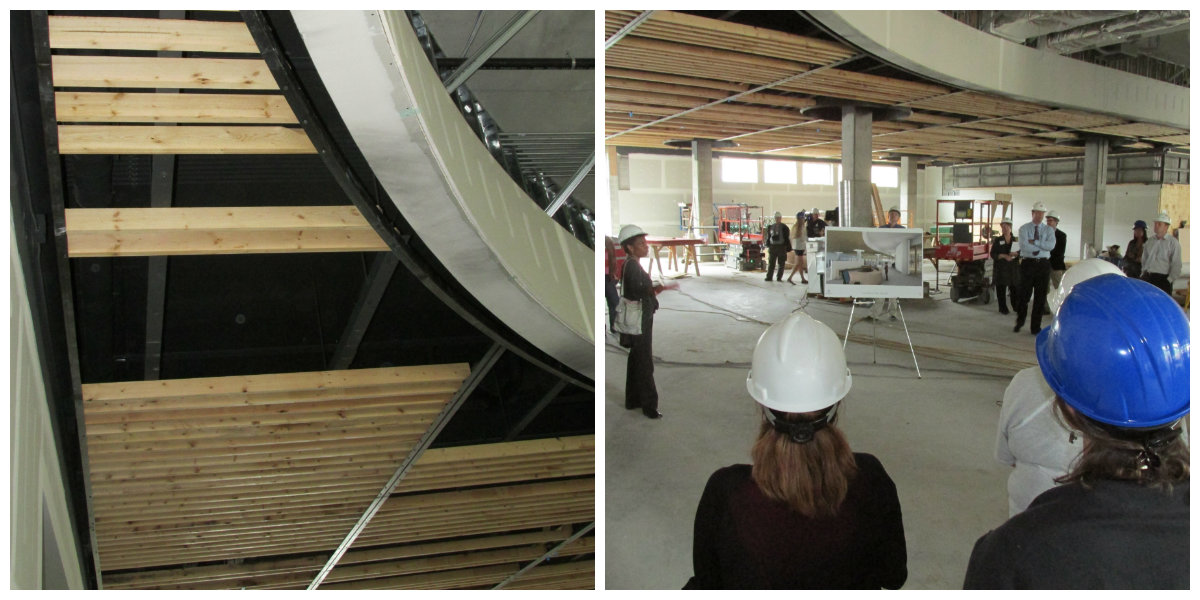 Reclaimed wood from Old East Library Deputy Director Joan Johnson describes the service desk.
I was personally excited to see one of the stained glass panels that lined the upper wall of Old East. The new Library will feature these recycled panels in a back-lit display along the Southeast interior wall. While an awesome (but little noticed) feature of the old space, you will no longer need to wait for the proper sun alignment to appreciate their beauty! Along with the stained glass, additional community art will be installed as construction continues.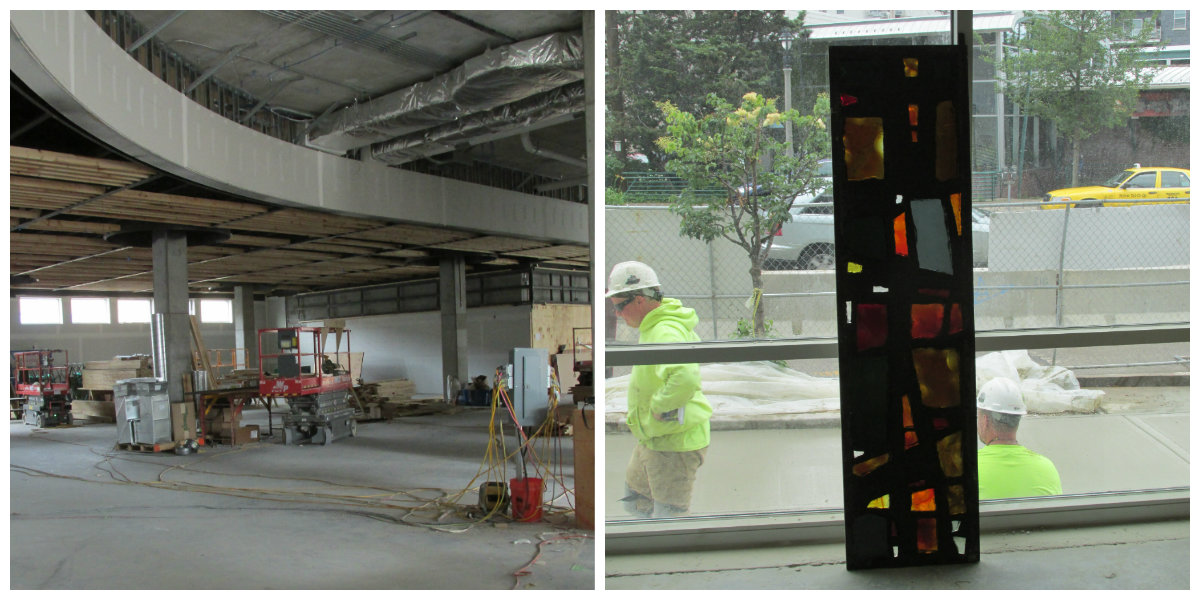 Framing for stained glass panels installed on Southeast wall
One of the most unique aspects of the new library will be the oval-shaped community room. You can now see the oval outline and the space where sliding windows and a laptop bar will be installed. This space will truly be the "jewel" and centerpiece of our library, and we can't wait to start hosting community meetings, library programs, and children's story-time. The room also converts to general seating for all patrons to enjoy whenever there are no events scheduled.
If you would like additional information about renting out community rooms at East Library, please read the guidelines on MPL's website.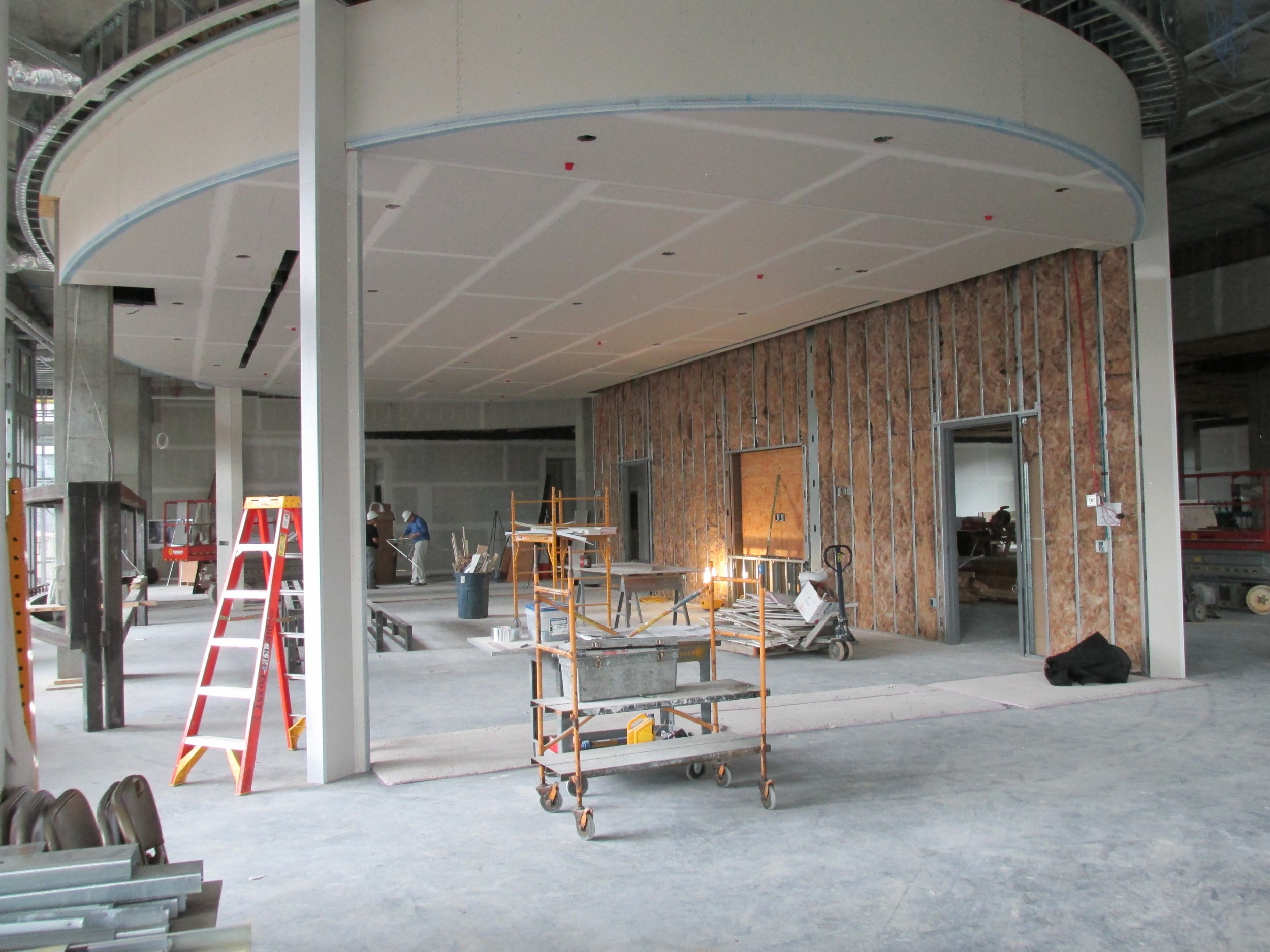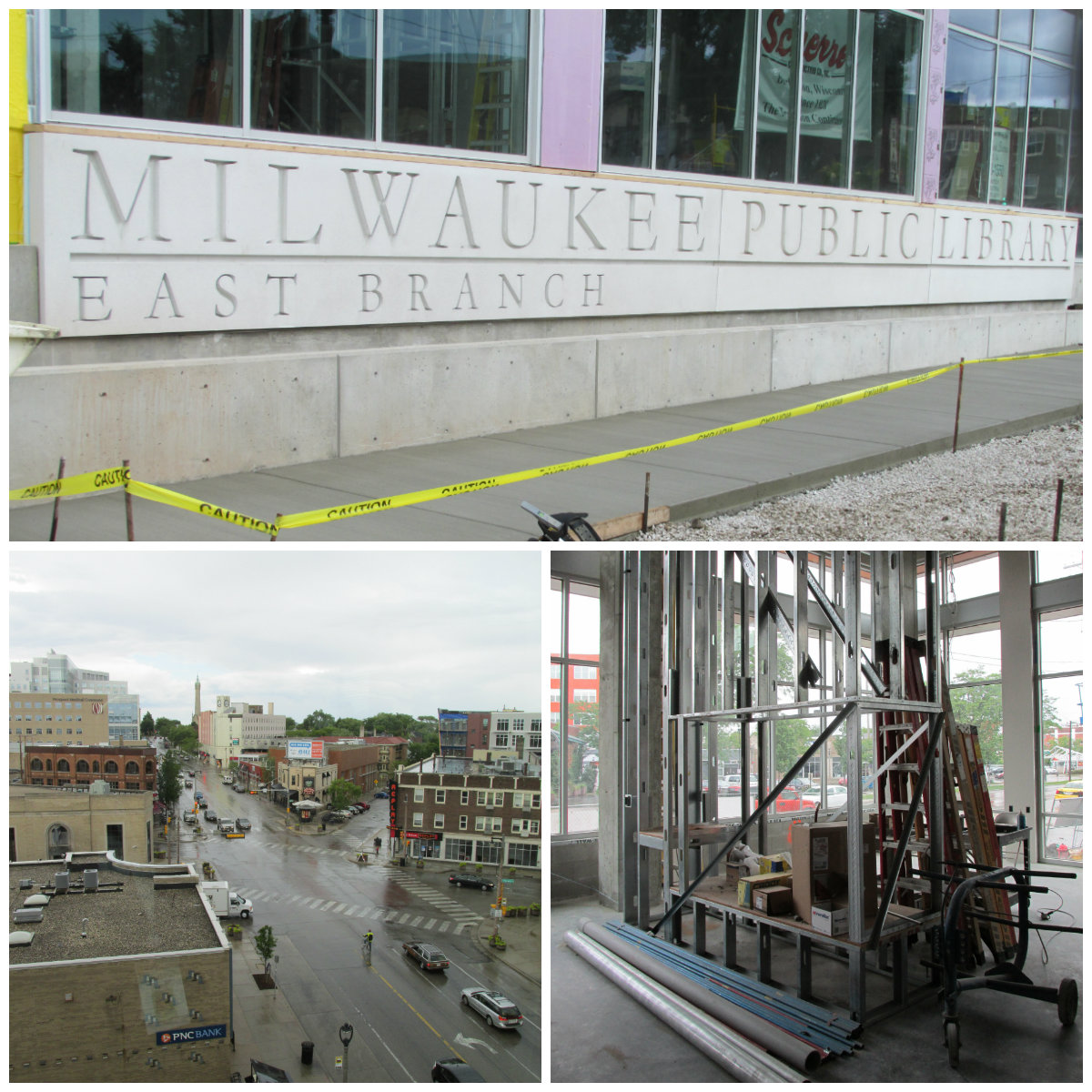 Library sign, view of East North Avenue, and fireplace shell.
The group was also given a chance to walk through one of the 99 apartment units making up The Standard at East Library. You can't beat the view of North Avenue from the fifth floor unit. If you are interested in living above East Library, you can find more information at The Standard's website.
Thank you for continuing to follow the construction of your new East Branch Library. I'm hoping our next walk through will showcase more of the fabrics, colors, and furnishings that will pull the space together.