Personal Finance: Get Smart About Money
Are you ready to get smart about money?
Milwaukee Public Library has resources that can help you reach your personal financial goals.
Whether you're looking to buy your own home, invest for college, or get out of debt, we want to help!
Personal Finance Basics
Money 101
Step by step guide on money management by CNN.
NCFF Financial Education Basics
Financial basics from the National Foundation for Credit Counseling. Includes money management & savings, credit, insurance, housing, retirement, and bankruptcy.
Financial and Investment Resources
Morningstar Investment Research Center
This resource will help with your investment decisions. It offers up-to-date independent analysts' opinions and in-depth data on thousands of stocks, mutual funds and exchange-traded funds. Available online only to City of Milwaukee library card holders.
Value Line
For complete stock and investment research, turn to Value Line. Online access to the Investment Survey is available. The Investment Survey, Small & Midcap Survey, and Special Situations Service, are all available in print at the Business & Technology Room at the Central Library. Available to City of Milwaukee library card holders.
Credit Counseling/Bankruptcy/Identity Theft
Identify Theft Resource Center
ITRC is a national resource center providing victim assistance at no cost to consumers throughout the U.S. If you believe you are the victim of identity theft you can contact the ITRC Victim Assistance Center Toll Free (888) 400-5530. The ITRC website also includes information on medical identity theft, child ID theft and more.
National Foundation for Credit Counseling
NFCC is the nation's largest financial counseling organization with more than 600 community-based offices located in all 50 states and Puerto Rico. NFCC Member Agencies provide financial counseling and education to millions of consumers each year in person, over the phone, or online. To locate an NFCC Member Agency in your area call 800-388-2227. Para ayuda en Español Ilama al 800-682-9832.
Credit Report
You are entitled to receive one free copy of your credit report from the United States' official website,AnnualCreditReport.com. You may also request a report by phone by calling 1-877-322-8228. In addition, the postal mail address for requesting a report is:
Annual Credit Report Request Service
P.O. Box 105281
Atlanta, GA 30348-5281
Through this website you can get a copy of your credit report from the three main credit reporting agencies; Equifax, Experian, and Transunion.
The Get Smart About Money program was made possible by a grant from the
FINRA Investor Education Foundation through Smart Investing @ your library®,
a partnership with the American Library Association.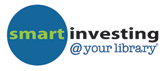 Explore Our Booklists:
Recently Added