About MPL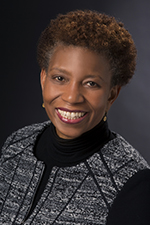 Welcome from City Librarian Paula Kiely
The focus of the American Library Association's new Libraries Transform initiative is to increase public awareness of the value, impact, and services provided by libraries and library professionals. Milwaukee Public Library is ahead of this national trend and has already built upon many of the initiative's broad objectives of Awareness, Perception and Engagement.
Milwaukee Public Library is participating in the ConnectEd Presidential Initiative to ensure all children in Milwaukee Public Schools have library cards. Our recent Fine Forgiveness Campaign welcomed back thousands of patrons who may have been blocked from using the library due to fines and fees. The two highly successful Library Loud events held at Central Library this year encouraged our visitors to "Get Loud" in the Library. The Milwaukee Public Library Foundation is increasing sponsorships and our donor base which results in additional programming, materials and special events.
Your Milwaukee Public Library is truly transforming the perception of libraries and library service in the city of Milwaukee. Come see what we have to offer!
Vision
MPL is an anchor institution that helps build healthy families and vibrant neighborhoods – the foundation of a strong Milwaukee.
Mission
Inspiration starts here – we help people read, learn, and connect.
Strategic Plan
MPL 2020 Our Plan for the Future