NASA@ My Library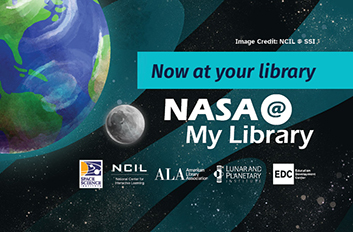 Milwaukee Public Library was selected through a competitive application process to be part of NASA@ My Library, an education initiative created to increase and enhance STEAM (science, technology, engineering, arts, and math) learning opportunities for library patrons throughout the nation, including geographic areas and populations currently underrepresented in STEAM education.
As a NASA@ My Library Partner, Milwaukee Public Library held public programs that explored NASA science and technology, specifically around NASA's newest next-generation telescope launch, the first telescope images (spring 2022), and as part of the Collaborative Summer Library Program (summer 2022).
---
NASA@ My Library is based upon work funded by NASA under cooperative agreement No. NNX16AE30A. Any opinions, findings, and conclusions or recommendations expressed in this material are those of NASA@ My Library and do not necessarily reflect the views of the National Aeronautics and Space Administration.