RIP, Granville Town Hall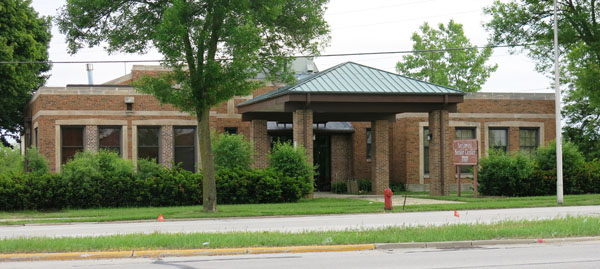 Granville Town Hall, Courtesy of MPL staff
The old Granville Town Hall at 7717 W. Good Hope Rd. will soon be razed, so construction can start on the Good Hope Branch replacement of our Mill Road Branch library.
Eight years before Wisconsin became a state, the Territorial Legislature created the 36 square mile Town of Granville in 1840 in the northwest area of Milwaukee County. Its borders were County Line, Range Line (later renamed 27th south of Mill), Town Line (Hampton) and County Line (124th) Rds. The most agricultural town in the county had the following settlements (current street names are in parentheses following their historic road names).
Granville (centered around Brown Deer, Granville and 107th)
West Granville (triangle from N. Fond du Lac (W. Fond du Lac Ave.) and 107th, south to S. Fond du Lac (W. Appleton Ave.) and 107th, and northwest to S. Fond du Lac (W. Appleton Ave.), Lovers Lane (115th) and Mill)
Engleburg (S. Fond du Lac (W. Appleton Ave.) and Swan (91st))
Granville Center (Good Hope and Wauwatosa (76th))
East Granville (Good Hope and Cedarburg (Teutonia))
Schwartzburg (Villard and Western (35th))
Brown Deer (Brown Deer (River Lane), Cedarburg (Deerwood) and Hopkins (43rd))
Schwartzburg incorporated as the Village of North Milwaukee in 1897 and incorporated as the City of North Milwaukee in 1918. It had more people than Shorewood and Whitefish Bay in 1920 before consolidating with an expanding Milwaukee in 1929.
Granville's 1883 town hall was located at the southwest corner of Good Hope and Wauwatosa Rds. in Granville Center, which was literally in the middle of the township. It was so small that Town Clerk Charles Raasch worked out of his home four miles away.
Noticing the Town of Lake used New Deal funds to build a combination town hall and water tower in the late 1930s, the Granville Town Board approved a plan by architect Richard H. Bierman to build a $36,000 ($647,000 in 2018 dollars) town hall that would include an auditorium, fire department and public works garage in 1940. President Franklin D. Roosevelt approved Work Projects Administration (WPA) funding for it and construction started 100 yards west of the old town hall in 1941. The new town hall was dedicated on October 10th, 1942.
In 1950, Granville was 29 square miles and Milwaukee (then 50 square miles) was annexing land for future development. The northeast corner of Granville incorporated as the Village of Brown Deer in 1955 and competed with Milwaukee in annexing land. It came to a boil in 1956. Granville was down to 22½ square miles. Brown Deer posted a notice to annex an additional 16½ square miles from Granville in March 1956, but Granville and Milwaukee residents voted to consolidate in a joint referendum on April 3rd, 1956.
Worried about losing 80% of the tax base for the Granville-Brown Deer Union High School District that was building Granville High School, Brown Deer filed suit in the courts to block consolidation. A confusing and contentious six-year legal battle saw multiple competing Brown Deer and Milwaukee suits, countersuits, decisions and appeals. The courts temporarily split contested land between the two municipalities, such as the contested Johnson area, which included the Granville Town Hall. Its residents lived in Granville, Milwaukee, Brown Deer, Milwaukee and Brown Deer (1956-1962) in 1956 alone.
Wondering whether they lived in Granville, Milwaukee or Brown Deer, Granville residents were confused about whom to contact about garbage pickup, schools, snowplowing, fire and other public services. Historically, the Milwaukee County Sheriff's Office provided police service for unincorporated towns, such as Granville and Lake (consolidated with Milwaukee in 1954), which possibly meant calling three police departments. Developers delayed plans to build residential subdivisions on recently purchased farmlands and waited to find out whether Milwaukee or Brown Deer would regulate zoning, issue building permits and supply water.
Finally, the Wisconsin Supreme Court upheld the Milwaukee-Granville consolidation on April 3rd, 1962, except for Tripoli Country Club, six years to the day of the 1956 joint referendum. The Granville-Brown Deer Union High School District dissolved. The Brown Deer School Board renamed Granville High School (opened 1957) as Brown Deer High School in 1966. The late Mayor Frank Zeidler (1948-1960), whose aggressive annexation campaign slightly more than doubled Milwaukee's land size from 46.4 to 95.8 square miles, said without Granville, Milwaukee's financial challenges would have worsened earlier and deeper.
The Granville Town Hall went on to house a Milwaukee Fire Department station (1950s-1970s), Department of Public Works (DPW) sanitation yard (1970s-1980s), Milwaukee County Northwest Senior Center (1980s-2000s) and finally a Milwaukee Brotherhood of Firefighters hall (2010s). Even though it was no longer a town hall, it was called "old Granville Town Hall" until the 1980s.
A former Granville resident visited the Central Library to look at old photos, including those of Granville, in the Historic Photo and Remember When… collections. We found out we had the same teacher. Mrs. Franklin was his 4th grade teacher at East Granville District #2 School (Good Hope, 2 blocks west of Hopkins (43rd)) in the 1950s. She was my 6th grade teacher at Clara Barton School in the 1970s.
Milwaukee Public Schools (MPS) absorbed the various Granville school districts. With new subdivisions sprouting up on old farmlands, MPS decided to replace the small East Granville School with two new bigger elementary schools. East Granville closed when Barton School opened more than a mile away in 1962. Three years later, Nathaniel Hawthorne School opened a half-mile from the old East Granville School.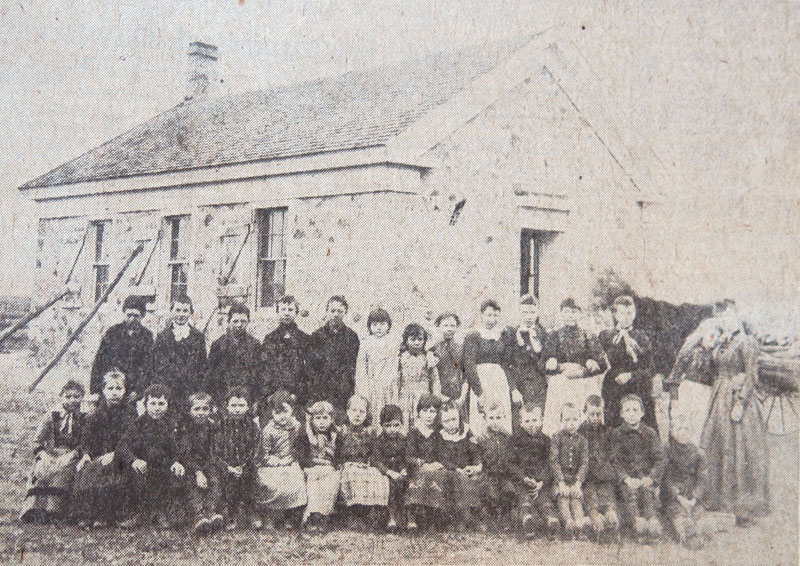 Granville Center District #5 School, Good Hope and Wauwatosa (76th) Rds., 1889, The Milwaukee Journal, Green Sheet, August 26th, 1975, Photo courtesy of Joe Bacher
Joe Bacher provided photos of Granville for the Remember When... feature in The Milwaukee Journal's Green Sheet, a few of which can be viewed in our Remember When... Collection. The "Pickle King" grew up, lived and farmed at 60th and Green Tree from the early-1900s to the late-1990s. He sold his produce at the old Haymarket at 5th and Vliet and served as director of Granville Center District #5 School, kitty-corner from the Town Hall. Classes from Barton School used to pick pumpkins for Halloween. His 1899 farm house was razed in 2000 and he lived until 101 in 2004. The Jobs Corps Center opened on his former farm in 2011.
To find out more about Granville, check out:
Dan, Local History Librarian