Networking & Branding for Creatives: A workshop series for musicians, visual artists and writers
Gathering Art, Stories and Place presents two hands-on workshops for creatives that will provide tangible skills for jumpstarting or improving their businesses.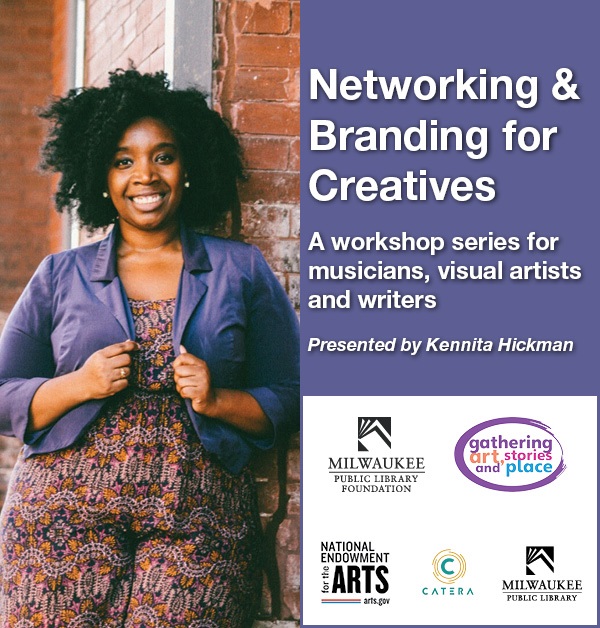 As a creative, understanding your brand and knowing how to articulate it is essential for making money from your art. Looking to finesse your networking skills? Not sure if LinkedIn is for you? Struggling to find the proper audience and generate money? These workshops are for you!
Register for this FREE two-part series on LinkedIn, Networking and Branding with Kennita Hickman. Call 414.286.3011 or register online at www.mpl.org.
Milwaukee Public Library I Mitchell Street Branch | 906 W. Historic Mitchell St., Community Room
Kennita Hickman is an urban cultural and music writer, entrepreneur and health enthusiast. She is the Chief Culture Curator for Catera (formerly KIS Communications LLC), a brand strategy and management agency where she supports creatives and politicians. Her 20-year career has spanned writing, public relations, radio and artist management. Artists managed include The Cranberry Show, Tapebenders, and B ALXNDR. Prior to her work at Catera, she wrote for various music publications including Urbanology, Relevant and The Source. She currently serves as a board member for Above the Clouds, a faith-based arts and youth organization. She also served as Vice President for Wisconsin Area Music Industry (WAMI) and committee member at Repairers of the Breach.