A Hymn for the Rapid Transit Interurbans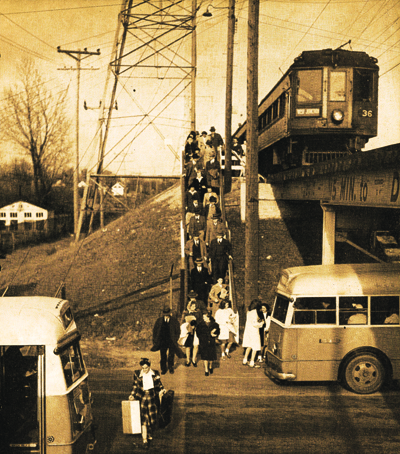 Rapid Transit 84th St. stop, 1943, picture courtesy of We Energies
As we prepare for the launch of the Milwaukee Streetcar in 2018, why not take a chance to look back at the rapid transit system of the past? Larry Sakar, author of Speedrail: Milwaukee's Last Rapid Transit?, will present a history of Rapid Transit interurbans in the Milwaukee area until service ended 65 years ago.
When: Saturday 6/25/2016 from 2:00-3:00 pm
Where: Centennial Hall's Loos Room, 733 N 8th St, Milwaukee, WI 53233.
Please register online or call (414) 286-3011. Street parking is free on Saturday, but time limits apply.
If you can't attend the program (or perhaps if you arrive with extra time beforehand), you can also check out a display on the Rapid Transit interurbans in the main hallway of the second floor of the Central Library.