Mayor Tom Barrett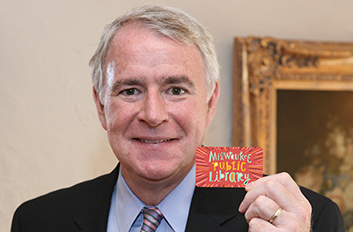 A Message From Mayor Tom Barrett
The organizational values identified by the Milwaukee Public Library in MPL 2020 are: Creating a City of Readers and Lifelong Learners; Anchoring Healthy and Vibrant Neighborhoods; and, Contributing to a Strong Milwaukee. Those values reflect the strong commitment the library has always had to improving the quality of life in Milwaukee.
I'm especially excited about Milwaukee Public Library's new LibraryNow initiative which represents an historic partnership between the library and Milwaukee Public Schools to provide free digital access to all the library's online resources to every MPS student in 1st through 12th grade.
Libraries are neighborhood jewels with amazing resources. They help develop a child's language, reading, critical thinking, and imagination. They bridge the digital divide, improve access to information, and make a connection to the outside world.
Our libraries have evolved from being storehouses of books to anchor institutions that help build healthy families and vibrant neighborhoods.