Friends of MPL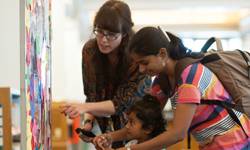 Advocates for libraries, literacy, and lifelong learning.
The Friends of the Milwaukee Public Library recognize the value of our great library and celebrate all it has to offer. Friends membership dollars provide financial support to keep the library's outstanding collections, resources and programs free and accessible for all.
The Friends of MPL operates the Bookseller Used Book Store and book sales, provides free historic tours of beautiful Central Library, and sponsors programs such as the Spring Literary Luncheon, the Milwaukee Poet Laureate, and the Wisconsin Writers Wall of Fame, as well as other literary events and author visits.
Join the Friends
You are invited to join the Friends of the Milwaukee Public Library. Among the benefits of joining are: The Reader newsletter by mail, special invitations and member discounts to events throughout the year.

Board of Directors
Barbara Franczyk, President
Kevin Duffey, Vice President
Barbara Hofstetter, Treasurer
Erin Frank, Secretary
Marsha Huff, Past President
Meghan Engsberg Cunningham
June Davis
Richard Gustafson, Jr.
Ellen Irion
Daria Kempka
Deborah Koconis
Matthew Lueder
Joel Peterson
Diana Pine
Jess Ripp
Kellee Selden
Judith Steininger
Matthew Sullivan
Shannon Sweek
Louisa Walker
Distinguished Directors
J. Lewis Perlson Esq.
Ron S. San Felippo
Marsha Sehler