National Poetry Month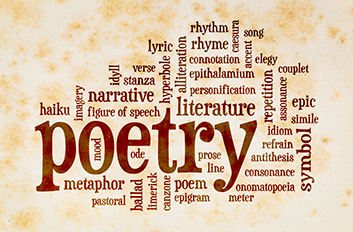 The best place to celebrate National Poetry Month is at your Milwaukee Public Library. Whether you're looking for an inspiring book of poetry, or are interested in writing your own, the library should be your first stop. A wonderful array of poetry programs at the library includes activities for children, teens and adults.
2018 Teen Poetry Contest: April 1-30
Do you have a way with words? Milwaukee youth ages 10-18 are encouraged to submit an original poem to this year's Poetry Contest. Submit up to two poems at mpl.org/poetrycontest from April 1-30. Winners will be announced at the Teen Poetry Coffee House on Saturday, May 12. Prizes will be awarded to the top three in each age category: 10-12, 13-15, and 16-18.
Open Mic Spoken Word with MC Kavon Cortez Jones
Saturday, April 14, 1-4 p.m. | East Branch, 2320 N. Cramer St.
Celebrate National Poetry Month and Milwaukee Day. Teens and adults are welcome. Light refreshments will be provided.
BLACKOUT Poetry
Tuesday, April 17, 5-7 p.m. | Atkinson Branch, 1960 W. Atkinson Ave.
Forget about writer's block! Celebrate National Poetry Month by creating a poem without writing a word. Take a marker, grab a page from an old book, and black out words you don't want. The words that remain will be your poem! All supplies will be provided.
Poem in Your Pocket
Tuesday, April 17, 5-6 p.m. | Zablocki Branch, 3501 W. Oklahoma Ave.
April is National Poetry Month. Help spread the joy of poetry! View various styles of poems, or write your own Haiku; a three-line poem. Snacks will be provided. For teens 13-18.

A Reading with Soham Patel
Tuesday, April 17, 6-7 p.m. | Central Library, Richard E. and Lucile Krug Rare Books Room, 814 W. Wisconsin Ave.
Soham Patel is the author of four chapbooks, most recently New Weather Drafts (Portable Press at Yo-Yo Labs, 2016) and in airplane and other poems (oxeye press, 2018). Her first full-length collection of poetry, to afar from afar, is now available from Writ Large Press.
Patel studies in the Creative Writing PhD program at the University of Wisconsin-Milwaukee and is a staff member for Kundiman, a national non-profit organization dedicated to nurturing generations of writers and readers of Asian American Literature.
Books will be available for sale from Woodland Pattern.
Art of Coping with Poetry
Join True Skool Educators to create poetry that encourages important dialogue beyond stigmas and empowers participants to educate others on coping mechanisms. For teens ages 13-18.
Monday, April 23, 5-6 p.m. | Tippecanoe Branch, 3912 S. Howell Ave.
Tuesday, April 24, 5-6 p.m. | Washington Park, 2121 N. Sherman Blvd.
Saturday, April 28, 3-4 p.m. | Capitol, 3969 N. 74th St.
Milwaukee Poet Laureate Roberto Harrison Welcomes
Four Milwaukee Poets: Annie Grizzle | Sam Pekarske |
Bethany Price | Alix Anne Shaw
Thursday, April 26, 7-9 p.m. | Woodland Pattern, 720 E. Locust St.
Annie Grizzle is a multimedia artist interested in the nonsensical intersection between the mappable and the abstract. Her aim is not to control a medium, but to create a disorienting space in which to discover and test its limits.
Sam Pekarske is a Milwaukee native who doesn't plan on going anywhere anytime soon and it shows in her work, which deals primarily with the dynamic and crass nature of one of the nation's more segregated cities as well as the people who can't get enough of it.
Bethany Price is a poet, stylist, and creative director of MKE-based arts blog "The Art Shore." She models occasionally and acts sometimes, too.
Alix Anne Shaw is the author of three full-length poetry collections whose poems and reviews frequently appear in journals. She is also a visual artist.
Milwaukee Poet Laureate Roberto Harrison has authored a variety of poetry collections as well as many chapbooks. He is also a visual artist. The Milwaukee Poet Laureate project is a program of the Milwaukee Public Library, funded by the Friends of the Library, and administered by Woodland Pattern.
Poetry Crafting
Monday, April 30, 2-4 p.m. | Bay View Branch, 2566 S. Kinnickinnic Ave.
Celebrate National Poetry Month by writing your own poem or turning an old favorite into a spectacular piece of art during this afternoon of poetry and crafts at the Bay View Branch. Use black-out poetry, collage, zentangle, and poetry gift boxes to create a craft to take home and enjoy.