Money Smart Week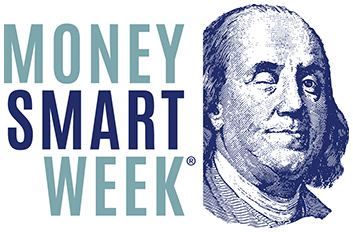 April 21-28, 2018
Family Budgeting
WWBIC - Wisconsin Women's Business Initiative Corporation
Tuesday, April 17, 6-7:30 p.m.
Martin Luther King Branch, 310 W. Locust St.
Explore simple budgeting and how to manage your household spending plan if your budget doesn't match. Please register by calling 414-263-5450 or at wwbic.com
You Can Stop Debt Collector Harassment
Hansen Reynolds LLC
Monday, April 23, 6-7 p.m.
Central Library Community Rm 1, 814 W. Wisconsin Ave.
Are you being harassed by debt collector robocalls? You have the right to stop this harassment and might also be entitled to as much as $1500 per illegal call. Attorney Mike Lueder used to represent the robocallers, so he knows their game. Now, he helps people beat them.
Protecting Your Identity [Presented in English & Spanish*]
Educator's Credit Union
Monday, April 23, 6-7 p.m.
Mitchell Street Branch, 906 W. Historic Mitchell St.
Identity thieves are working hard to get your information. This workshop will give you the tools you need to keep these thieves at bay. You'll review how scammers get your information, how to track your finances to stop theft, and how to protect yourself. Please register by calling 414.286.3011 or online.
*Protegiendo tu Identidad
Educator's Credit Union
lunes 23 de abril, 6-7 p.m.
Mitchell Street Branch, 906 W. Historic Mitchell St.
Ladrones de identidad trabajan duro para robar tu información personal. Este taller te dara información que necesitas para preventar ladrones de robar tu información personal. Estaremos revisando como los ladrones obtienen tu información y como ser pendiente de tus financas para evitar robo y protegerse. Inscribase en linea.
Preschool Story Time Financial Literacy
Tuesday, April 24, 10:30-11:15 a.m.
Central Library Children's Room, 814 W. Wisconsin Ave.
Fun stories, songs, and fi ngerplays are designed to help preschoolers develop important literacy skills needed prior to learning how to read. Child care centers are welcome. Each child will receive a free copy of Those Shoes by Maribeth Boelts donated by Ally Bank. Books are available while supplies last.
Money Matters Fair
Tuesday, April 24, 3-6 p.m.
Center Street Branch, 2727 W. Fond du Lac Ave.
Learn how to manage money and more. Enjoy refreshments and take home giveaways! Learn about qualifying for a car loan with financial coaching through a YWCA program, creating a budget, reducing debt and using credit wisely, making informed financial choices, minimizing your risk and/or recovering from identity theft, the value of personal insurance and why it's never too late or too early to save for retirement.
Featuring Exhibitors:
Community Insurance Info. Center
YWCA Auto Loan Access Program
Midwest Advantage Financial Services
Housing Resources Inc.
Voss Insurance Group
Legal Shield
And More!
Payday Loans & Predatory Lending
WWBIC - Wisconsin Women's Business Initiative Corporation
Tuesday, April 24, 6-7:30 p.m.
Martin Luther King Branch, 310 W. Locust St.
Borrowing money can be intimidating. Learn about smart borrowing practices, your rights as a borrower, and how to avoid being a victim of predatory lending. Please register by calling 414.263.5450 or at wwbic.com.
Understanding the Stock Market
Presented by BetterInvesting Wisconsin Chapter
Wednesday, April 25, 6-7 p.m.
Capitol Branch, 3969 N. 74th St.
and
Friday, April 27 2-3 p.m.
Zablocki Branch, 3501 W. Oklahoma Ave.
Basic investing information including a description of what a public company is, what stocks are, why and how to invest, and the different kinds of investments available.
Get Your Free Credit Report Now!
CIBC Canadian Imperial Bank of Commerce
Thursday, April 26, 10 a.m.-12 p.m.
Central Library Computer Lab, 814 W. Wisconsin Ave.
Receive help accessing and printing your report for free. CIBC will provide assistance on how to read your credit report and how to file disputes if necessary. CIBC consultations will be provided first come, first served.
Starting an Investment Club
BetterInvesting Wisconsin Chapter
Thursday, April 26, 2-3 p.m.
Washington Park Branch, 2121 N. Sherman Blvd.
Why do people want to be part of an investment club? How do you find other potential members? What are the steps and things to consider when forming a club?