Martin Luther King Day Celebration 2018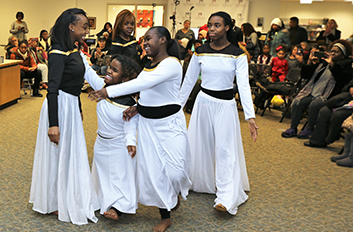 Milwaukee Public Library will host a full day of activities honoring the life and legacy of Dr. Martin Luther King, Jr. on Monday, January 15 from 9 a.m. to 5 p.m. at the Martin Luther King Branch. Since 2009, the branch has opened on Martin Luther King, Jr. Day to offer a celebration filled with poetry, music, dance, crafts, games, and community services.
Hands-on Activities for all ages from 9 a.m.-12 p.m.
African American Book Jacket Bingo
Play bingo based on African American children's literature.
Family Fun Crafts
Artists Working in Education (A.W.E.) will present a special King Day project for all ages.
Make a craft or two to take home at a variety of family friendly craft stations.
Button making - Choose pictures and words to design your own King Day pin.
Voter Rights
Check out the presentation on voting rule changes over the years. Look at some sample voting tests and enjoy voting in some popular polls. Laptops will be available to complete voter registration online.
Live Performances from 12 noon-4:30 p.m.
12:00-12:10 p.m. The King Drumming Group will signal the start of the day's live performances and kick off the celebration.
12:25-12:55 p.m. Signature Dance Company
Marvel at the dance moves of these young women during this powerful, original presentation.
1:15-2:00 p.m. Christopher's Project
Christopher's Project performs popular and cherished musical numbers.
2:15-2:30 p.m. Spoken Word with Kavon Cortez Jones
An ambient amalgamation of noir jazz, hip-hop, Afro-punk, and psychedelic rock through the power of poetry.
2:30-2:45 p.m. Trivia Contest
Participate in the trivia contest to learn facts about civil rights and earn prizes
3:00-3:30 pm Ina Onilu Drum and Dance Ensemble
Enjoy the sights and sounds of West African dance and drumming.
3:30 p.m.-4:30 p.m. Peace Cookies
Cookie decorating with family and friends.