Computer Classes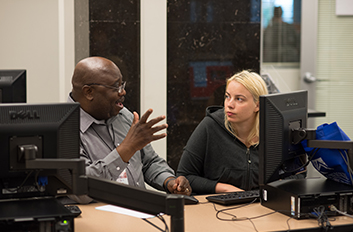 Milwaukee Public Library offers free computer classes to residents of the city.
To register for any class, call Ready Reference at 286-3011 to register, or register online using the library's event calendar. Print a copy of the schedule or pick one up at your library.
Free Computer Class Schedule: Fall 2018 | otoño 2018
Space is limited and some classes may be filled. Registrants late to class may lose seating to walk-ins once class begins.
This three-part informational series explores current trends in technology. Learn about popular services that dominate the news headlines and are changing the way we access information such as music, television and news.
Part 1- Coding
Part 2- Intelligent Personal Assistant
Part 3- Streaming Services
Improve Your Internet Experience: Developing Safe Routines for Today's Internet
This three-part informational series explores useful techniques to make your internet experiences more secure. Learn to recognize common pitfalls and find durable solutions that can help protect you from internet security breaches.
Part 1- Profiles, Programs & Passwords
Part 2- Website Safeguards
Part 3- E-Commerce
Registration is not required for Tech Trends and Improve Your Internet Experience classes.
---
Frequently Asked Questions
Do I have to take all the classes (as in a series) or can I pick and choose the courses I am interested in?
You can either sign up for the classes as a series (meeting once a week for several weeks) or pick and choose the courses you would like to take.
How can I register for the classes?
Call Ready Reference at 286-3011 or walk in to any City of Milwaukee library to sign up for classes. Library staff can help you sign up for classes at any location. You can also register online via the Library Event Calendar. Sign up early; classes fill up fast.
What are walk-ins? | How can I walk-in to a class?
Often times, there are a number of registrants who do not show up the day of class. We hold their reservation until the start of class, if they fail to show up, we seat walk-ins at these open computers. We are usually able to accommodate most walk-ins.
How many times can I sign up for the classes?
Due to high demand for these classes, please allow a 30-day grace period if you wish to repeat or re-register for a class in order to give others an opportunity to participate in this valuable training.
---