Check It Out! An After-Hours Exploration of Milwaukee's Central Library at Centennial Hall.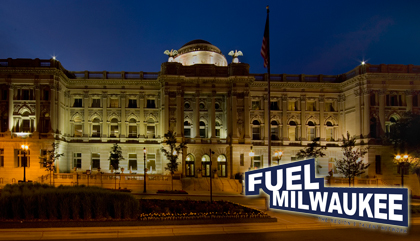 The Milwaukee Central Library is giving FUEL the run of the place they've called home for the last 116 years. This is an opportunity to explore one of Milwaukee's historic landmarks while getting an insider glimpse into a shared resource that you probably don't use enough.
Did you know that the Central Library once shared a space with the Public Museum? Did you know that the library staff raised a baby lion who lived onsite? Did you know that you can access thousands of publications digitally using your library card? Join us Wednesday, June 4, 2014 from 5:00 PM until 9:00 PM and learn even more.

SPECIAL PRESENTATION FROM AUTHOR, JILL MORIN
Jill Morin is the author of Better Make it Real, a consultant and national speaker. She also is the former executive officer of Kahler Slater, and among her many board and volunteer engagements, currently serves as the co-chair of the Creative Alliance Milwaukee. Jill has worked with many leading organizations and businesses, including Samsung, Manpower, Miller Brewing, Robert Redford and the Sundance Group, and Mayo Clinic.

Jill will discuss her work in helping these, and other clients, discover their unique organizational authenticity, and talk about how you can develop your own personal and authentic vision statement to guide your life and help you achieve your goals. Get inspired to find your authentic story.
THEN EXPLORE THE LIBRARY
Guided tours of the library's Green Roof
Bring Your Own Device download stations – get access to CountyCat Mobile, Zinio, OverDrive & Freegal Apps
Learn how to access business databases DemographicsNow and ReferenceUSA
Library Card sign-up station
A Historic Photo Collection station
Fun photo booths
Access to Humanities resources – Local history, genealogy and more
Access to the archives - architectural records, sheet music and more
Heavy appetizers and cash bar throughout the night

REGISTRATION FEES
FUEL Members - $5
FUEL Non-Members - $7
Registration is through FUEL Milwaukee. You can register online, or by calling Sofina Ziu at (414) 287-4144.
When: Wednesday, June 4, 2014 from 5:00 PM until 9:00 PM
Where: Milwaukee Central Library's Centennial Hall (entrance on 8th St), 733 N 8th St, Milwaukee, Wisconsin 53233