Vegetarian Cookbook Club - Bread Baking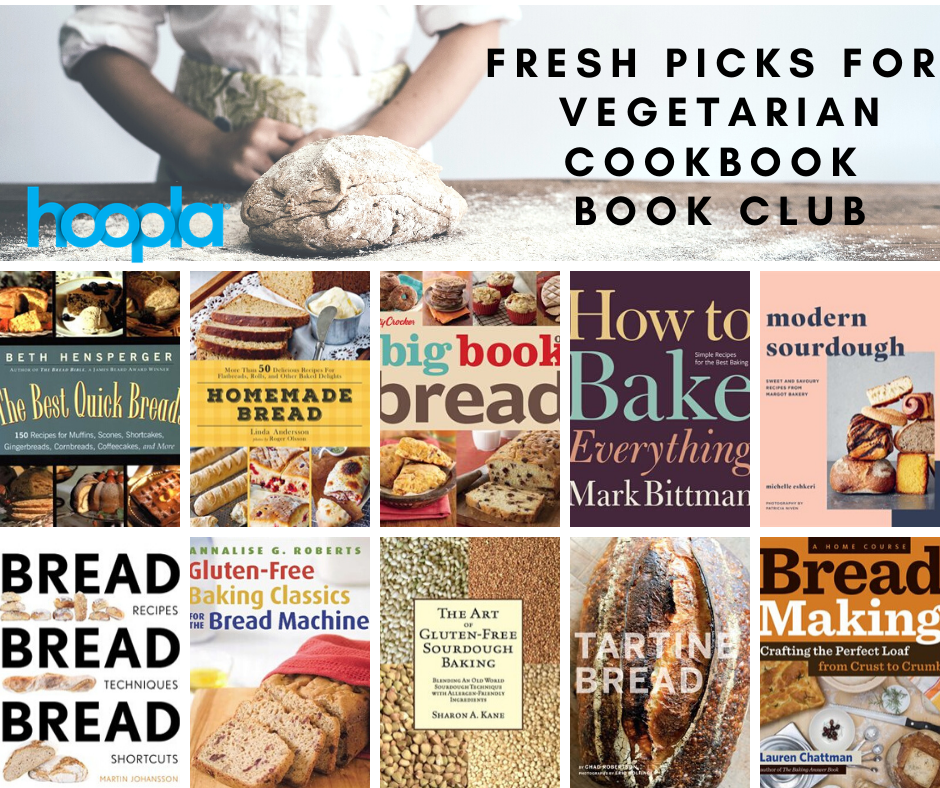 Join us Wednesday, June 3 from 6:30 - 7:30 pm for a virtual session of the Vegetarian Cookbook Club featuring bread baking; talk bread with professional baker, Justine.
Below are recipes to explore; give them a go and we'll meet to talk about our experiences, troubleshoot and ask questions. Want more inspiration? Check out a digital Vegetarian Cookbook or a digital Bread Cookbook on hoopla today!
Please join the meeting from your computer, tablet or smartphone here.

You can also dial in using your phone:
United States: +1 (646) 749-3122. Access Code: 185-610-381. Join from a video-conferencing room or system. Dial in or type: 67.217.95.2 or inroomlink.goto.com. Or dial directly: 185610381@67.217.95.2 or 67.217.95.2##185610381.
Justine's Milk Buns (Good for burgers or veggie dogs/brats) recipe courtesy of Braise
540g all purpose or bread Flour
11g salt
45g white sugar
6g instant yeast
1 egg, beaten
60g butter, melted and cooled slightly
330g milk, warmed
With paddle attachment on stand mixer, mix flour, salt, sugar, and yeast. Pour in egg, butter, and buttermilk. (I usually mix all three liquids together before adding dry ingredients). Mix on low until combined. Scrape dough from bowl and paddle, switch to dough hook, and mix about 8 minutes on low-medium speed. The dough should mostly come together as a smooth ball, but might be slightly sticky on the bottom of the bowl. Add more flour or milk, a little at a time, if it appears too wet or dry. Form dough into ball and place in a large bowl and cover with plastic wrap. Proof at room temp for 1-2 hours until dough has doubled in size. Divide dough into 7 pieces; they should be about 5.1-5.2 oz each. To create hamburger buns, cup your hand over the dough firmly and move your hand in a circular motion, slightly pushing the dough into the work surface. If the dough doesn't have traction on the work surface, try wiping a little water on the work surface, and make sure there is no flour where you are shaping your buns. For brat/hotdog buns, stretch the dough into a rectangle (roughly 2" x 4"), then start pulling one end of the dough toward the center with your finger tips. You will do this a few times on each side to slowly roll the dough inward, then pinch the seam together and place seam side down on the baking sheet.
Proof until about 1 1/2 - 2 times the original size, 40 min-1 hour. Bake at 400 degrees for approximately 15-20 minutes. The internal temperature should be between 185-190 and the tops of the buns should be browned.
Justine's Focaccia Pizza (recipe from Peter Reinhart's Artisan Breads Every Day)
20 oz bread/all purpose flour
11 g salt
4 g instant yeast
16 oz chilled water
about 1 Tblspn olive oil
Combine flour, salt, yeast, and water in bowl of stand mixer, use paddle attachment and mix on lowest speed for about 1 minute. Let rest 5 minutes to fully hydrate the flour. Drizzle the olive oil over the dough, then resume mixing on med-low speed using paddle for 1 min. The dough should become smoother but will still be very soft, sticky, and wet. Use a wet bowl scraper or spatula to transfer the dough to a large, lightly oiled bowl. Cover with plastic wrap and let rest 10 minutes. With wet or oiled hands, reach under the front of the dough, stretch it out, then fold it back onto the top of the dough. Turn the bowl one quarter and repeat. Repeat two more times, so that you are stretching the dough 4 times total, one on each side. Allow to rest for 10 minutes, then repeat. Repeat the stretching/resting process twice more, for a total of 4 times. After the final stretch and fold, cover the bowl tightly with plastic wrap and place in the fridge overnight or up to four days. On baking day, remove dough about 2 1/2 hours before you plan to bake. Warm your oven on lowest setting for about 5 minutes, then turn oven off. Place parchment on a half sheet pan, and oil well, including sides of the parchment/pan. (It helps if you put an oversized piece of parchment in the pan, so that the parchment covers the sides of the pan. Pour the dough out of the bowl onto the center of the parchment using an oiled bowl scraper/spatula. With oiled hands, use your finger tips to dimple the dough, stretching it outward in all directions as you go. When the dough resists stretching, place into warm oven for 5 minutes, then remove and rest for 10. Repeat dimpling/stretching process; the dough should fill more of the pan this time. Place back in oven 5 minutes, then out of oven to rest for 10. Repeat dimpling one more time. Now the dough should fill the pan. Place back in the oven until dough rises about 1 1/2 times it's size, about 40 min-1 hour. Take dough out, and preheat oven to 500 degrees. Place your ingredients on the dough. Put veggies on first, then cover with sauce. Save cheese and herbs for later. Place the dough with veggies and sauce into the oven, then turn oven down to 450. Bake until dough rises and sets, you can allow the dough to get some color but don't let it get too dark. This will be 15 to 20 min. Take pizza out and top with herbs and cheese, then place back in the oven. If you have convection, turn it on now. You could also try the broiler. Bake until cheese is bubbly and the cheese and crust begin to brown.
Justine's Half Wheat Sandwich Bread (makes two loaves) (recipe from Peter Reinhart's Artisan Breads Every Day)
14 oz bread/all purpose flour
14 oz whole wheat flour
14 g salt
2.5 oz white or brown sugar
1 egg
2 oz vegetable oil
10 oz warmed water
10 oz warmed milk
14 g instant yeast
In stand mixer with paddle, combine flour. salt, sugar. Whisk together yeast, water, and milk in a separate bowl. In another bowl, whisk oil and egg together. Add liquids to the mixer with dry ingredients. Mix with paddle for 1 minute. The dough should be wet and course. Let rest for 5 minutes to fully hydrate the flour. Switch to dough hook and mix on medium for 6 minutes. The dough should firm up slightly but will likely still be wet and sticky. In the final 20 seconds, increase mixer speed to develop gluten. Scrape dough into a large bowl and stretch and fold as described in focaccia recipe. Cover with plastic, rest 10 min, then repeat the stretch and fold. Repeat once more, for a total of 3. Cover tightly with plastic and refrigerate overnight or up to 4 days. On baking day remove dough about 3 hours before baking. Divide the dough in half. To shape, repeat process described for brat/hot dog buns, and then roll the shaped dough from the middle outward to achieve desired loaf length. Place into well-oiled loaf pans, cover loosely with plastic, and proof until the dough has risen slightly above the rim of the loaf pans. Preheat oven to 350 degrees. Remove plastic wrap and bake for 20 minutes. Rotate. The final bake time is 40 to 55 minutes. Loaves will be finished when tops are browned and the internal temp is over 185 degrees. Allow finished loaves to rest in loaf pans for 5-10 minutes, then remove and cool on a baking rack.
Kristina's Grandma Dovie's Fry Bread
1 cup flour
½ teaspoon salt
4 teaspoons baking powder
1 egg
½ cup warm milk
Oil for frying
Mix all ingredients in a large bowl. Add more flour if necessary to make a stiff dough. Roll out the dough on a lightly floured surface until very thin. Cut into 2×3-inch strips and drop into hot oil. Brown on both sides.
Jessie's Peasant Bread
4 cups (512 g) unbleached all-purpose or bread flour
2 teaspoons kosher salt
2 cups lukewarm water (made by mixing 1.5 cups cold water with 0.5 cup boiling water)
2 teaspoons sugar
2 teaspoons instant yeast (more information)
room temperature butter, about 2 tablespoons
Mixing the dough: In a large mixing bowl, whisk together the flour, salt, sugar, and instant yeast. Add the water. Mix until the flour is absorbed. (If you are using active-dry yeast, see notes above.)
Let it rise. Cover bowl with a tea towel or plastic wrap and set aside in a warm spot to rise for at least an hour. (In the winter or if you are letting the bread rise in a cool place, it might take as long as two hours to rise.) This is how to create a slightly warm spot for your bread to rise in: Turn the oven on at any temperature (350ºF or so) for one minute, then turn it off. Note: Do not allow the oven to get up to 300ºF, for example, and then heat at that setting for 1 minute — this will be too hot. Just let the oven preheat for a total of 1 minute — it likely won't get above 100ºF. The goal is to just create a slightly warm environment for the bread.
Preheat the oven to 425ºF. Grease two 1-qt or 1.5-qt oven-safe bowls (see notes above) with about a tablespoon of butter each. Using two forks, punch down your dough, scraping it from the sides of the bowl, which it will be clinging to. As you scrape it down try to turn the dough up onto itself if that makes sense. You want to loosen the dough entirely from the sides of the bowl, and you want to make sure you've punched it down. Then, take your two forks and divide the dough into two equal portions — eye the center of the mass of dough, and starting from the center and working out, pull the dough apart with the two forks. Then scoop up each half and place into your prepared bowls. This part can be a little messy — the dough is very wet and will slip all over the place. Using small forks or forks with short tines makes this easier — my small salad forks work best; my dinner forks make it harder. It's best to scoop it up fast and plop it in the bowl in one fell swoop.
Let the dough rise again for about 20 to 30 minutes on the countertop near the oven (or near a warm spot) or until it has risen to just below or above (depending on what size bowl you are using) the top of the bowls. (Note: Do not do the warm-oven trick for the second rise, and do not cover your bowls for the second rise. Simply set your bowls on top of your oven, so that they are in a warm spot. Twenty minutes in this spot usually is enough for my loaves.)
Bake it. Bake for 15 minutes. Reduce the heat to 375º and make for 15 to 17 minutes longer. Remove from the oven and turn the loaves onto cooling racks. If you've greased the bowls well, the loaves should fall right out onto the cooling racks. If the loaves look a little pale and soft when you've turned them out onto your cooling racks, place the loaves into the oven (outside of their bowls) and let them bake for about 5 minutes longer. Remove from oven and let cool for 10 minutes before cutting.
*Note from Jessie - REALLY butter the bowls well.