Remember When...Everyone Read the Green Sheet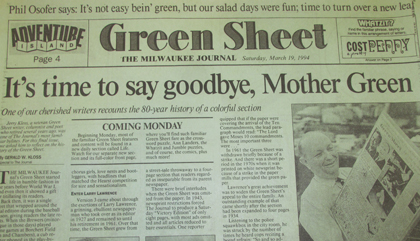 It may be hard to believe, but the Green Sheet has been gone for 20 years. Dan Chabot, its editor for 13 years, will share his memories of the Milwaukee icon in Remember When…Everyone Read the Green Sheet on Saturday, May 10th, 2:00 p.m. at Centennial Hall. Here are a few books to remember The Milwaukee Journal's most popular section. Before Dear Abby and Ann Landers, Ione Quinby Griggs (I.Q.G.) was Milwaukee's own advice columnist for almost 51 years. Growing Up with Jim and Jean: Reprinted from the Columns of Ione Quinby Griggs in The Milwaukee Journal Green Sheet is a collection of her advice columns from the early years during The Great Depression and World War II. Gerald "Jerry" Kloss, the "Bard of Goerkes Corners," was The Journal's poet laureate. Green Sheet & Then Some: The Best of Gerald Kloss is a collection of his humorous "Slightly Kloss-eyed" prose-and-verse columns that made Milwaukeeans chuckle for more than a quarter-century.
Remember When -- A Nostalgic Look at Old Milwaukee with a Series of Photos Originally Published in The Milwaukee Journal is a sampling of the popular photo feature using photos from the Milwaukee Public Library's Historic Photo Collection, some of which can be viewed in our Remember When... digital collection.
The Milwaukee Journal: An Informal Chronicle of Its First 100 Years is a history of Milwaukee's newspaper of record that was often considered one of the best ten newspapers in the country for decades. That reputation developed, in part, by a 1920s afternoon circulation war with the Hearst Corporation's (William Randolph Hearst) Wisconsin News that extended to fights between rival paper boys on street corners. The Green Sheet evolved from aping the News' yellow journalism stories of bootleggers and love nests to light news, features and the funnies (comic strips) that endeared itself to Milwaukeeans for generations. The Journal became a newspaper photography innovator that saw some of its best photographers (e.g. Thomas Abercrombie and James Stanfield) become award-winning National Geographic photographers.
Mr. Tweedy @ Central
(Dan, Local History Librarian)